Get better insights into which leadership candidates are a fit
Over the years, the challenge of evaluating leaders became clear in conversations with our customers at Alva. They expressed a desire for richer insights into how varied personalities come together in leadership roles.
The power of Alva's Personality Test is its robust data and insights, all rooted in the scientific validity of the Five-Factor Model. Our intention with the new Leadership Report is to overlay a "leadership lens" on our best-in-class assessments. The result is a wealth of information for hiring teams that yields actionable insights.
We aimed for a balance by building a tool versatile enough for late-stage leader selection, yet comprehensive enough for ongoing leadership development. Such a tool also acts as a catalyst for pivotal conversations, whether during key interview stages or immersive leadership training.
The Alva Leadership Report in detail
The Leadership Report easily syncs with the Alva platform or your preferred ATS. After a leadership candidate completes Alva's Personality Test, Talent Acquisition teams and Hiring Managers get data-driven feedback highlighting the key qualities and behaviours vital in leadership roles.
There's no certification needed to interpret those enhanced results, making the selection process streamlined and efficient for all members of the hiring team.
The results are based on Alva's leadership framework, which focuses solely on the three most essential domains of effective leadership: Achieving Results, Influencing Others, and Navigating Uncertainty.
By assessing candidates based on broad and narrow elements of these criteria, Alva can help you discern which candidates in your talent pool have the most potential to be successful leaders.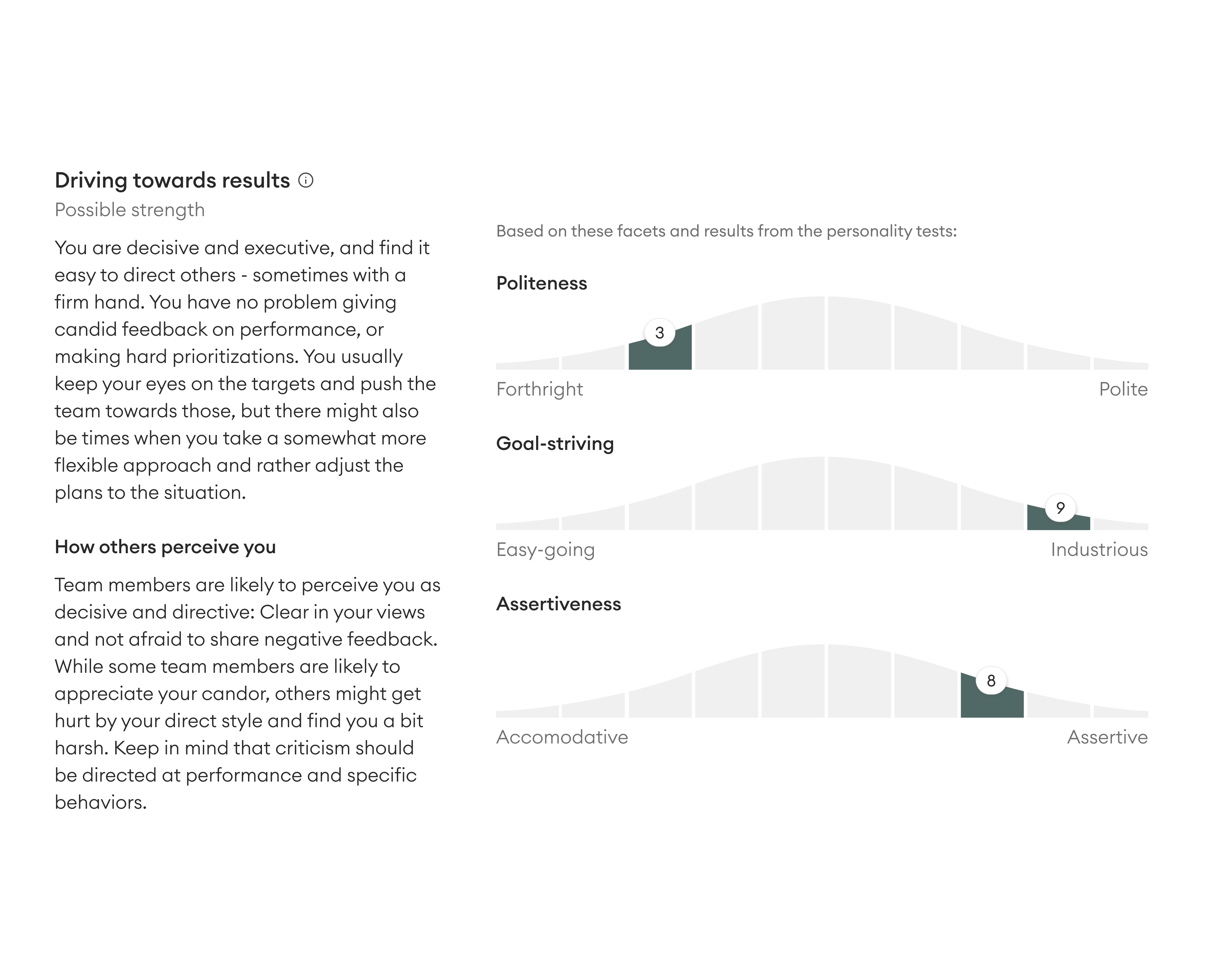 Included in the report are insights that display how well distinct aspects of a candidate's personality map to that leadership framework. Given that each personality presents its own strengths and challenges, we highlight areas where candidates have their strengths (where they're likely to excel), are sufficient (areas with a strong likelihood to improve with training), and challenges. The report also covers how the candidate is likely to come across in key situations, both by managers and their direct reports.
Alva gives hiring teams a snapshot of the candidate's readiness for a leadership role. We've also added a Leadership Development Template to the platform, so that organisations can support leaders to work with the characteristics intrinsic to their personalities, thereby developing their potential.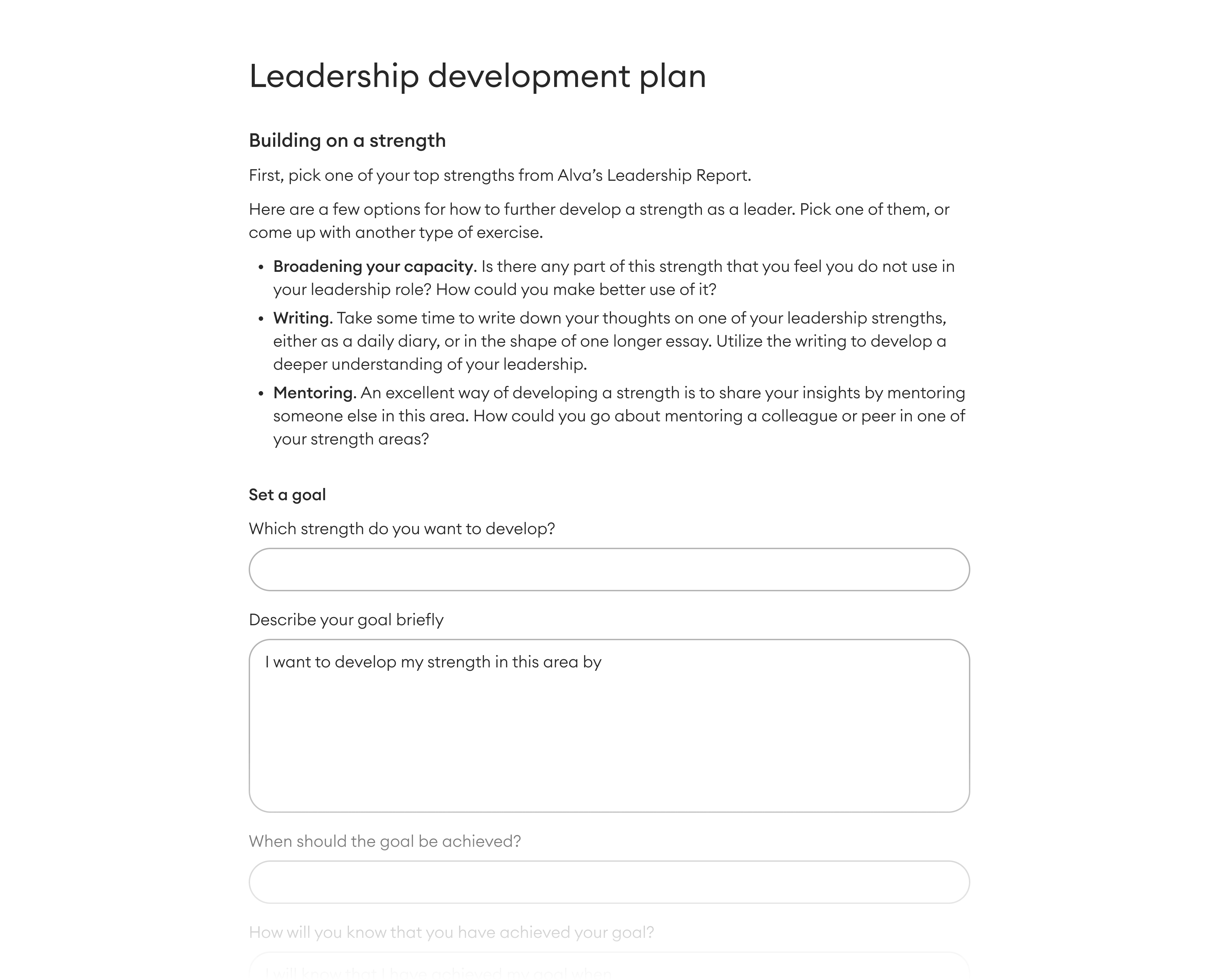 Meeting the leadership demands of the modern workplace
As roles and technology evolve, the ability to adapt and lead through change becomes paramount. This has led to an increase in demand for leaders who also demonstrate well-developed "soft skills" such as communication, collaboration, and leading by example. We also have customers who emphasise aspects such as empathy, trust, and self-awareness in their leadership frameworks.
What hasn't changed is the need for increased objectivity and accuracy, which is where Alva's core strengths lie.
Get started with Alva's Leadership Report
The Leadership Report is now available on the Alva platform across all subscription levels. If you're looking to evaluate leadership candidates on a deeper level, or just simply want to learn more about the Leadership Report, book a demo with one of our onboarding specialists. This is a simple, yet powerful addition for hiring teams looking to enhance how their organisation hires leaders.