Failing to plan ahead is surprisingly common in the recruitment world. In fact, over 43% of employers admit they don't have a recruitment plan for their business. Neither do they have a strategy for identifying the talent needed for their organisation to thrive.
This can lead to poor hiring outcomes. And with companies typically spending anywhere between $25,000 and $50,000 on every bad hire, the consequences can be disastrous for their financial bottom line.
The lesson: Unfortunately, short term tactical responses in today's volatile talent market aren't going to cut it—especially if you're looking to grow your team and boost your ROI. Instead, treat talent acquisition as a long-term business priority, one that requires careful thought and a stellar recruitment plan.
Read on to discover all the reasons recruitment planning pays off—and how to start strategising today.
What is recruitment planning?
Whether you're a budding startup or a massive enterprise with thousands of employees, the goal is the same: you need to know how your team is going to expand over time. In other words, who are you going to hire and when?
This is where recruitment planning comes in. It's basically a strategy for attracting, hiring, and onboarding employees.
A solid recruitment plan includes the following components:
An employee value proposition
An optimised recruitment funnel
Defined positions and role requirements
An action plan for sourcing candidates and moving them along the pipeline
An effective onboarding process
Advantages of recruitment planning
Recruiting a new employee is often expensive and time-consuming, particularly if you lack clear direction. But with proper planning and strategy, you'll become more consistent with your recruitment efforts​​—resulting in more impactful hires, lower costs, and fewer last-minute hiring panics.
A well-thought out hiring plan will:
Lower "empty chair" times
Ensure your team only hires talent when needed
Help anticipate future people gaps
Mobilise internal talent and increase employee retention
Lower cost to hire and time to hire
Reduce lead time and associated business costs
Help showcase hiring impact with data-driven insights
Recruitment planning steps
Creating your recruitment plan can be broken down into six easy steps:
1. Understand your hiring needs and skills gaps
2. Identify tools to help you source candidates
3. Define your recruitment funnel
4. Address talent shortages, surpluses, or skills gaps
5. Leverage data to monitor and evaluate actions
6. Finalise your onboarding process long before your first hire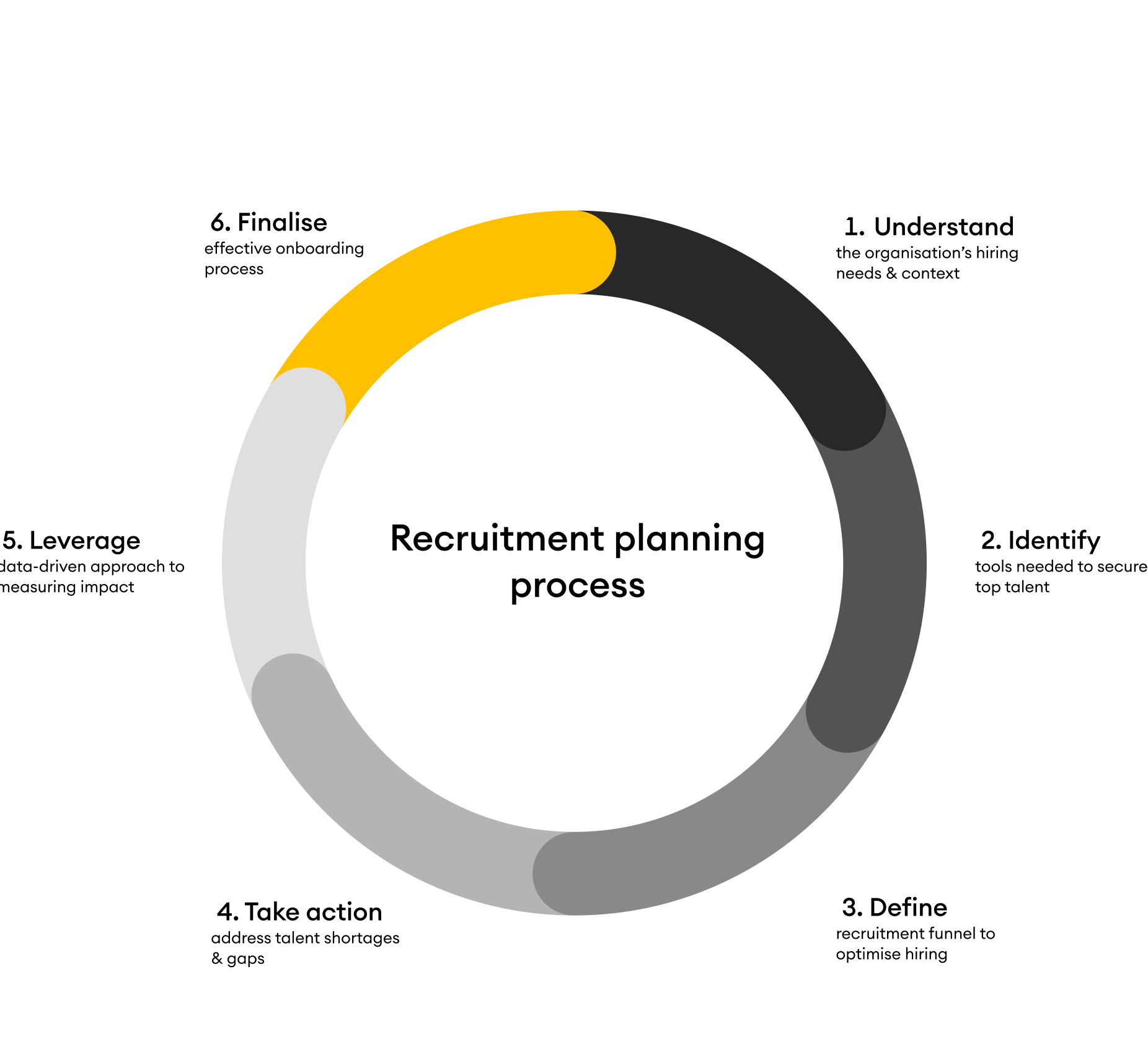 1.Understand your organisational needs
With the pandemic causing seismic shifts in how companies hire today—and candidates being pickier than ever—it's never been more critical for companies to understand what it takes to maintain their operations and grow. Considering that employees are a vital asset that can contribute to a company's profit margins, employment planning is vital.
When deep-diving into your company's needs, think about the following:
Where is your company heading and what internal skills do they need to smash their goals?
What talent is needed and how to procure it?
What are some of the risks through attrition and skills gaps?
How does your business plan to navigate past these challenges and uncover the right talent?
Tip: Understand your market and how rapidly it's changing. Get a handle on competitors' activities and candidate expectations to help you deliver on your company goals.
2. Identify tools to help you source candidates
Some key solutions for your recruitment tech stack include having an applicant tracking system (ATS) to sift through inbound applicants at scale, alliances with key online job boards like LinkedIn, and an analytics platform to help you track performance.
Tip: If you really want to save time and reduce manual labour, like sifting through thousands of CVS, consider streamlining your hiring efforts with a pre-employment screening platform.
Alva's candidate assessment software helps companies assess applicants for role fit and quickly move them along the pipeline. What's more, TA teams can easily test thousands of profiles with the click of a button, compare assessment scores across different criteria, and spot the best-performing candidates likely to make a lasting impact.
3. Define your recruitment funnel
An optimised recruitment funnel can help make your hiring more streamlined and organised, as well as ensure your team operates with maximum efficiency at each stage of the funnel.
Tip: Prioritise your whole funnel, but get your first stage right! If your objective is to secure quality hires without overspending on company budget, then create a system to disqualify poor-fitting candidates from the start. This will save your TA team valuable time when screening candidates later for interviews.
4. Run an internal audit
Besides looking at the talent you have on deck, it's important to think about your current inventory and your ultimate trajectory as an organisation. What do you need to do next to get there?
Tip: Rather than looking to plug the gaps hastily, think about what's missing—in other words, are there any talent gaps you need to fill? How will you fill them? Jot down these gaps and refer to them when you're approving requisitions, creating job ads, and marketing positions. Attracting the right talent should be the bedrock of all your hiring efforts.
5. Measure progress
The only way you'll know whether your efforts are paying off is to track your progress with hiring analytics. When assessing impact, consider metrics like time to hire, quality of hire, turnover rates, and hiring velocity.
Tip: Take your findings to the C-Suite to see what your team needs to do to improve further.
6. Think about your onboarding before you onboard
Did you know that organisations with an effective onboarding process improve employee retention by 82% and productivity by over 70%?
Ultimately, your onboarding plan can make or break your talent pool. Therefore, arm your TA team with the tools and insights needed to make new employees feel welcome and included from day one.
Tip: Treat onboarding not as a final destination, but as an evolving journey. It should be a collaboration between candidates, managers, and HR, and help the new hire feel seen and heard. And if you're serious about bolstering your onboarding processes, this ultimate guide to creating a watertight onboarding strategy is for you.
Final thoughts
In the long run, a plan is better than not having one. Not only is effective recruiting tied to planning, but it helps you to strengthen relationships with candidates, establish credibility, and build the processes, procedures, and people in place to grow your organisation. And like all plans, a recruitment plan can and should be adjusted as you grow, adapt and respond to key trends and challenges within the HR space.
Fuel your recruitment planning with Alva's HR software
As a recruiter, you want to spend time interviewing the best candidates—not hours reading CVs. Kickstart your employment planning with Alva's all-in-one candidate assessment software.
Assess top talent for the position you're hiring, and easily move shortlisted candidates for interviews.