You hire a shiny new sales team leader to mentor and guide your sales crew. And then things go south.
Your new hire sends mixed signals to your team members and dampens their spirit. Your new hire ignores important business decisions and refuses to hold themselves accountable when mistakes inevitably happen.
The result? Your sales team ends up underperforming, your revenue figures take a hit, and the team leader blames everyone else in the room but themselves.
This is a startling picture that's all too common among companies. Research by Gallup shows how 82% of the time, companies fail to choose candidates with the necessary talent and skills to be an effective leader.
On the other hand, the best sales team leaders empower their fellow team members, set clear expectations, manage the workload, and invest the time in coaching their people.
To ensure you hire the right person, you must first understand what qualities make for a great team lead, and learn how to optimise your recruitment process to increase your chances of landing a great hire.
Keep reading to discover how to hire a great sales team leader.
How to hire a great sales team leader
Hiring a great sales team leader can take your sales team to new heights. Effective sales team leads are the glue that binds the sales team together, as they train, motivate, and support their team to reach and exceed their sales goals.
Meanwhile, a bad sales hire can result in your company losing money spent on hiring that person—from advertising and recruiting to interviewing the candidate. These poor hiring decisions quickly rack up, especially if you have to replace your hire and start the whole recruiting process again.
So how do you land a great hire from the get-go and identify the candidates with the most promise to thrive in the position?
Hiring the best sales team lead can be broken down into the following four steps:
Step one: Know what hiring pitfalls to avoid
Step two: Understand what a great sales team leader looks like.
Step three: Perfect your evaluation method for assessing candidates.
Step four: Streamline your sales hiring process.
Step one: Common hiring pitfalls to avoid
Knowing what hiring mistakes to avoid before making them is a crucial first step to understanding what it takes to find those difference makers that will lead your sales team onto a successful path. Below we've identified three common mistakes companies make (and how to avoid them!).
Poorly planned internal hire
Hiring internally can be a cost-friendly move. It also signals that you're committed to your employees' career development, and care about retaining talent and preserving company culture. However, companies typically promote their best salespeople for leadership roles, only to realise they've lost their top-performers and gained bad managers! Indeed, an academic study found that teams led by their newly promoted salesperson saw sales drop by 7.5%.
In short, coaching a sales team is a very different skill set than, say, being a good SDR whose primary focus is to hit targets and sell. While even the best salespeople might have some leadership experience, it's a whole different role that requires a different combination of soft skills and hard skills.
Solution: Ensure you hire someone who has key leadership skills like strategic thinking, active communication and flexibility to succeed in the role. If you are looking to go upmarket or are selling to big enterprise companies, then make sure your candidate can sell and build a team to the next level. If you do decide to promote one of your salespeople to the role of team lead, then make sure you offer sales management training and enough buffer room for your new hire to ramp up into the position.
Relying on the CV to hire
Countless research has shown how age, interests, years of education and job experience all play a tiny role when predicting job performance. Interestingly, all these data points live on a CV, meaning, they're not the best indicators of a candidate's role fit.
Yet sadly, too many companies still use CV's to screen applicants, and have CV vetting as the first step of their sales hiring process. This can result in making poor judgement calls, being biased early in the hiring process, and effectively shutting the door on a whole range of diverse candidates with potential.
Solution: Have a carefully crafted hiring process and a vetting system in place to weed out poor-fitting candidates. Better yet, remove the CV as part of your screening step, and instead swap it with a more accurate pre-screening method like candidate assessments. Tip: Do this early in your hiring process to minimise bias, and free up your time to interview the best candidates instead.
Hiring with your gut
Research shows how hiring with your gut significantly increases your chances of making a bad hire. Yet too many hiring managers still do it, despite science showing how first impressions and subjective opinions are unreliable predictors of success. Moreover, a self-validating approach of hiring someone because they're likeable and would 'fit in' the company culture creates a barrier toward inviting cultural diversity and diversity of thought in.
Solution: Instead of solely hiring a person because your gut has an inkling that they'd be great in your team role, look for evidence that candidates have the right skills and are a good fit for the company. A great way to do this is to use psychometric assessments as the first step in your hiring process. These type of assessments are great at showcasing a candidate's full potential, testing for an individual's logical reasoning abilities, and core competencies.
Candidate assessments are incredibly effective when done early in the recruitment stage, as they help companies test candidates for role fit quickly and efficiently, and shortlist the best candidates for interviews.
Step two: Key traits of a great sales team leader
In sales management, success is centred on the team.
The best sales team leaders are the ones who work hard to support and encourage their team. They're great at goal setting and upholding standards, as well as thrive from watching their team flourish and accomplish long-term results.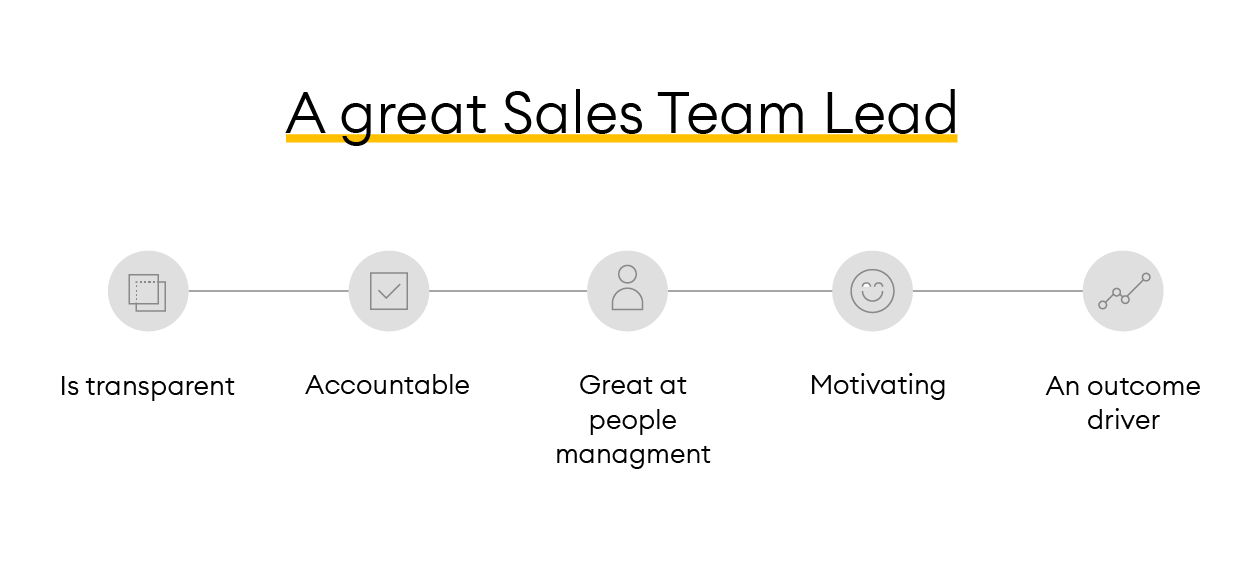 A great sales team lead is:
Transparent- Fosters trust, open communication, and honesty at all times.

Accountable- Gatekeeper of accountability, and owns up to mistakes without making up excuses.

An outcome driver- Ability to overcome adversity, leap past obstacles, and drive effective outcomes that bring in significant revenue for the company.

Motivating- Rolls out incentives to motivate the entire team and encourages team members to coach and support each other to achieve collective objectives.

Great at people management- Is an empathetic listener that loves empowering team members to be their best selves at work, as well as making everyone feel respected, valued and included.

Invested in team growth- Goes out of the way to help each team member out and customises their leadership approach to meet the unique needs of each team member.
Want to hire the right person fast? Alva's candidate assessments enable you to test candidates for role fit efficiently and shortlist top applicants for interviews, all with the click of a button.
Step three: Evaluate sales team lead candidates using assessments
Candidate assessments are a fantastic tool to have in your corner.
Why? Simply put, they measure an individual's cognitive abilities and personality traits, helping recruiters understand which candidate has the potential to excel in the hiring process.
Psychometric assessments based on personality science, such as the Big Five Model of Personality, can deliver evidence-based candidate profiles, allowing hiring decisions to be made with data-backed insights. As a bonus, these assessments are also incredibly effective at reducing bias in the hiring process.
Why use assessments to find your next sales team lead?
Assess whether job candidates have the necessary skills to manage, coach and lead a sales team

Assess whether a candidate has the right traits—like integrity, initiative, leadership, and adaptability— to succeed in the position.

Decrease the time it takes to hire a candidate (hiring assessments are proven to reduce time to hire from 42 to five days)

Significantly reduce the chance of making a bad hire by getting an accurate picture of a candidate's role fit early in the recruitment process.

Optimise time spent interviewing candidates, rather than manually scanning through hundreds of CVs.
Alva's candidate assessments
Alva's logic reasoning and personality assessments test a range of factors like logical ability, conscientiousness, extraversion, and emotional ability needed for a candidate to succeed and thrive in a job role. The recruiter gets to select which relevant skills to test for in a particular candidate, and the questions are adapted accordingly.
The assessments take under 30 minutes to complete; the candidate owns the results, and the recruiter can see which candidates best match the requirements and decide with confidence who to interview, all with the click of a button.
Sales team lead applicants who perform favourably with Alva's assessments will have a combination of soft skills and hard skills needed to lead and coach a sales team effectively. In turn, the assessments help hiring managers determine whether a candidate has what it takes to succeed in the role.
Step four: Streamline your sales hiring process
Have you ever lost a star candidate somewhere along your pipeline? Maybe they were snapped up by the competition, or dropped out without saying anything.
Whatever the case, it's important that you have the right sales hiring process in place to ensure you draw on hiring best practises and deliver a fantastic candidate experience. While no one hiring process looks the same, there are certain hiring criteria you should consider.
Your sales hiring process can be broken down into the following six steps:
Map out the sales team lead role with key stakeholders- Run a startup meeting with key players like the hiring manager and sales director to figure out the sales team leader role requirements. Why do you need this person? What do you expect them to bring to the position? If it's a completely new role, run a calibration meeting to figure out how the company will be impacted by this new hire. Important note: If you opt to go for a candidate assessment as the first part of your pre-employment screening step, then figure out what characteristics you want to test candidates on in the startup meeting. At Alva, we use these characteristics when building our test profile.

Attract a large pool of candidates- Attracting and sourcing a wide pool of candidates is your first key step. To do this, ensure you put out an inclusive job ad that a diverse group of applicants can apply to.

Keep track of incoming applications- Use an Applicant Tracking System (ATS) to monitor all incoming applications, filter out applicants, and make the application process as seamless as possible to ensure the best candidate experience.

Use assessments as a pre-screening step- The most efficient way to screen candidates, especially if you receive a large amount of applications, is by using psychometric assessments.

Conduct structured interviews- How many interviews you conduct is up to you. Just make sure your interview process is structured, and that you ask candidates a set of fixed questions that are pre-determined beforehand. Not only does this save you time then winging it, but it'll also be much easier to rate candidates based on the answers they provide, and quickly identify which difference makers to move forward with.

Give work sample tests- This typically looks like a practical test the candidate must perform, showcasing key skills and technical competencies needed for the job. Work sample tests are extremely effective at discerning a candidate's role suitability. This evaluation method scores highly for predicting future job performance, since it literally involves the candidate doing the job (albeit at a small scale).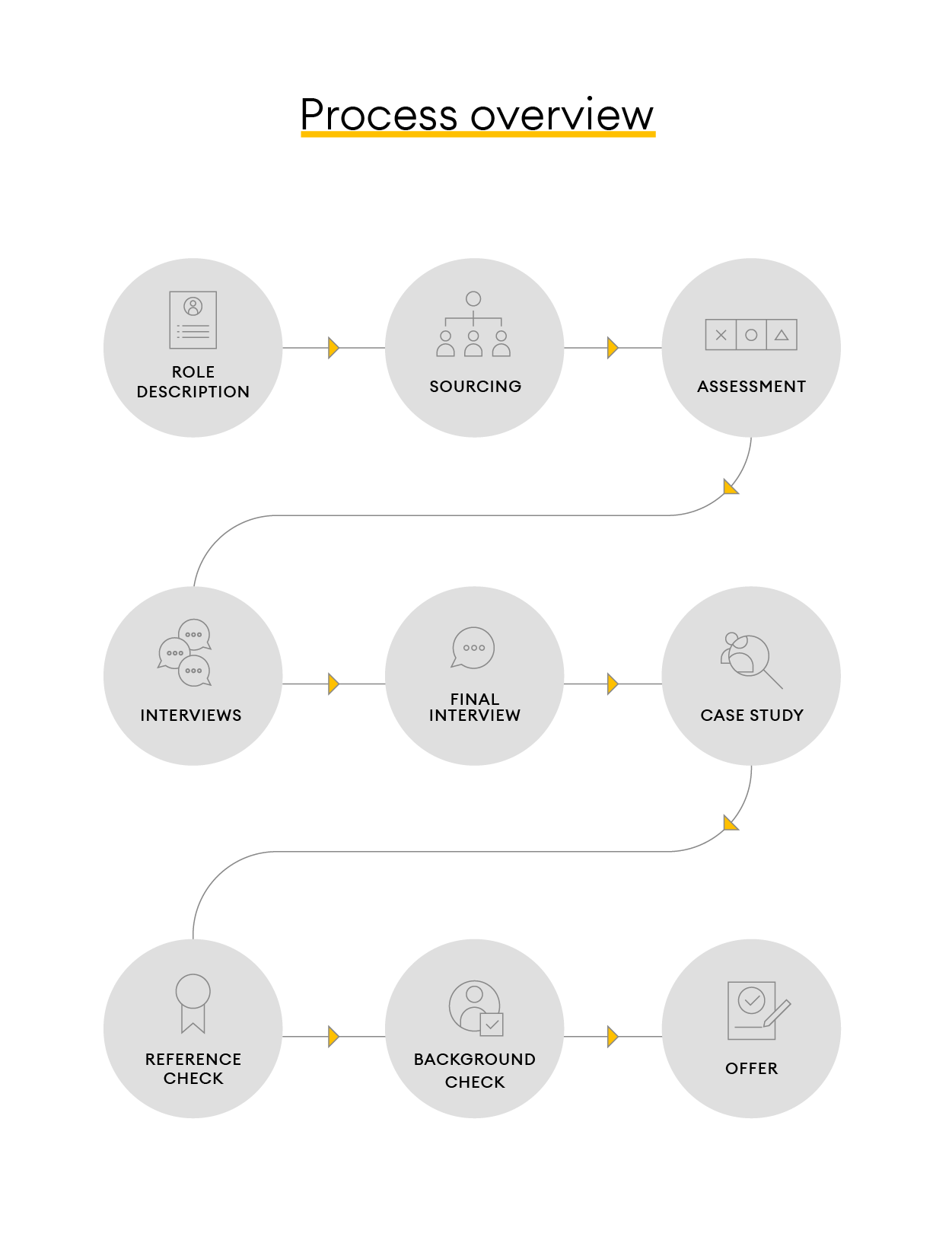 Sales Team Leader job description
This sales team leader job description template is ready to be used! It's optimised for posting to online job boards or career pages and is completely customisable for your company. Simply copy your template, adapt it to your hiring needs, and get to hiring your next superstar!
Sales Team Leader job description
Are you our next sales team leader? We're looking for a committed, passionate sales lead to oversee and support our sales team. Your job is to help management with sales strategy and implementation, as well as provide leadership, guidance, and direction to the sales team.
To succeed in this role, you must be passionate about hitting sales targets and leading teams, as well as have a knack for coordinating and delegating tasks, and tracking performance against key metrics.
Key responsibilities:
Train new sales members on company policies and sales processes

Give regular feedback to each team member regarding their performance

Coach the team on effective sales strategies to increase revenue

Work with management to develop strategies to optimise sales performance

Be part of ongoing training and sales development

Help provide feedback to management regarding potential hires

Meet with clients, pinpoint their needs, and recommend solutions accordingly

Collaborate with different departments on a wide range of issues involving marketing, product, and business development.
Role requirements
Leading teams- You're great at delegating tasks, monitoring progress, and providing a helping hand to your team.
Decision-maker- You make business decisions carefully and don't shy away from making tough calls.
Organised- Long to-do-lists don't bother you. On the contrary, you thrive from ticking off tasks, and are a natural at delegating, organising teams, and keeping track of key sales goals.
Great with customers- You understand that customers always come first, and naturally, love passing down your wisdom and knowledge in customer service to your sales team members, too.
Why you should join our team
This is where you get to the heart of your company culture and benefits. What does the candidate get from joining your team? Why is your company different from the sea of others?
For example (edit to fit with your own company mission and benefits): Be part of a diverse team of souls on a mission to revolutionise how the world recycles. We offer a fantastic bonus structure, along with heaps of employee benefits like full health coverage, a wellbeing package, and generous parental leave.
Structured interview questions to ask a sales team lead candidate
Try to be super specific with your questions, and really draw out complete responses from candidates.
Extra tip: Watch out for applicants who are able to go into the specifics and provide concrete examples- these are the kind of answers you want in an interview.
Imagine a member of your team is struggling to hit their targets. What steps would you take to address this?

What does motivation mean to you personally? In what ways have you motivated others in the past? Walk me through your experience.

Tell me about a time you used specific metrics to track your coworkers' performance.

Imagine two team members are having a dispute. How would you step in to handle the situation?

What does success look like to you as a team leader?

Tell me about a time you worked on a project or initiative that was at risk. What happened, how did you react? What was the outcome?
Why structured interviews?
Rather than freestyling an interview and leading with your gut, a structured interview lets you effectively assess how well a candidate is likely to perform in the role. In other words, structured interviews are one of the best predictors of job performance.
With structured interviews, you ask candidates the same set of questions, and measure their responses using a baseline, which is checked against pre-decided criteria. Like this, you minimise bias when picking a candidate, and also increase the likelihood of making an accurate hire based on these data-fuelled insights.
Where to find sales team lead candidates
Below is a list of relevant job boards you can use to look for candidates and post your job ad.
Job boards
Not sure where to put your job ad? Below is a list of job boards you can use to publish your job ad.
The Alva platform in action
With Alva's candidate assessment software, you can start your hiring process in minutes. Simply set up a job position, choose a test profile, and then start sending out the assessments for completion.
Test profile feature
When assessing candidates for a certain role through Alva, the very first step is deciding what to look for. This is what you do when you set up a test profile. For sales positions, qualities like high logical ability and sales performance go together with being conscientious, extraverted, and emotionally stable. Setting up a profile like this can help you hone in on the criteria you want to assess candidates on.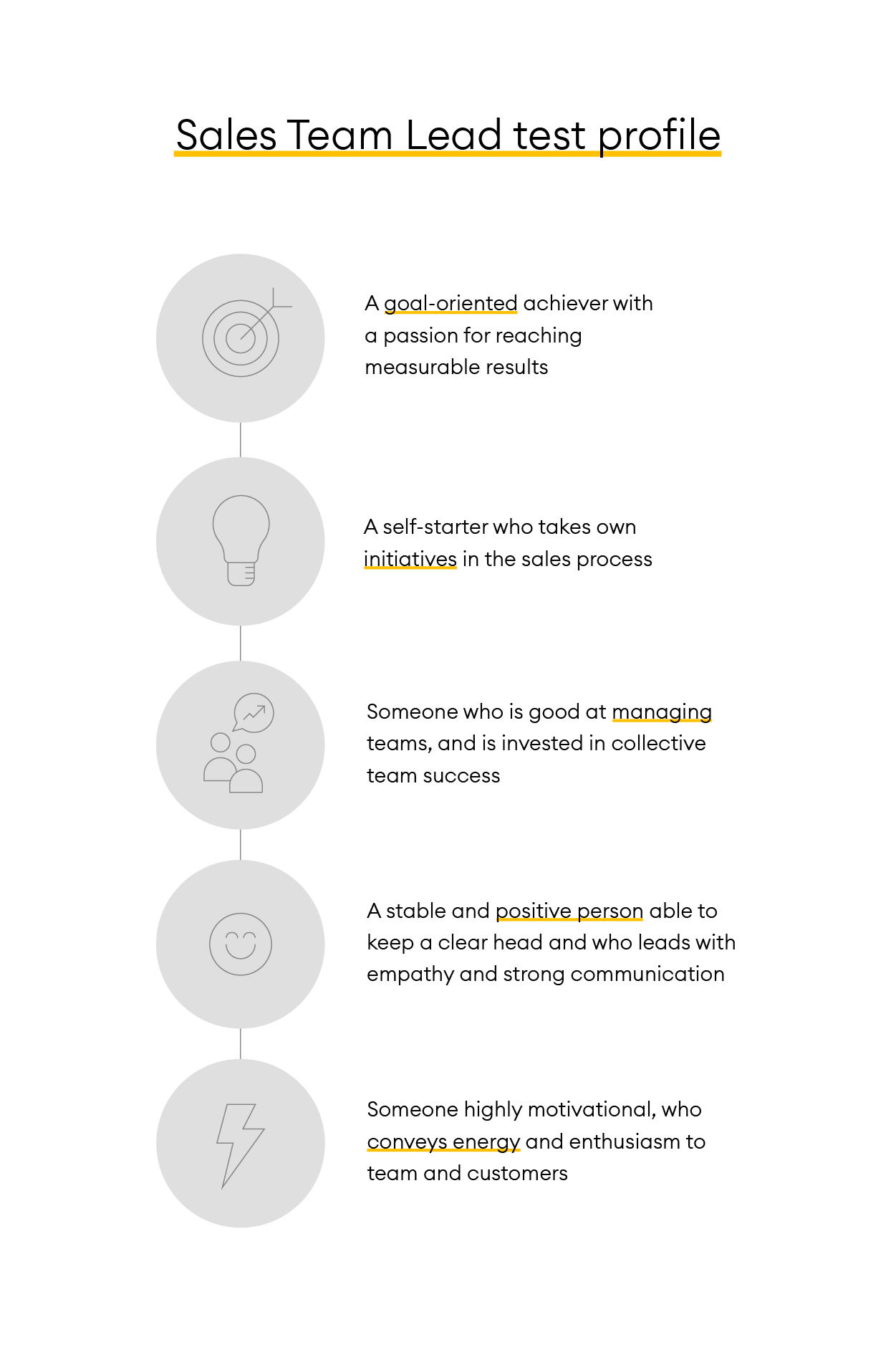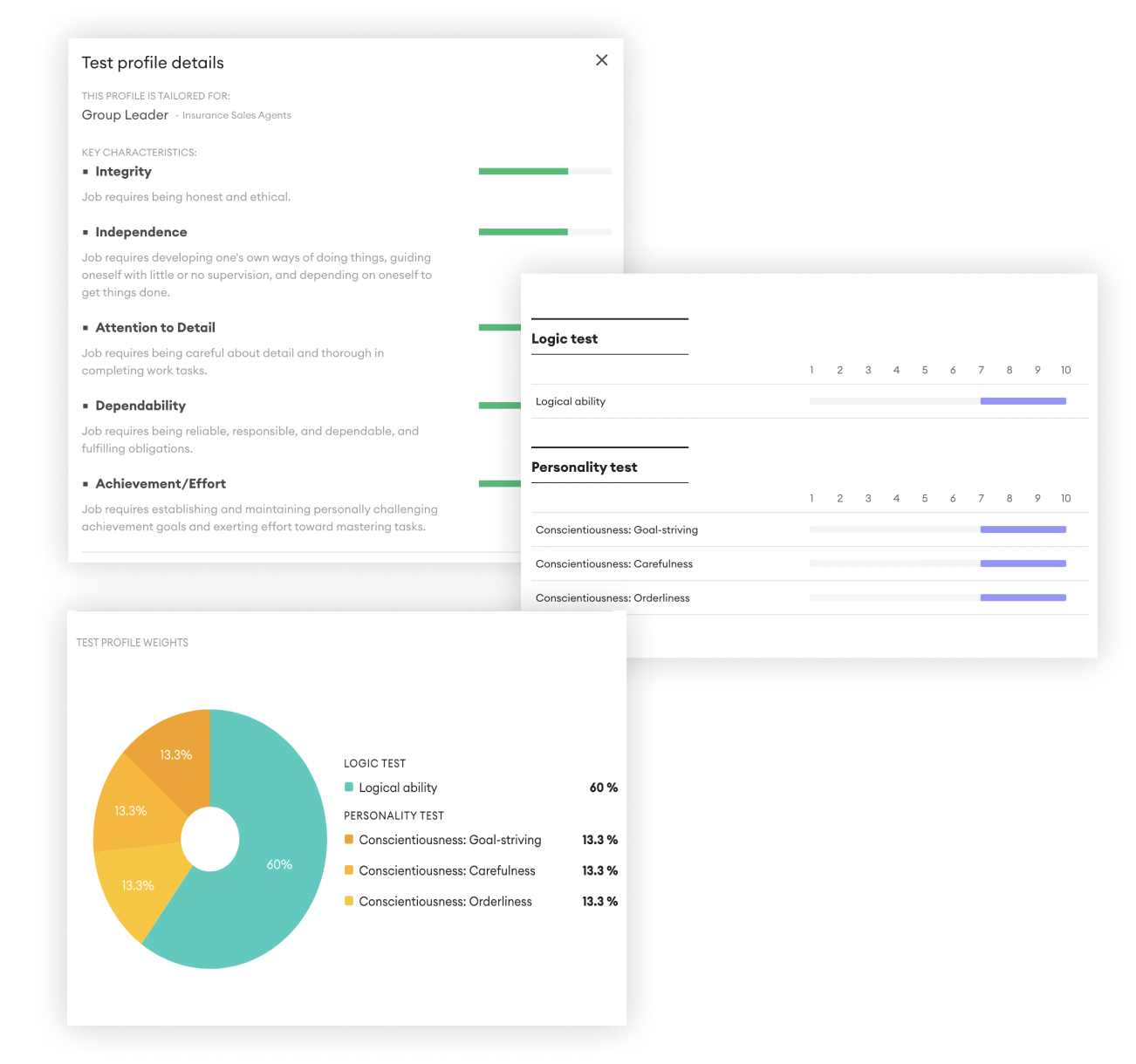 Score cards feature
Within the Alva platform, you can select shortlisted candidates and invite them to the interview stage. The scorecards feature keeps track of how you evaluate candidates in the interviews, using a criteria scale of 1-5.
Why choose Alva?
Spend time where it matters- Quickly spot the candidates who best match the role requirements and move them along for interviews.

Hire for impact-Reduce unconscious bias when screening candidates and discover hidden gems in your talent pool.

Empower your candidates-Reduce candidate drop-offs with Alva's evidence-based assessments. Candidates only need to take the assessments once and can easily share their results.
Frequently asked questions about how to hire a sales team lead
1. How to hire a great sales team lead? To successfully hire a great sales team lead that will move the needle for your company, ensure you understand how the role fits into your organisation's objectives. Next, write an inclusive job ad, post it on as many relevant boards as possible, and then have an objective screening method like candidate assessments to shortlist top talent. Finally, make sure you conduct structured interviews and conduct a case study to assess the candidate's technical competencies and experience.
2. What does a sales team leader do? A sales team leader sets goals, helps with sales strategies, evaluates sales team members' performance, and provides support and guidance along the way.
3. What careers can sales team leaders have? Sales team leads usually go on to be account managers, sales managers, and even sales directors.