A quality prospect is interested in your SaaS product. Your A-player sales rep jumps on a demo with them, only to realise too late, they've been cornered. The prospect has done their tech homework and starts the meeting with a bunch of complicated questions. Your poor sales rep fumbles through the demo, unable to answer the big questions. The result? The prospect walks away and the deal is lost.
This is where your sales engineer swoops in. Sales Engineers are sellers with a twist. They're your tech experts and customer service pros who can confidently answer product-related questions or queries that crop up, no matter how complex.
The truth is, sales engineers are extremely hard to come by, let alone great ones. Why? Not every person has the experience and bandwidth to excel in the role. A great sales engineer needs to be technically proficient, a product expert, good with people and selling. And as product demand surges—thanks to a huge tech boom— so does the competition to hire these sales gems.
Cue our how to hire a sales engineer guide.
When should you hire a Sales Engineer?
As tech products become more sophisticated, naturally sales teams need to evolve too. A great time to bring in a sales engineer is when you're experiencing the following pains:
Your product is becoming too technical and complex for your salespeople to understand, impacting their ability to effectively sell.
Your engineering team doesn't have time to run through all the product technicalities and updates with the sales team.
Your customers want to integrate your product with their own workflow and have tons of questions.
Multiple stakeholders are involved in your sales cycle.
Once you've determined a need for a sales engineer, the next step is to figure out what they'll be doing and where they sit in the sales cycle. This is where you should hold an expectations meeting with relevant stakeholders to determine the following:
Internally clarify the amount of work that will be pre-sales and post-sales for this position

Map out role expectations and how the company will be impacted by this new hire.

Figure out what qualifications and technical competencies are required for the role and how you will assess sales engineer candidates for role fit.
Important note: If you opt to go for a candidate assessment as the first part of your pre-employment screening step, then figure out what characteristics you want to test candidates on in the startup meeting. At Alva Labs, we use these characteristics when building our test profile.
The makings of a great Sales Engineer
Ah, the great sales engineers. They are as good at pitching and presenting product value to customers as they are at explaining a product's technical differentiators. No matter how complicated a product's features are, nothing deters these high-performers from connecting customers to solutions and selling to prospects.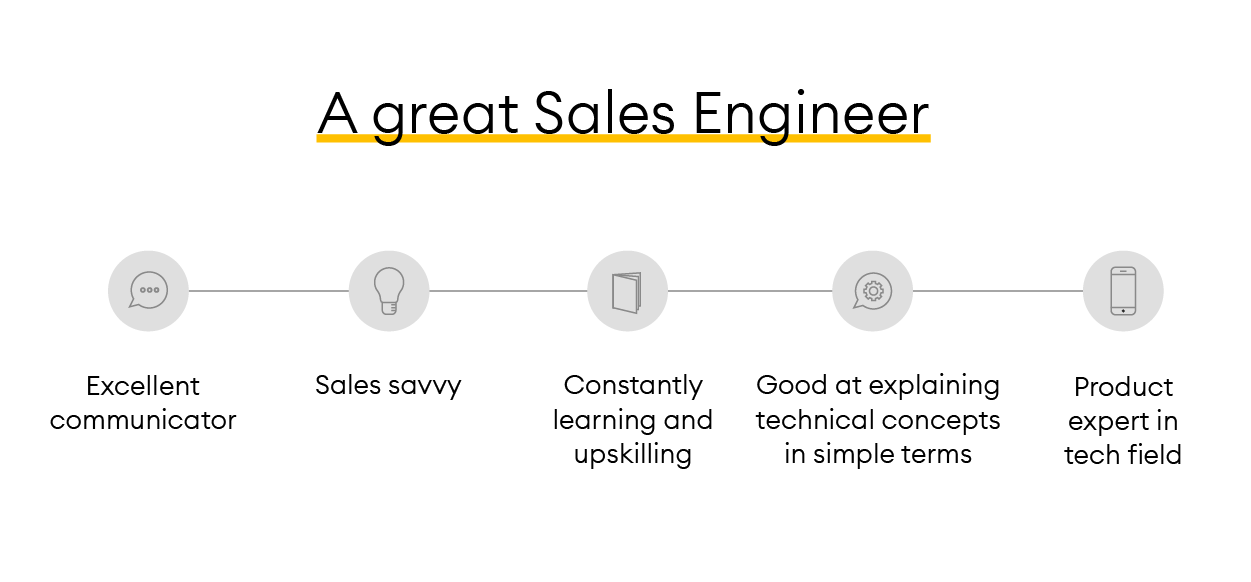 Meanwhile, bad sales engineers make lots of excuses and spend the majority of their time dousing fires, as opposed to anticipating serious proposal flaws and acting quickly. Or worse, bad sales engineers lack focus or focus on their efforts on the product completely, overlooking the most important face of a business- its customers.
A great sales engineer:
Understands tech speak- Can break down complex information into understandable chunks without compromising the product's functionality.
Great at handling objections- Understands what it takes to turn customers around and sell a product, regardless of obstacles.
Excellent communicator- Easily engages prospects and builds rapport with people
Customer-facing- Knack for answering questions and queries related to a product's technicalities, explaining key features in simple terms.
Works well with teams across the board- Collaborates with cross-functional teams to deliver feedback, and engages with key stakeholders at all stages of the sales cycle
Stays on top of latest developments - Knows the market and product inside out, and stays abreast of what the competition is up to, as well as the latest developments in sales cycle processes.
Did you know? You can find your best candidates and select them for the interview stage with Alva's candidate assessments-all with the click of a button.
How to evaluate candidates for the sales engineer role
Various research points to how having a multi-phase hiring evaluation system increases the likelihood of companies selecting the best candidates for the job.
In particular, psychometric assessments, structured interviews, and relevant case studies are considered strong predictors that determine a candidate's likelihood to perform well on the job. When combining all three, your chances of finding the right sales engineer for the job significantly increase.
Candidate assessments
One of the most efficient ways to shortlist candidates is to use a candidate assessment tool. This allows you to quickly spot the best candidates to engage with, and select applicants with the highest potential to progress to interviews.
Why use assessments to find your next Sales Engineer?
Assess whether job candidates have the necessary skills to manage relationships with prospects and close sales
Assess whether a candidate has the right traits like analytical thinking, persistence, and cooperation to succeed in the position.
Decrease the time it takes to hire a candidate (hiring assessments are proven to reduce time to hire from

42 to five days

)
Significantly reduce the chance of making a bad hire by getting an accurate picture of a candidate's role fit early in the recruitment process.
Optimise time spent interviewing candidates, rather than manually scanning through hundreds of CV's.
Alva's candidate assessments
Alva's logic reasoning and personality assessments test a range of factors like logical ability, conscientiousness, extraversion, and emotional ability needed for a candidate to succeed and thrive in a job role. The recruiter gets to select which relevant skills to test for in a particular candidate, and the questions are adapted accordingly.
The assessments take under 30 minutes to complete; the candidate owns the results, and the recruiter can see which candidates best match the requirements and decide with confidence who to interview, all with the click of a button.
Sales Engineer applicants who perform favourably with Alva's assessments will have a combination of soft skills and hard skills needed to sell products and build customer relationships. In turn, the assessments help hiring managers determine whether a candidate has what it takes to succeed in the role.
Structured interviews
Rather than freestyling an interview and leading with your gut, a structured interview lets you effectively assess how well a candidate is likely to perform in the role. In other words, structured interviews are one of the best predictors of job performance.
With structured interviews, you ask candidates the same set of questions, and measure their responses using a baseline, which is checked against pre-decided criteria. Like this, you minimise bias when picking a candidate, and also increase the likelihood of making an accurate hire based on these data-fuelled insights.
Case study
A great way to vet a candidate's technical competencies and communicative skills is to put them through a practical case study. Ask the candidate to sell you something which fits with your sales process, or have them come up with a solution to a technical problem. Your case study could look like a mock call or demo, where you get to verify their product knowledge, technical skill set, and thought process.
Ultimately, sales case studies can be an incredibly effective way to see what candidates are made of right on the sales floor, and whether they thrive under the challenge.
Tips to watch out for include:
What's their energy like?
What body language are they showing?
Can they explain complex terms in simple words?
How do they present themselves and structure the talk?
What kind of questions do they ask you in return?
How sound is their knowledge?
How well do they know your product and propose solutions?
Hiring checklist for the sales engineering role
A smooth hiring process can help you attract and retain your best talent, and provides for an excellent candidate experience. On the other hand, a fractured recruitment process can result in high candidate drop-off rates, and create a burning gap in your overall hiring strategy.
When building your hiring process, take the following points into consideration.
General hiring criteria:
Raise the bar. Rather than narrowing your talent pool, what you want is to open the door to people of all walks of life to apply for the Sales Engineer role. A good way to do this is to make your job ad as inclusive as possible, which is likely to increase your chances of attracting candidates from all backgrounds.
Select candidates who have the most potential. Rather than look at years of experience or hard skills alone, choose candidates who have transferable skills to bring to the position. Especially look out for qualities like rapport-building, communication, active listening, and critical thinking when considering Sales Engineer candidates.
Use data

—

not intuition

—

to inform your hiring decisions. Increase your quality of hire by using candidate assessments to get an accurate picture of candidate role fit first. Usually, it's recommended to use these assessments as the first step in your hiring process. With these assessments, quickly rule out candidates who aren't considered suitable for the role, and effectively spend more time with shortlisted applicants in interviews.
Hold structured interviews. Reduce confirmation bias by having an organised, structured interview process where each candidate gets asked the same questions and is scored on a set rubric.
Conduct a case study. Case studies are an effective way to test a candidate's competency. This includes testing for technical skills, social and behavioural skills. For Sales Engineer roles, look at how well they can pitch your company's product and service, how sound their communication skills are, and whether they're able to simplify complex information.
Onboard properly. It's overwhelming enough to be the new kid on the block, but having to sell a company's product or service from the get-go is a huge ask! Ensure you spend enough time explaining the role, target structure and expectations in your onboarding kick-off meeting. Next, set up some time each week for the new Sales Engineer to meet with the sales manager and other members of the team and get to know the position inside out.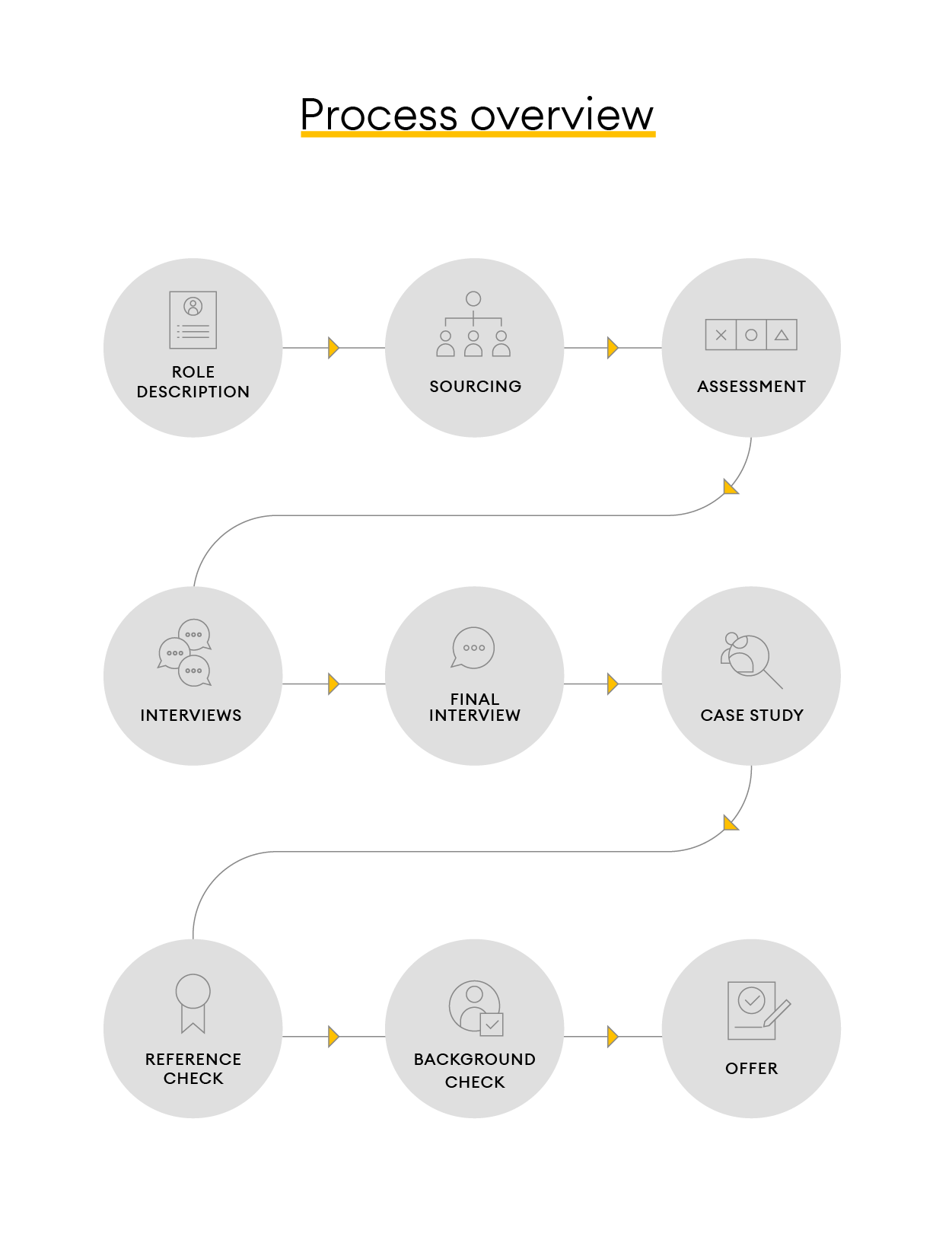 Sales Engineer role description template
This Sales Engineer job description template is ready to be used! It's optimised for posting to online job boards or career pages and is completely customisable for your company. Simply copy your template, adapt it to your hiring needs, and get to hiring your next superstar!
Sales Engineer job description
Are you our next Sales Engineer? We are looking for a stellar salesperson who can explain our product technical components to prospective customers and existing clientele, as well as successfully sell our software benefits and product solutions. Your job will be to keep abreast of the latest product developments by working closely with the software engineering and product teams, as well as work with the sales teams to deliver lasting value to customers.
Key responsibilities:
Communicate with customers daily, answering their questions and queries related to product functionality.
Prepare and run technical presentations and demos with prospects.
Keep track of customer feedback and use the data to create new sales and marketing strategies to expand the customer base.
Set and achieve sales goals and quotas
Support the sales team as needed
Run training sessions on the technical aspects of the product
Liaise with the engineering and product team, communicating key features and software developments to the rest of the sales team
Come up with a strategy for handling delicate product updates to customers
Role requirements
Can handle the heat: You have no problems working under pressure and hitting targets.
Team player. You're a team player through and through and love working across teams to deliver lasting value to customers.
Problem solver: You're great at communicating and answering questions and customer queries.
Interest in sales: You don't need to be a sales pro with years of experience in sales to succeed in this role. But what you do need is to have an interest in learning and be open to growing into the role.
Why you should join our team
Be part of a diverse team of souls on a mission to revolutionise how the world recycles. We offer a fantastic bonus structure, along with heaps of employee benefits like full health coverage, a wellbeing package, and generous parental leave.
Interview questions for Sales Engineers
Try to be super specific with your questions, and really draw out complete responses from candidates.
Extra tip: Watch out for applicants who can go into the specifics and provide concrete examples- these are the kind of answers you want in an interview.
Tell me about a time you managed technical objections. How did you handle the objection and what was the outcome?
Describe a time you collected data and used it in a brainstorming session. How were your ideas used to improve a sales process?
Tell me about a time a client was unhappy with a product feature or functionality. How did you handle the situation?
Tell me about a time you had to explain something technical and complicated to a customer. How did you approach it?
Share your experience of meeting and exceeding targets.
Tell me about a time you faced adversity at work. How did you cope, what did you do?
Where to find Sales Engineer candidates
Below is a list of relevant job boards you can use to look for candidates and post your job ad.
Job boards
Not sure where to put your job ad? Below is a list of job boards you can use to publish your job ad.
The Alva platform in action
With Alva's candidate assessment software, you can start your hiring process in minutes. Simply set up a job position, choose a test profile, and then start sending out the assessments for completion.
Test profile feature
When assessing candidates for a certain role through Alva, the very first step is deciding what to look for. This is what you do when you set up a test profile. For sales positions, qualities like high logical ability and sales performance go together with being conscientious, extraverted, and emotionally stable. Setting up a profile like this can help you hone in on the criteria you want to assess candidates on.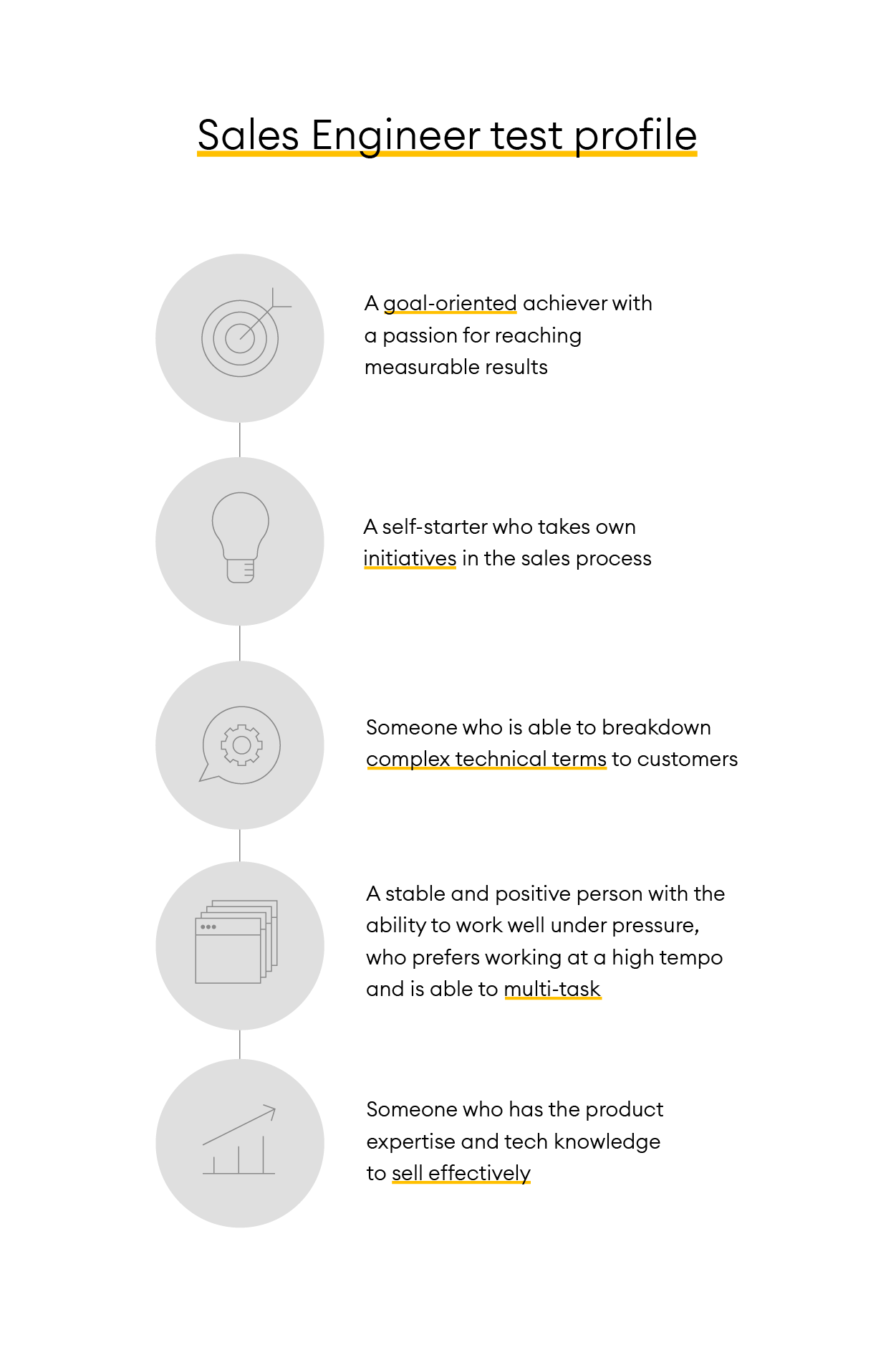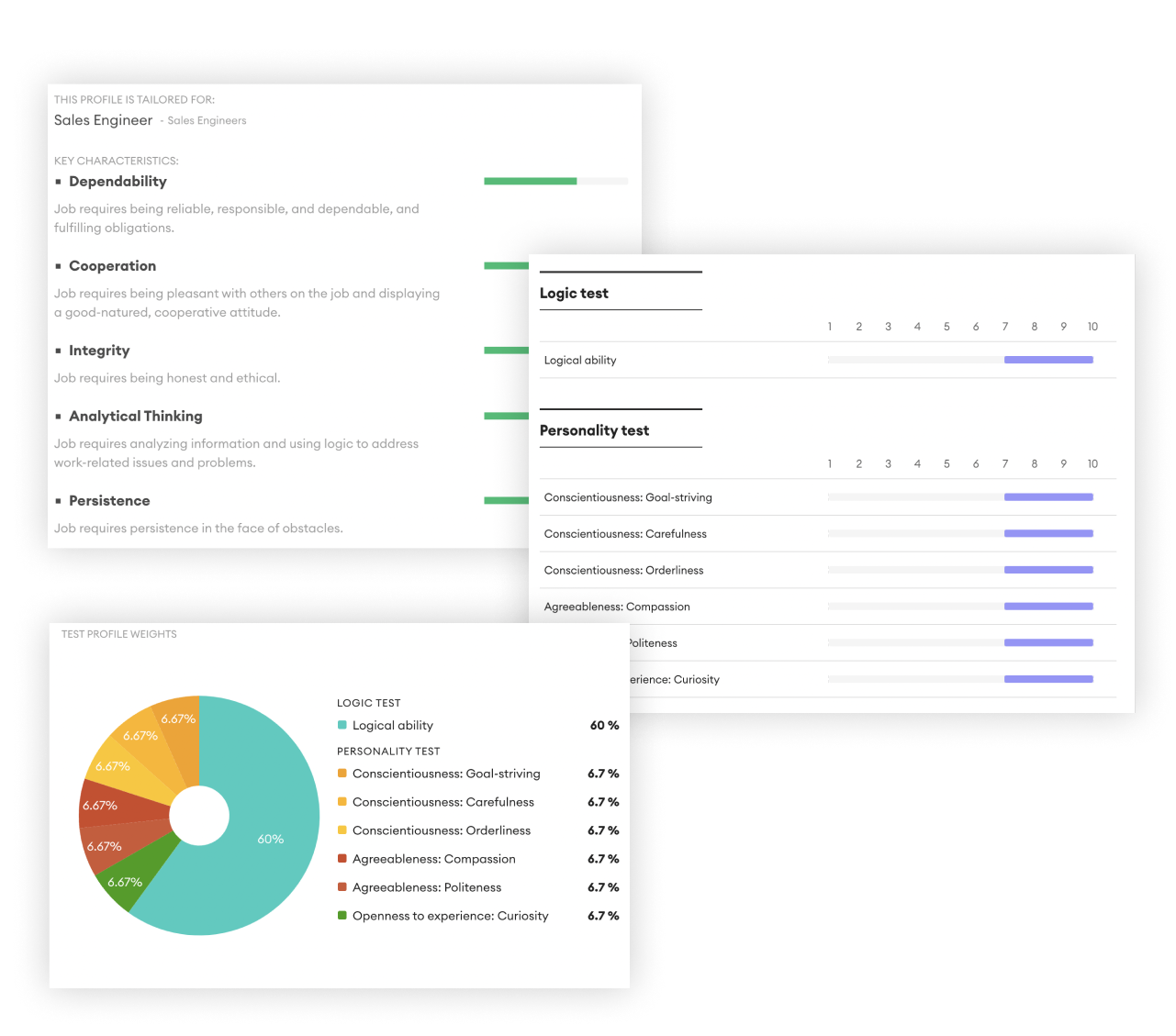 Score cards feature
Within the Alva platform, you can select shortlisted candidates and invite them to the interview stage. The scorecards feature keeps track of how you evaluate candidates in the interviews, using a criteria scale of 1-5.
Why choose Alva?
Spend time where it matters- Quickly spot the candidates who best match the role requirements and move them along for interviews.
Hire for impact-Reduce unconscious bias when screening candidates and discover hidden gems in your talent pool.
Empower your candidates-Reduce candidate drop-offs with Alva's evidence-based assessments. Candidates only need to take the assessments once and can easily share their results.
Frequently asked questions on how to hire a Sales Engineer
1. How to hire a Sales Engineer? To hire a sales engineer, map out the hiring criteria and how you will assess them and test them for role fit. One of the key things to consider is the Sales Engineer's technical competencies and ability to communicate clearly and concisely. It's recommended to use candidate assessments as a first step in your hiring process, enabling you to quickly identify the candidates with the most potential. Next, run structured interviews and a practical case study to assess a candidate's role suitability.
2. What is a Sales Engineer? A Sales Engineer sits in the middle of being a salesperson and an engineer. They have sound technical knowledge of the goods and the market they're selling into.
3. What does a Sales Engineer do? A Sales Engineer uses their technical skills and customer-facing abilities to explain a product's offerings and functionalities to potential customers and show how their products or services are the ultimate solution.
4. When should you hire a Sales Engineer? Typically speaking, it's best to hire a sales engineer when you sell to a technical target, your product is considered highly complex, and your customers tend to integrate your product into their own workflow.