In this guide to hiring a great sales manager, you'll learn what it takes to successfully recruit a stellar sales manager to lead your team onto a path of success.

The sales manager.

The revenue-making machine.

Or the revenue-drainer.

Take your pick.

Poor sales management can cost your company $3.5 million, with under-performing sales managers typically missing revenue targets by 24%.

That's not all.

A bad sales manager can spell trouble for your entire sales team, and even dampen your department's results.

It's astonishing really, just how many bad sales managers are out there.

So how come they get hired in the first place?

It's because of poor recruitment practices—plain and simple.

Some companies internally promote their best salespeople as managers, but then the whole thing backfires when they realise that it takes so much more than selling to be a great sales manager. Meanwhile, other companies are short on time, and end up filling the role without doing their due diligence. Or worse, hiring managers end up hiring with their gut, rather than making informed, objective hiring decisions.

Yes, hiring a great sales manager takes work. But it pays to be meticulous, considering on average, 75% of salespeople meet their yearly targets with a high-performing sales manager leading them.

In short, hiring a great sales manager is about understanding who to look for, as well as having a streamlined hiring process to accurately and efficiently pick out top performers from the crowd.
How to hire a top notch sales manager
Hiring a great sales manager can do wonders for your business— from increasing your sales revenue to motivating your sales team to reach for the stars. Meanwhile, a bad hire can be costly for your business, and in the worst case scenario, drag down your entire sales team with under-performers, poor morale and overhead.
So how to identify the candidates with the most promise and hire them successfully?
Hiring the best sales manager to lead your sales team can be broken down into the following six steps:
Step one: Understand what makes a great sales manager
Step two: Decide whether you'll hire internally or externally
Step three: Write a stellar job ad
Step four. Use assessments to screen applicants
Step five: Carry out structured interviews
Step six: Run a case study
Step one: Understand what makes a great sales manager
Ah, the great sales managers. They ooze confidence and have powerful leadership skills. They are not ones to shy away from coaching salespeople or making difficult decisions.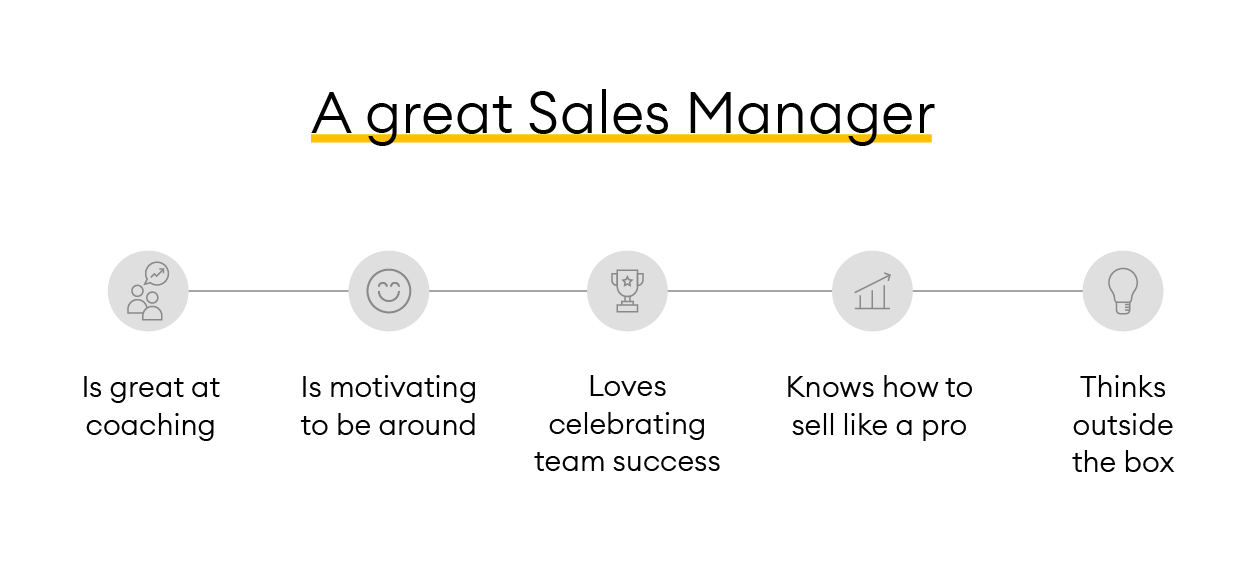 Spotting these difference makers from the get-go will undoubtedly save you time, money, and a headache from potentially making a bad hire.
.A great sales manager is:
Resilient- Experiences setbacks just like everybody else and bounces back quickly, seeing adversity as a learning curve.

An impeccable communicator- Can effectively communicate the good stuff and the bad stuff to team members.

A problem solver- Not one to shy away from solving problems, and is solutions-obsessed.

Adequate at coaching- Great at identifying opportunities for team members to grow and evolve in their roles.

Accountable- Owns up to personal and team mistakes

Eager to celebrate- Loves to pick up the whole team, cheer others on, and celebrate big and small wins.
Step two: Decide whether to hire internally or externally
When it comes to hiring a sales manager, a question that often crops up is whether to promote one of your existing employees for the role or go for an external hire.
Spoiler alert: there are pros and cons to each approach.
Hiring a sales manager internally:
Pros:
You're sending a signal to employees that there's a place for them to grow and evolve in the company

Hiring internally can help you retain employees and improve team performance

Hiring costs are generally lower when hiring internally and the time to hire tends to be quicker.
Cons:
If filling the role internally, consider whether the respective employee will be missed. If the person in question is a superstar salesperson, they might not bring in as much revenue for the organisation as the manager.

Hiring from within your company will undoubtedly leave an empty seat in your company. Who will fill the role? Empty positions can be burdensome for the rest of the team, so consider this.

Picking a salesperson to go for the managerial role doesn't automatically mean they'd be a good manager. Being a good sales manager requires a set of different skill sets, like leadership and coaching, whereas a salesperson operates more independently with their targets, and is mostly focused on selling.
Hiring a sales manager externally:
Pros:
Successful businesses grow in sales and complexity. Sometimes breaking free from the herd mentality and hiring a fresh mind to breathe new life into your team can bring innovation and positive change to your doorstep.

Widen your talent pool by casting the net wide to attract a diverse pool of candidates to the table.

Candidates may have extra skills and experiences to complement the role.
Cons:
External hires cost more

It's harder to land a good hire when recruiting externally— in fact, external hires lead to a 16% higher termination rate than when hiring internally.

External hiring can eat into the ramp time of onboarding a new employee effectively. On average, it takes a new sales manager six months to get the hang of things. During this time, your sales team might lose momentum.
At the end of the day, whether you hire internally or externally doesn't change the fact that the key to success here is finding the right candidate. In this case, success depends on how deeply you understand a candidate's potential and readiness to excel in the position.
Next up, let's take a look at how to actually find those hidden gems!
Step three: Write an inclusive job ad
The job ad sets the tone for your whole hiring process, so it's super important to get it right. The job ad should be written between HR and the hiring manager, and discussed at length before creating it. Once both parties know what to expect from the role and match it with company needs and goals, it's time to start writing.
There are two key ingredients to a great job ad:
Selling your company and getting candidates excited about the position

Being open to a large, diverse candidate pool
While the word "selling" may seem scary, it's not! Simply pinpoint why your company stands out from others, and why candidates should choose you over someone else in the job listing. Don't be afraid to go big on your company benefits and position perks, state these clearly in the listing.
The second point might be more tricky. You don't want to scare people away with a long list of demands and qualifications, but you also want to give enough information to weed out candidates who don't fit the role requirements. To find the sweet middle spot, keep your ad simple and inclusive, use inclusive pronouns, and stay away from gender-encoded language.
Step four: Evaluate sales managers using candidate assessments
Candidate assessments are a fantastic tool to have in your corner.
Why? Simply put, they measure an individual's cognitive abilities and personality traits, helping recruiters understand which candidate has the potential to excel in the hiring process.
Psychometric assessments based on personality science, such as the Big Five Model of Personality, can deliver evidence-based candidate profiles, allowing hiring decisions to be made with data-backed insights. As a bonus, these assessments are also incredibly effective at reducing bias in the hiring process.
Why use assessments to find your next sales manager?
Assess whether job candidates have the necessary skills to manage, coach and lead a sales team

Assess whether a candidate has the right traits—like integrity, initiative, leadership, and adaptability— to succeed in the position.

Decrease the time it takes to hire a candidate (hiring assessments are proven to reduce time to hire from 42 to five days)

Significantly reduce the chance of making a bad hire by getting an accurate picture of a candidate's role fit early in the recruitment process.

Optimise time spent interviewing candidates, rather than manually scanning through hundreds of resumes.
Alva's candidate assessments
Alva's logic reasoning and personality assessments test a range of factors like logical ability, conscientiousness, extraversion, and emotional ability needed for a candidate to succeed and thrive in a job role. The recruiter gets to select which relevant skills to test for in a particular candidate, and the questions are adapted accordingly.
The assessments take under 30 minutes to complete; the candidate owns the results, and the recruiter can see which candidates best match the requirements and decide with confidence who to interview, all with the click of a button.
Sales manager applicants who perform favourably with Alva's assessments will have a combination of soft skills and hard skills needed to lead and coach a sales team effectively. In turn, the assessments help hiring managers determine whether a candidate has what it takes to succeed in the role.
Step five: Structured interview questions to ask a sales manager candidate
Try to be super specific with your questions, and really draw out complete responses from candidates.
Extra tip: Watch out for applicants who are able to go into the specifics and provide concrete examples- these are the kind of answers you want in an interview.
Tell me about a time when you helped one of your team members grow professionally.

Recall a time you resolved a conflict between two team members. What happened? What did you do to resolve the situation? Walk me through the experience.

Tell me how you would handle a team member not meeting targets.

Have you ever changed a process to improve efficiency, lower costs, or increase revenue? Explain why the process failed to begin with, and what you did to change it.

How do you approach setting goals?

How would you go about training a new sales rep on your team? Walk me through the process.
Why structured interviews?
Rather than freestyling an interview and leading with your gut, a structured interview lets you effectively assess how well a candidate is likely to perform in the role. In other words, structured interviews are one of the best predictors of job performance.
With structured interviews, you ask candidates the same set of questions, and measure their responses using a baseline, which is checked against pre-decided criteria. Like this, you minimise bias when picking a candidate, and also increase the likelihood of making an accurate hire based on these data-fuelled insights.
Did you know? Alva's Interview Scorecards feature allows recruiters to set structured interview criteria to assess candidate skills and behaviours.
Step six: Run a case study
Case studies are a fantastic way to see whether a candidate is worth moving forward with in the hiring process.
Some companies run case studies before interviews, while others have it as a final step in the application stage. Whatever you decide, know this: case studies are only useful if they're relevant and tailored to the specific role you're hiring for. For sales manager roles, look at how well the candidate can coach and speak throughout, whether they know the company and product, as well as their interpersonal skills.
Sales manager job description
This sales manager job description template is ready to be used! It's optimised for posting to online job boards or career pages and is completely customisable for your company. Simply copy your template, adapt it to your hiring needs, and get to hiring your next superstar!
Sales Manager job description
Are you our next sales manager? We're looking for an upbeat, passionate sales manager to supervise, coach, and lead our sales team. Your main job is to manage organisational sales—everything from developing business plans and meeting sales targets to coordinating with the marketing and product departments on lead generation.
You will also track the activities and performance of your sales team. To succeed in this role, you have to be great at tracking goals, setting targets, and running ongoing training of your team members.
Key responsibilities:
Provide leadership to the sales team

Hire and train sales team

Monitor progress in real-time and analyse sales data

Motivate and encourage the sales team to meet and exceed KPIs

Track team performance against organisational targets

Know customer preferences and pain points inside out and direct sales efforts accordingly

Resolve customer complaints, HR issues, and other problems that may impact sales operations

Keep an active watch over accounts (and in some cases look after them)

Pursue new business and sales opportunities
Role requirements
Love leading people: You're the type of person that empowers, motivates, and manages others.
Unafraid to experiment. You're fearless when it comes to trying a new direction, especially when your sales team hits a wall.
Great at looking at the full picture: You love zooming in and backing out to see the bigger picture of how things are progressing with your team.
A planner: You're a planner through and through, and the kind of person that likes developing processes, plans, and playbooks to help your team members do their jobs better and more consistently.
Why you should join our team
This is where you get to the heart of your company culture and benefits. What does the candidate get from joining your team? Why is your company different from the sea of others?
For example (edit to fit with your own company mission and benefits): Be part of a diverse team of souls on a mission to revolutionise how the world recycles. We offer a fantastic bonus structure, along with heaps of employee benefits like full health coverage, a wellbeing package, and generous parental leave.
Where to find sales manager candidates
Below is a list of relevant job boards you can use to look for candidates and post your job ad.
Job boards
Not sure where to put your job ad? Below is a list of job boards you can use to publish your job ad.
The Alva platform in action
With Alva's candidate assessment software, you can start your hiring process in minutes. Simply set up a job position, choose a test profile, and then start sending out the assessments for completion.
Test profile feature
When assessing candidates for a certain role through Alva, the very first step is deciding what to look for. This is what you do when you set up a test profile. For sales positions, qualities like high logical ability and sales performance go together with being conscientious, extraverted, and emotionally stable. Setting up a profile like this can help you hone in on the criteria you want to assess candidates on.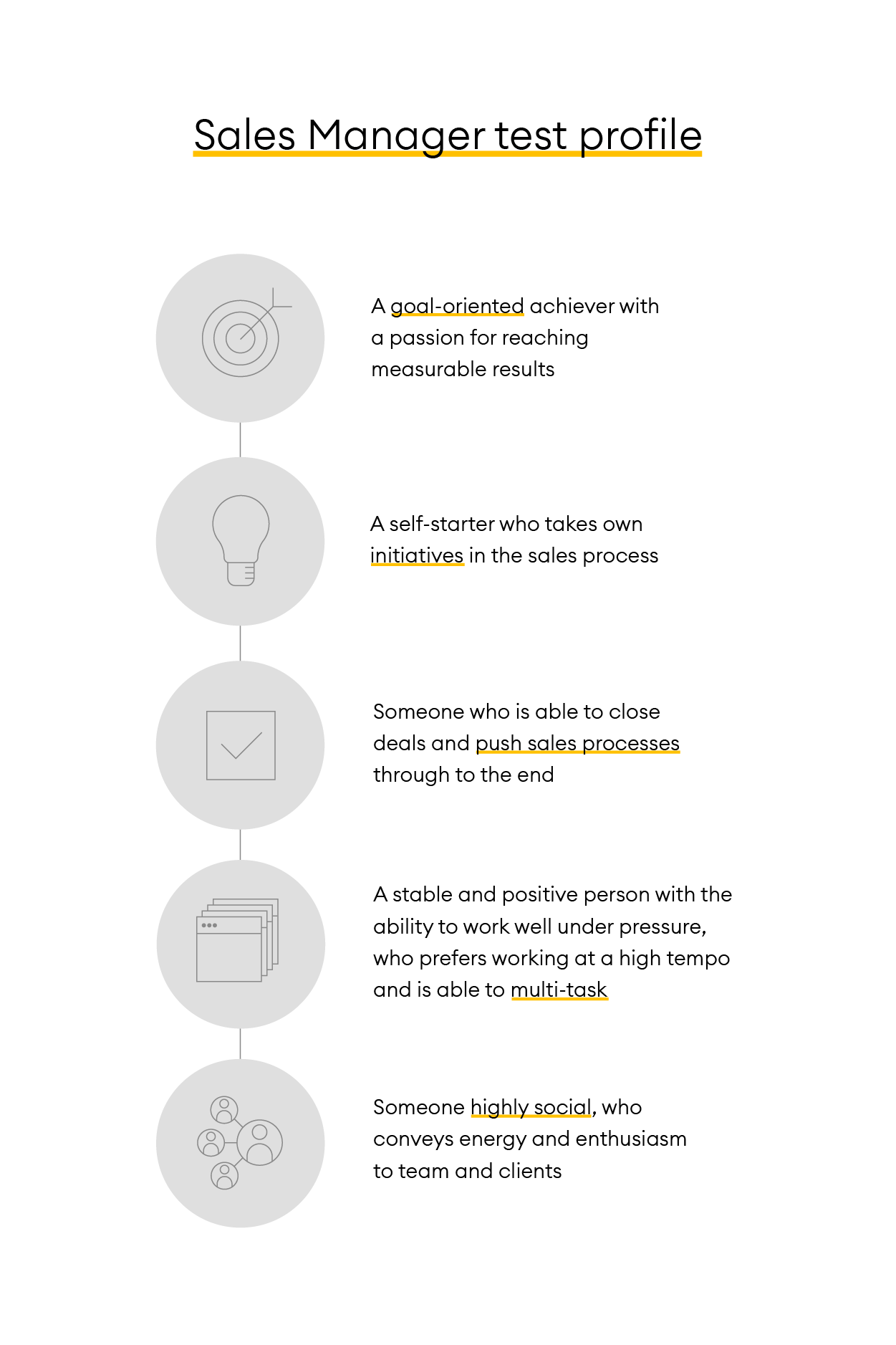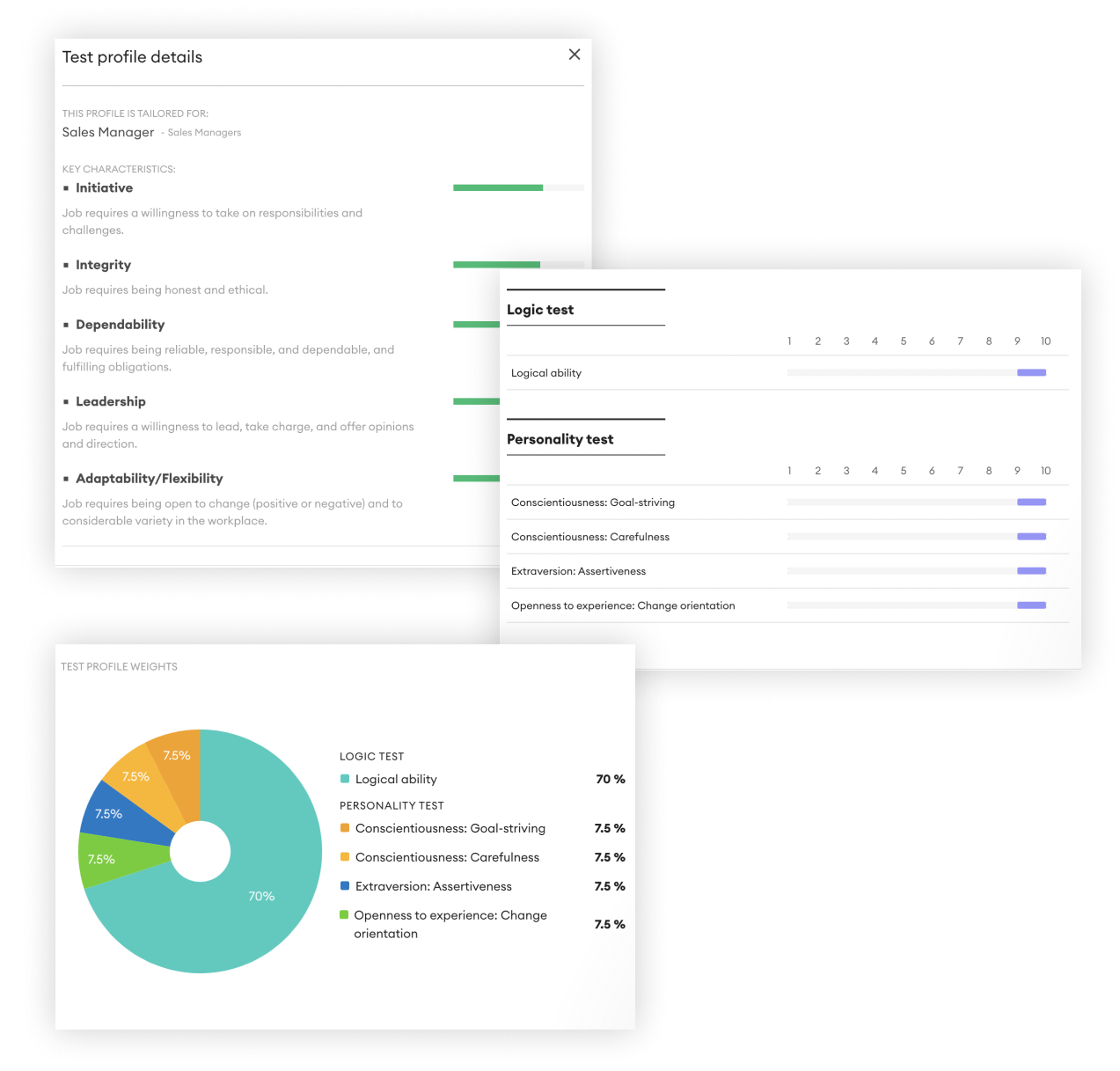 Interview Scorecard feature
Within the Alva platform, you can select shortlisted candidates and invite them to the interview stage. The scorecards feature keeps track of how you evaluate candidates in the interviews, using a criteria scale of 1-5.
Why choose Alva?
Spend time where it matters- Quickly spot the candidates who best match the role requirements and move them along for interviews.

Hire for impact-Reduce unconscious bias when screening candidates and discover hidden gems in your talent pool.

Empower your candidates-Reduce candidate drop-offs with Alva's evidence-based assessments. Candidates only need to take the assessments once and can easily share their results.
Frequently asked questions about how to hire a sales manager
1. How to hire a sales manager? Hiring a sales manager starts with understanding why your organisation needs one and pinpointing what qualities a great sales manager should possess. Next, create a streamlined, effective hiring process that quickly and objectively screens candidates and shortlists applicants for interviews. A good hiring process usually entails a set of psychometric assessments to screen candidates, structured interviews and a relevant case study.
2. What does a sales manager do? A sales manager leads the sales team and runs company sales operations. They look after the sales strategy, set goals, and track performance. They are usually also responsible for coaching and mentoring salespeople.
3. What careers can sales managers have? After working as a sales manager, you can move up to a more senior sales leadership role like Sales Director, VP Sales, and Chief Revenue Officer..