Whether you've got a small customer success (CS) team leading the front or a large-scale CS department handling multi-million dollar accounts, customers are the lifeblood of any business.
Yet sadly, the art of hiring great account managers is often overlooked. Many businesses think that all it takes is someone with great communication skills and organisation to excel at the role, but account management is a complex field.
In truth, there are only a handful of top-performing account managers out there, who can lead your business and client retention strategy, juggle customer expectations (and keep them happy), renew high-stakes accounts, and bring in the big bucks.
But in a highly competitive landscape where customer loyalty is everything, picking the wrong account manager can cost you business, fracture your revenue stream, harm your reputation, and negatively impact your bottom line.
And if you're in the growth space, a wrong hire can seriously derail your expansion efforts. In other words, there's no room for error!
In this guide, discover how to hire the right account manager for your sales team.
Hiring hacks for the Account Management role
Account management is a pretty cool function. It sits between the customer success realm but also involves sales. If you can find a good Account Manager that can activate, engage, and expand a customer, the ROI on investing in this person is totally worth it—especially if you have a high-value contract.
But the question is, what to look for in an account manager? How senior should you recruit? Can newbies deal with the pressure of handling large enterprise accounts? How to manage the whole hiring process?
Below are some pointers to get you thinking about hiring for this critical position.
Tailor the account manager role to the contract value of your current accounts. The contract value of a single account is what's going to determine what revenue percentage from an account you can link to the account manager role. So the bigger the account, the more margin there is to play with. As a rule of thumb, a seasoned account manager can generally handle four enterprise accounts valued at two to three million dollars. If you're in the growth business, then that's the kind of revenue level you need.
Find candidates from the industry you're selling into. If you're selling into a certain vertical, say, to big pharmas, then find someone who speaks the industry language.. At the end of the day, managing a project, handling a big enterprise account, balancing expectations, coordinating resources within the organisation and externally

—

that takes someone with experience to handle. Securing a candidate who has the business cumin and understands your business model and customer industry is what you want to shoot for.
Figure out how the account manager fits into your team structure. Will the account manager you hire need to sell? Or do they just identify opportunities and the salesperson closes the deals? Ultimately, you want to bring in an account manager who's responsible for growing accounts. They're your quarterback, leading the accounts and driving them forward. As such, try and keep their role straightforward and leave the success components like activation engagement and onboarding to a different department like CS. This will help you centralise your revenue growth.
Find candidates who have a background in sales.

A double dose of luck would be to hire an account manager who's worked in sales before but doesn't want to be in sales anymore. Why? They can speak to customers for days, they have the interpersonal skills to cultivate lasting relationships, and can bring you net new deals too. It's a win-win.
Extra tip:
Have you thought about recruiting internally? An employee who's started off as an SDR, and perhaps has worked their way up into an Account Executive position, would be perfect for this role. They understand the space you're selling into, the customer pain points, and how to communicate to customers. This can be an incredibly powerful way to recruit.
The makings of a great Account Manager
Account management is a tough role to fill. There is a delicate line between giving customers what they want and doing so on acceptable terms for your company. A seasoned account manager doesn't just manage accounts— they own them and the relationships they foster with customers.
And when bumps occur on the road, a great account manager will be the first one on the phone with the respective customer, appeasing their concerns, and reaffirming their trust.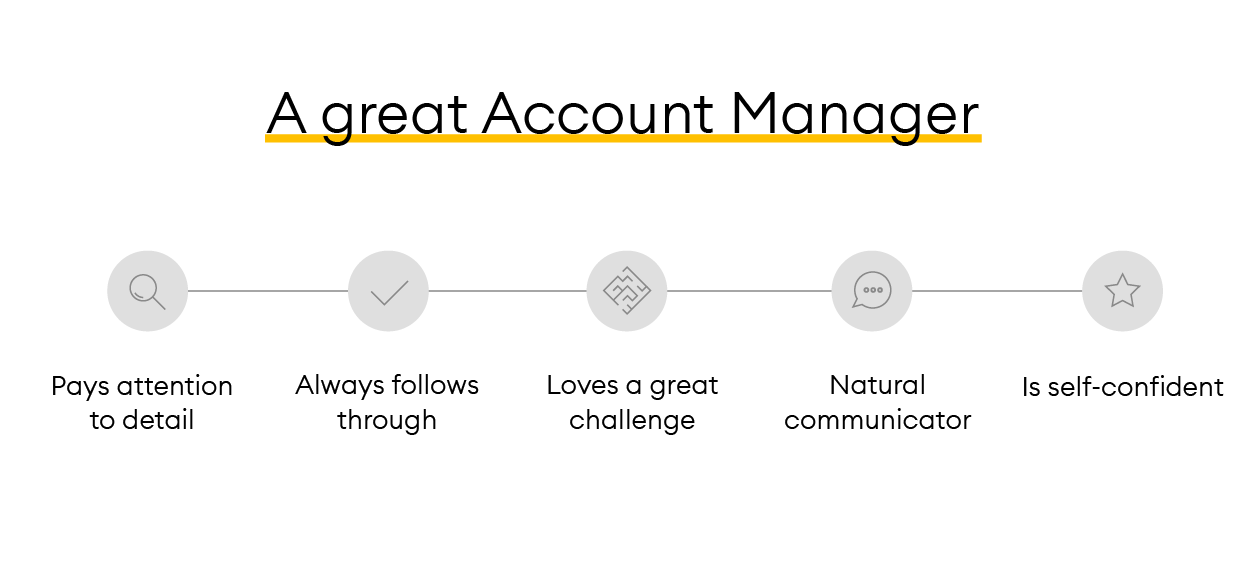 On the other hand, a bad account manager can mess up your accounts or worse, begin to churn out your most important clients. You want to avoid making a bad hire at all costs, as over time, it can become your bottleneck to growth.
Overall, the makings of a great account manager are fairly simple. They should have the psychological profile to excel in the role and stick with you long-term. You need someone who can retain your best clients, who handles obstacles like a pro, and is a fantastic communicator.
A great Account Manager is someone who:
Pays attention to detail: Hones in on every little detail, and can practically recount a customer account by memory.
Communicates clearly: Prefers to jump on the phone and speak to customers directly then exchange a long thread of emails. The person is also comfortable closing loops and keeping customers informed every step of the way.
Is self-confident: The person is confident in themselves and their abilities, and puts things into place that ultimately move the needle for your company.
Follows through: Keeps their word and gets the job done, no matter how high or low the stakes are.
Possess a healthy dose of dominance- Doesn't shy away from handling difficult situations or managing client expectations and outcomes. The person comfortably dominates the client management space.
How to evaluate candidates for the Account Manager role
Various research points to how having a multi-phase hiring evaluation system increases the likelihood of companies selecting the best candidates for the job.
In particular, psychometric assessments, structured interviews, and relevant case studies are considered strong predictors that determine a candidate's likelihood to perform well on the job. When combining all three, your chances of finding the right account manager for the job significantly increase.
Candidate assessments
One of the most efficient ways to shortlist candidates is to use a candidate assessment tool. This allows you to quickly spot the best candidates to engage with, and select applicants with the highest potential to progress to interviews.
´Why use assessments to find your next Account Manager?
Assess whether job candidates have the necessary skills to manage relationships with prospects and close sales

Assess whether a candidate has the right traits like cooperation, persistence, and integrity to succeed in the position.

Decrease the time it takes to hire a candidate (hiring assessments are proven to reduce time to hire from 42 to five days)

Significantly reduce the chance of making a bad hire by getting an accurate picture of a candidate's role fit early in the recruitment process.

Optimise time spent interviewing candidates, rather than manually scanning through hundreds of CV's.
Alva's candidate assessments
Alva's logic reasoning and personality assessments test a range of factors like logical ability, conscientiousness, extraversion, and emotional ability needed for a candidate to succeed and thrive in a job role. The recruiter gets to select which relevant skills to test for in a particular candidate, and the questions are adapted accordingly.
The assessments take under 30 minutes to complete; the candidate owns the results, and the recruiter can see which candidates best match the requirements and decide with confidence who to interview, all with the click of a button.
Account Manager applicants who perform favourably with Alva's assessments will have a combination of soft skills and hard skills needed to manage accounts and nurture client relationships. In turn, the assessments help hiring managers determine whether a candidate has what it takes to succeed in the role.
Structured interviews
Rather than freestyling an interview and leading with your gut, a structured interview lets you effectively assess how well a candidate is likely to perform in the role. In other words, structured interviews are one of the best predictors of job performance.
With structured interviews, you ask candidates the same set of questions, and measure their responses using a baseline, which is checked against pre-decided criteria. Like this, you minimise bias when picking a candidate, and also increase the likelihood of making an accurate hire based on these data-fuelled insights.
Did you know? Alva's Interview Scorecards feature allows recruiters to set structured interview criteria to assess candidate skills and behaviours.
Case study
Case studies are an effective way to test a candidate's set of technical, social and behavioural skills against structured job criteria. These types of assessments can also help you to get a sense of how the candidate would perform on the job. One of the best ways to do this is to introduce a role-playing exercise.
For instance, have one of your team members represent a disgruntled customer, and get the candidate to role-play as account manager. In particular, watch for patterns in how the candidate communicates to the client, how they carry themselves, and their attitude to overcoming obstacles.
Hiring process checklist
A smooth hiring process can help you attract and retain your best talent, and provides for an excellent candidate experience. On the other hand, a fractured recruitment process can result in high candidate drop-off rates, and create a gap in your overall hiring strategy.
When building your hiring process, take the following points into consideration.
General hiring criteria:
Raise the bar. Rather than narrowing your talent pool, what you want is to open the door to people of all walks of life to apply for the SDR role. A good way to do this is to make your job ad as inclusive as possible, which is likely to increase your chances of attracting candidates from all backgrounds.
Select candidates who have the most potential. Rather than look at years of experience or hard skills alone, choose SDR candidates who have transferable skills to bring to the position. Especially look out for qualities like rapport-building, communication, active listening, and critical thinking when considering candidates.
Use data

—

not intuition

—

to inform your hiring decisions. Increase your quality of hire by using candidate assessments to get an accurate picture of candidate role fit first. Usually, it's recommended to use these assessments as the first step in your hiring process. With these assessments, quickly rule out candidates who aren't considered suitable for the role, and effectively spend more time with shortlisted applicants in interviews.
Hold structured interviews. Reduce confirmation bias by having an organised, structured interview process where each candidate gets asked the same questions and is scored on a set rubric.
Conduct a case study. Case studies are an effective way to test a candidate's competency. This includes testing for technical skills, social and behavioural skills. For SDR roles, look at how well they can pitch your company's product and service, how sound their communication skills are, and whether they're able to listen and ask the right questions.
Onboard properly. It's overwhelming enough to be the new kid on the block, but having to sell a company's product or service from the get-go is a huge ask! Ensure you spend enough time explaining the role, target structure and expectations in your onboarding kick-off meeting. Next, set up some time each week for the new Sales Rep to meet with the sales manager and other members of the team and get to know the position inside out.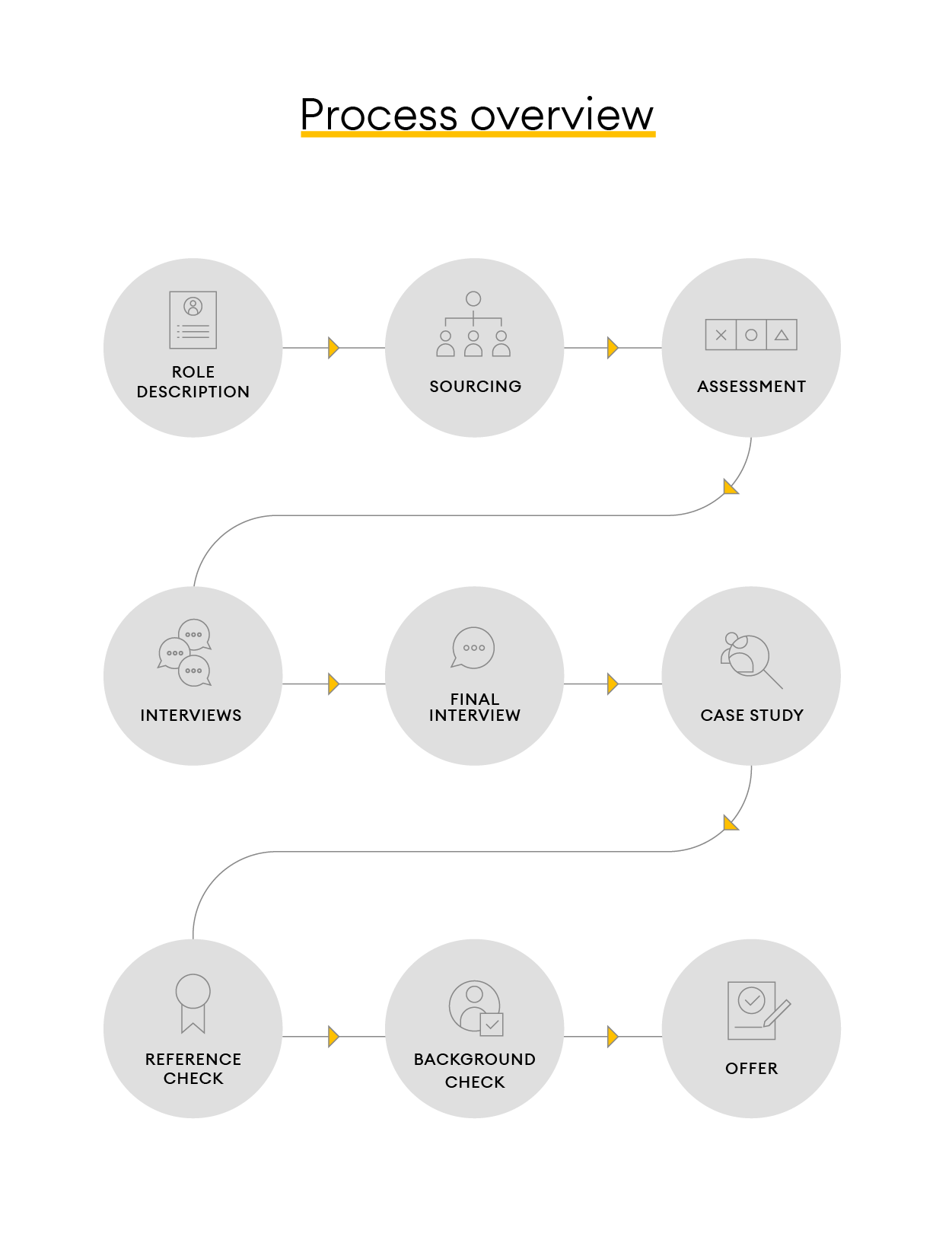 Account Manager Job Description Template
This Account Manager description template is ready to be used! It's optimised for posting to online job boards or career pages and is completely customisable for your company. Simply copy your template, adapt it to your hiring needs, and get to hiring your next superstar!
Account Manager job description
Are you our next account manager? We're looking for a stellar communicator with account management skills to manage our key enterprise accounts and serve as the key point of contact for customers. Your job will be to build and maintain customer relationships, help solve issues that crop up, as well as renew accounts.
Role responsibilities
Act as a liaison between assigned clients and the respective departments to ensure everything is conveyed well and done on time
Keep customers across other services and product features that may lead to renewing accounts or upgrading existing ones.
Monitor the client's budget, explain costs, and negotiate new contract terms as needed
Share progress reports with clients and senior management
Teach junior staff how to service the account
Job requirements
Great at communicating: You love communicating with people and building rapport, and thrive on having conversations.
Good at managing expectations. You have a knack for managing delicate relationships and competing expectations, and are experienced in stakeholder engagement across different teams.
Track record of meeting goals. You meet targets head-on and have no problem with performing.
Negotiator: You go the extra mile to ensure everybody wins, no matter how challenging the situation is.
Solid business knowledge: You've got a good eye for business and understand what a healthy business model looks like and how it ties into the accounts you handle.
Multiple task juggler: Multi-tasking is the name of the game and you're great at managing competing priorities.
Why you should join our team
Be part of a diverse team of souls on a mission to revolutionise how the world recycles. We offer a fantastic bonus structure, along with heaps of employee benefits like full health coverage, a wellbeing package, and generous parental leave.
Interview questions for Account Managers
Try to be super specific with your questions, and really draw out complete responses from candidates.
Extra tip: Watch out for the applicants who can go into the specifics and provide concrete examples- these are the kind of answers you want in an interview.
What does a good client relationship look like to you? How would you go about fostering this relationship? Walk me through the steps you'd take.
Tell me about a time you made a mistake that made a client unhappy. How did you handle the situation?
Tell me about a time you successfully upsold a product or service to an existing client?
Tell me about a time you faced a challenge. How did you deal with it, and what motivated you to keep going?
Tell me about a time you developed your own way of doing things?
What are some major trends in our industry and how might our clients need to adapt?
Where to find Account Manager candidates?
Below is a list of relevant job boards you can use to find Account Manager jobs or look for candidates.
Job boards
Not sure where to put your job ad? Below is a list of job boards you can use to publish your job ad.
Indeed
LinkedIn
FlexJobs
We Work Remotely
Glassdoor
SalesJob.com
Google Careers Jobs
Reed.co.uk
The Alva platform in action
With Alva's candidate assessment software, you can start your hiring process in minutes. Simply set up a job position, choose a test profile, and then start sending out the assessments for completion.
Test profile feature
When assessing candidates for a certain role through Alva, the very first step is deciding what to look for. This is what you do when you set up a test profile. For sales positions, qualities like high logical ability and sales performance go together with being conscientious, extraverted, and emotionally stable. Setting up a profile like this can help you hone in on the criteria you want to assess candidates on.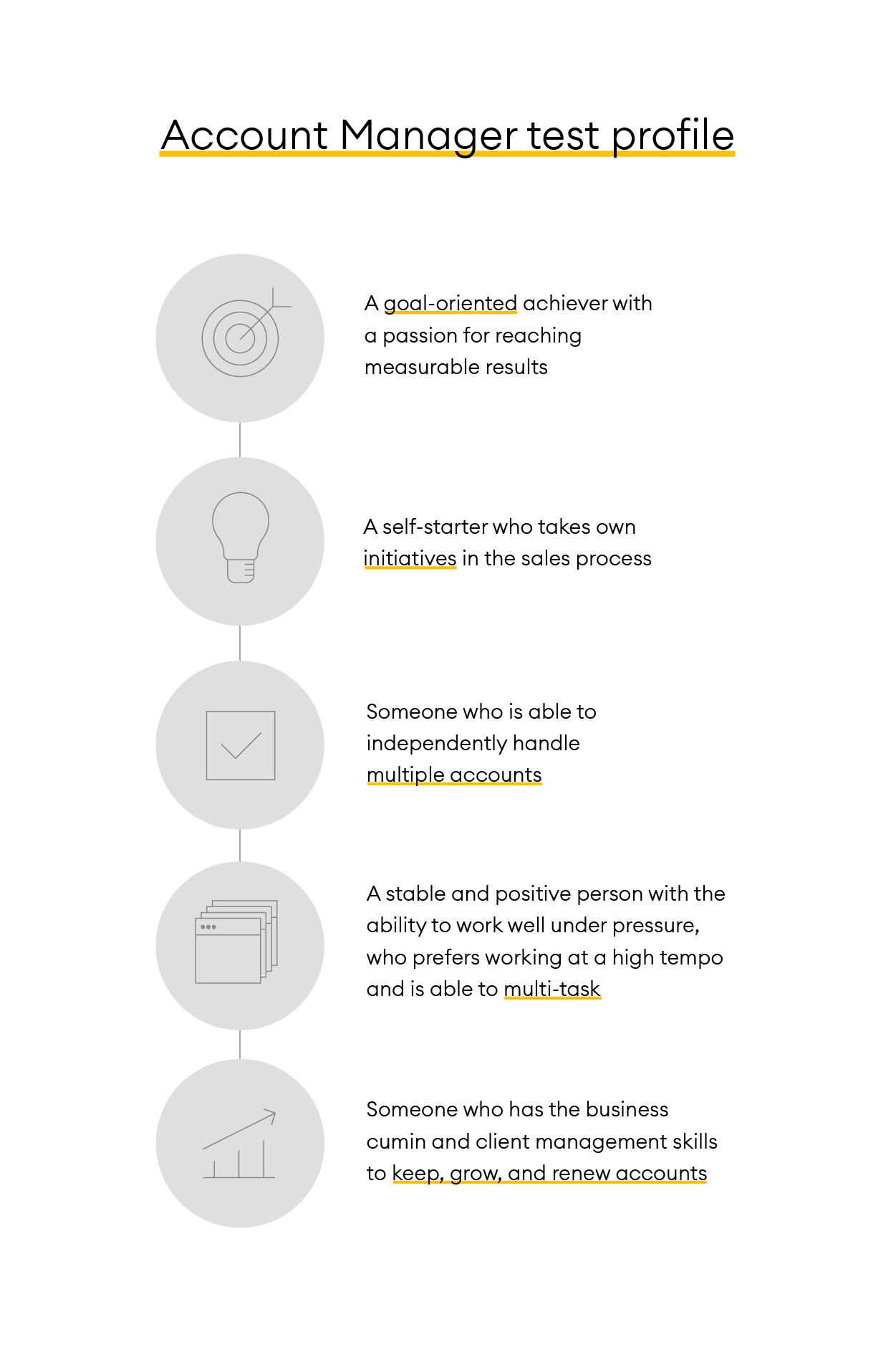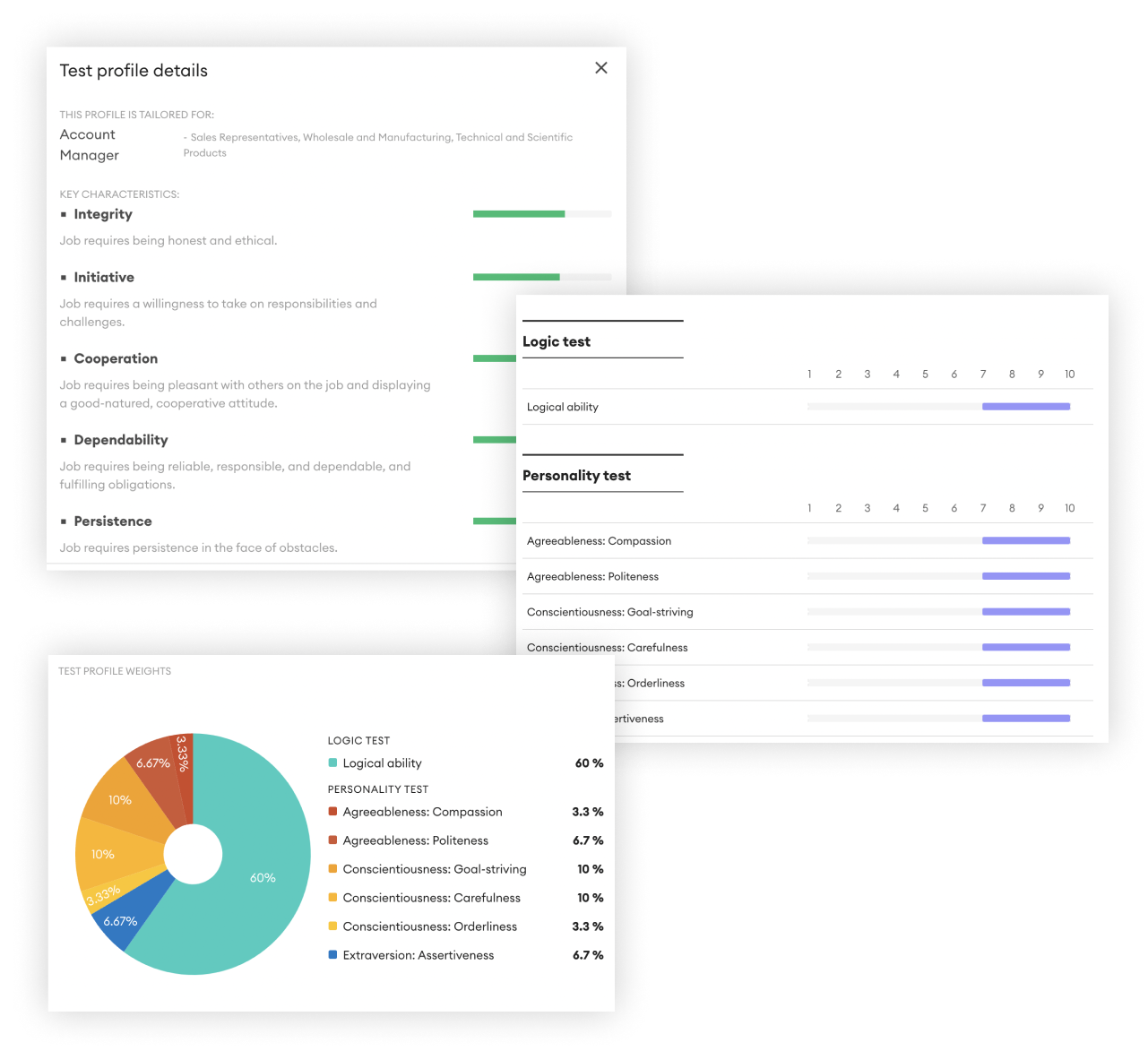 Interview Scorecard feature
Within the Alva platform, you can select shortlisted candidates and invite them to the interview stage. The scorecards feature keeps track of how you evaluate candidates in the interviews, using a criteria scale of 1-5.
Why choose Alva?
Spend time where it matters- Quickly spot the candidates who best match the role requirements and move them along for interviews.
Hire for impact-Reduce unconscious bias when screening candidates and discover hidden gems in your talent pool.
Empower your candidates-Reduce candidate drop-offs with Alva's evidence-based assessments. Candidates only need to take the assessments once and can easily share their results.
Frequently asked questions about hiring an Account Manager
1.How to hire an account manager? It's recommended to use candidate assessments as a first step in your hiring process, enabling you to quickly identify the candidates with the most potential. Next, run structured interviews and a practical case study to assess a candidate's role suitability.
2. is an account manager? An account manager is responsible for handling key accounts. They manage relationships with customers and are the primary point of contact with clients, handling everything related to their account. Sometimes, an account manager is also responsible for hunting for new business, but that's not always the case.
3.What does an account manager do? An account manager is responsible for making sure clients are happy with the product or service they've purchased. The account manager handles all components of an account, from managing expectations, solving complaints, to finding solutions to issues and maintaining a positive relationship between both parties for future business opportunities.
4.What careers can account managers advance to? Successful account managers go on to become senior account managers or account directors, and are tasked with overseeing several account managers.