Picking the wrong Account Executive to close deals can significantly harm your sales revenue, dampen your team's spirit, and in worst case scenarios— make or break your business, particularly if you're a startup. This is why knowing how to hire a stellar Account Executive has never been more critical.
Yet sadly, hiring an under-performing Account Executive to lead your sales activities is all too common, with 40% of all sales hires ending up being mis-hires.
Meaning—they are fired or leave for performance reasons, within the first year!
And what do these bad hires usually have in common?
They are missing fundamental soft skills to help them excel in their sales roles, like collaboration, communication, rapport-building, and empathy. And they usually lack hard skills to effectively solve problems at work and process complex information.
A bad sales hire costs a company thousands of dollars. A bad hire eats into team morale, and reduces sales performance for entire teams. And the company brand suffers.
But enough with the bad news.
This hiring guide for the Account Executive role is here to help you hire better, reduce your churn rates, and find those difference makers that will skyrocket your sales figures!
Spoiler alert: Once we started doing this at Alva, our sales team grew ten-fold.
Let's get to it!
How to hire Account Executives
Knowing what makes a great Account Executive is one thing—but how do you actually pick the best ones for your business? Below is our tried and tested eight-step hiring process.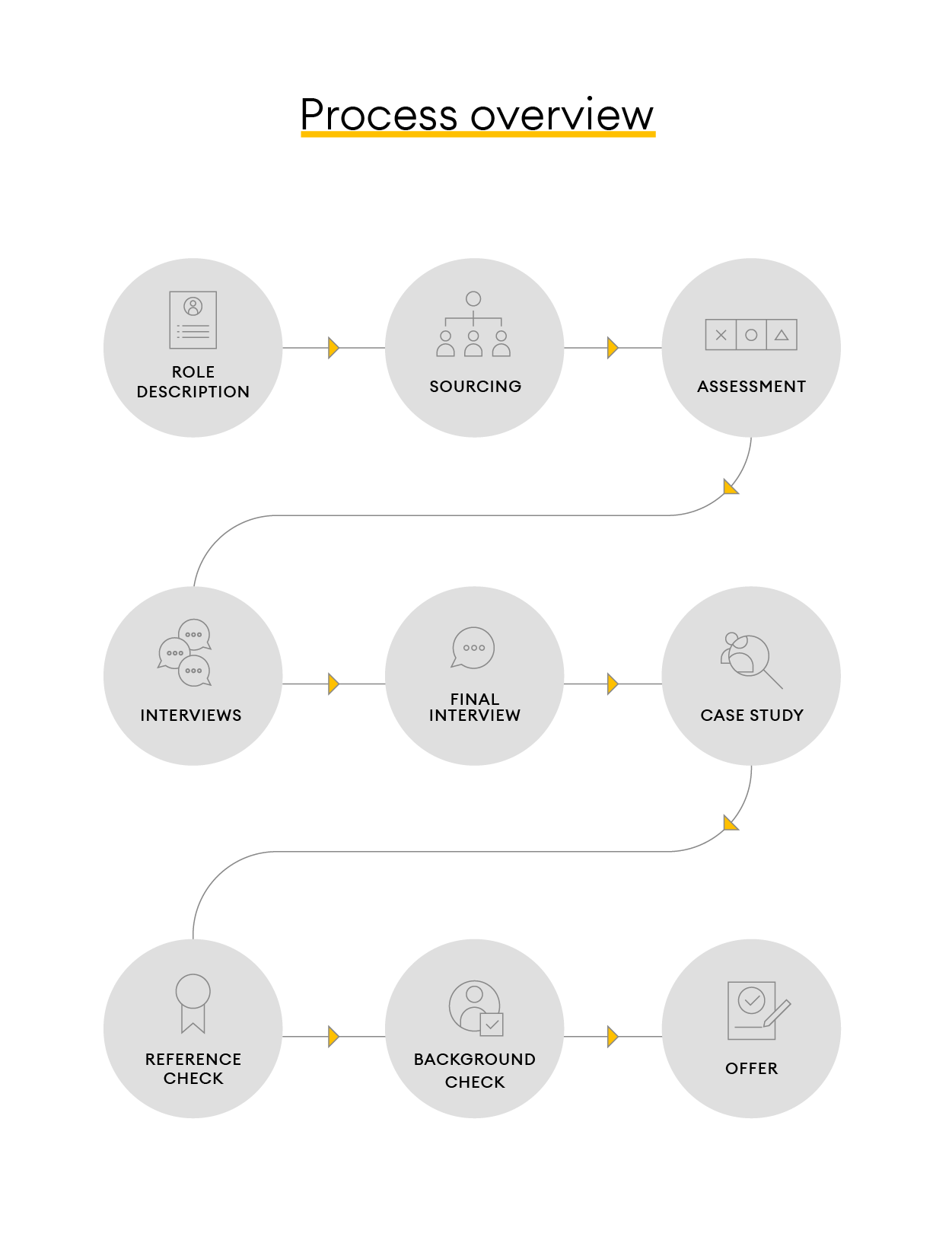 Step one: Determine whether you're ready to sign on an Account Executive
Do some soul searching and ask whether your business is ready to take on an AE. Particularly if you're a startup, you'll want to ensure you have enough customer activity and lead generation to fill an AE role.
Step two: Understand what skills and qualifications make for a great account executive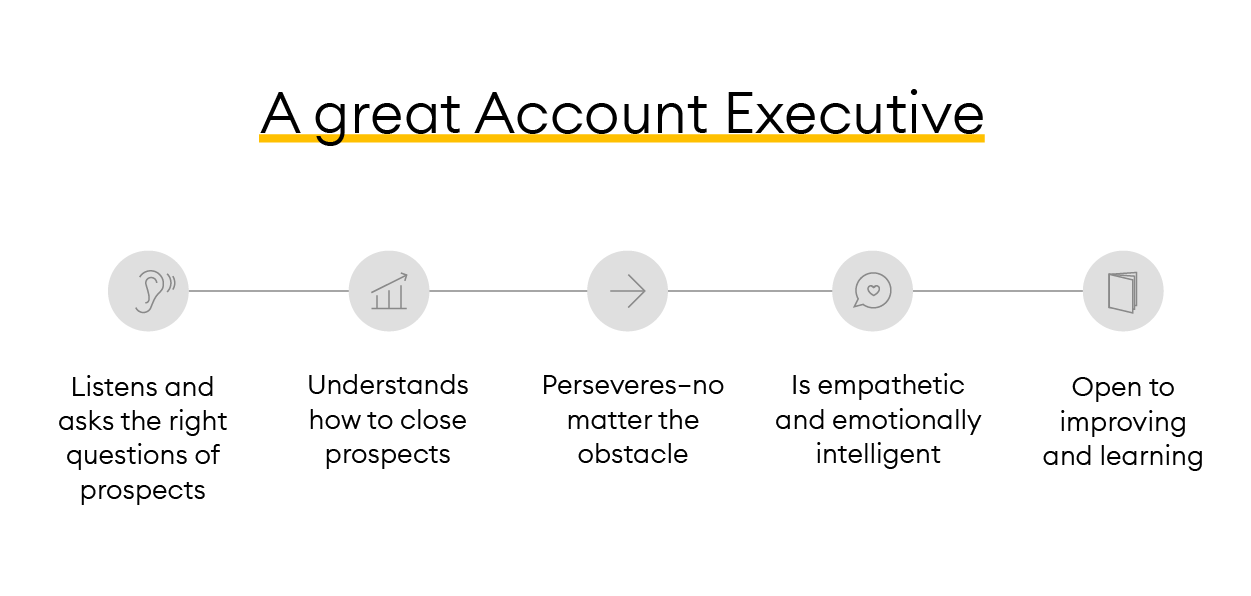 A great account executive is:
A great listener- can do a needs analysis by asking the right questions to prospects.
Goal-oriented- focused at closing prospects no matter the obstacle.
Persistent- doesn't give up when the going gets tough.
Empathetic- Can relate to the prospect, and mirror their energy when talking to them.
Emotionally stable- can handle no's and not take the job personally.
Relatable-

Can relate to what the prospects are feeling and build trust and rapport.
Step three: Host a startup meeting with key stakeholders
Are you ready to hire an account executive? Great, now comes the planning. Host a startup meeting with relevant team members to figure out the role requirements.
An important thing to ask here is why you need the person to begin with? What do you expect them to bring to the table? If it's a completely new role, run a calibration meeting to figure out how the company will be impacted by this new hire.
Important note: If you opt to go for a candidate assessment as the first part of your pre-employment screening step, then figure out what characteristics you want to test candidates on in the startup meeting. At Alva, we use these characteristics when building our test profile.
Step four: Write your job ad and publish it
Now's the time to put up the job ad in the right forums. Look at generic job market places, or specific boards tailored to sales professionals. To avoid putting some candidates off from applying, make sure your ad is inclusive and includes gender-neutral terms.
Step five: Take care of incoming applicants
Source candidates using candidate assessments and quickly move shortlisted applicants to the interview stage. At Alva, we use our own candidate assessment platform to broaden our talent pool, minimise hiring bias, and invite the best candidates with the biggest chance of role success along for interviews.
Step six: Interview candidates
Once you agree on which candidates to go with, the TA manager is usually the first one to interview the candidate and conduct a general character assessment. Here, is a perfect opportunity to filter out people without experience or who simply put, aren't a good fit for the company. It's still a structured interview process.
Step seven: Second interview
After the first interview, candidates with the most potential progress to the next interview which assesses their readiness in the role. This is done by the hiring manager, and the interview is more focused on the candidate's previous experience.
Step eight: Case study
The case study needs to be relevant to the position, and highlight the candidate's competencies. The hiring manager leads the case study and assesses it to determine whether the candidate qualifies or not. Sometimes, other team members can be involved in the case study too, and help with assessment.
How to evaluate Account Executive applicants
One of the most efficient ways to hire high-performing Account Executives is to use a candidate assessment tool to spot the best candidates to engage with, and select candidates with the highest potential to progress to interviews.
Why use assessments to find your next AE?
Assess whether job candidates have the necessary skills to manage relationships with prospects
Assess whether a candidate has the right traits- like organisation, negotiation, and strong communication- to succeed in the position.
Significantly reduce the chance of making a bad hire by getting an accurate picture of a candidate's role fit early in the recruitment process.
Optimise time spent interviewing candidates, rather than manually scanning through hundreds of resumes.

Alva's candidate assessment platform
Alva's logic reasoning and personality assessments test a range of factors like logical ability, conscientiousness, extraversion, and emotional ability needed for a candidate to succeed and thrive in a job role.
The assessments take less than 30 minutes to complete; the candidate owns the results, and the recruiter can see which candidates best match the requirements and decide with confidence who to interview.
Account Executive applicants who perform favourably with Alva's assessments will have a combination of soft skills and hard skills needed to close prospects and nurture client relationships. In turn, the assessments help hiring managers determine whether a candidate has what it takes to succeed in the role.
Account Executive job description template
This account executive job description template is ready to be used! It's optimised for posting to online job boards or career pages and is completely customisable for your company. Simply copy your template, replace the highlighted sections with your own copy, adapt it to your hiring needs, and get to hiring your next superstar AE!
Account Executive job description
Are you our next Account Executive? As AE, your main responsibility is to run, develop, and close sales opportunities that are qualified by our sales team.
Role responsibilities
Run sales presentations and meetings with prospects and follow-up on all opportunities
Conduct a needs analysis
Handle prospects from lead to close
Manage a pipeline of qualified leads to build relationships with potential clients
Record, keep track and analyse data using a CRM platform
Work with existing accounts to retain and grow business
Work closely with the sales development team to close qualified sales opportunities
Job requirements
Impeccable communication: you have to be comfortable talking to people and maintaining good relationships, since the majority of your time will be spent chatting to prospects and building rapport with them.
Great at solving problems: You're the kind of person that, when in a pickle, rather than throw up your hands and give up, you soldier on, determined to solve the issue at hand.
Goal-oriented: You have to be comfortable hitting quotas, and therefore, need to have experience setting goals and following them through.
Interest in sales: You don't need to be a sales pro with years of experience in sales to succeed in this role. But what you do need is to possess an avid interest in learning and be open to growing into the role.
Negotiation: A prospect wants to negotiate the terms before signing a contract? No problem, you've got what it takes to find middle ground with the prospect and get them to the finish line. In other words, you're a pro at persuasion and negotiation.
Why you should join our team
Be part of a diverse team of souls on a mission to revolutionise how the world recycles. We offer a fantastic bonus structure, along with heaps of employee benefits like full health coverage, a wellbeing package, and generous parental leave.
Interview questions for Account Executives
Try to be super specific with your questions, and really draw out complete responses from candidates.
Extra tip: Watch out for the applicants who are able to go into the specifics and provide concrete examples- these are the kind of answers you want in an interview.
Tell me about a time you had a bad meeting? What happened, how did you deal with it?
Tell me about a meeting where you nailed the sales process?
Tell me about your experience with working with targets? What were they, did you meet them? How did you perform compared to your team members?
Tell me about a time where you didn't track well with your targets? What happened, how did you bounce back?
Where to find Account Executive candidates?
Below is a list of relevant job boards you can use to find account executive jobs or look for candidates.
Job boards
Not sure where to put your job ad? Below is a list of job boards you can use to publish your job ad.
Indeed
LinkedIn
FlexJobs
We Work Remotely
Glassdoor
SalesJob.com
Google Careers Jobs
Reed.co.uk
The Alva platform in action
With Alva's candidate assessment software, you can start your hiring process in minutes. Simply set up a job position, choose a test profile, and then start sending out the assessments for completion.
Test profile feature
When assessing candidates for a certain role through Alva, the very first step is deciding what to look for. This is what you do when you set up a test profile. For sales positions, qualities like high logical ability and sales performance go together with being conscientious, extraverted, and emotionally stable. Setting up a profile like this can help you hone in on the criteria you want to assess candidates on.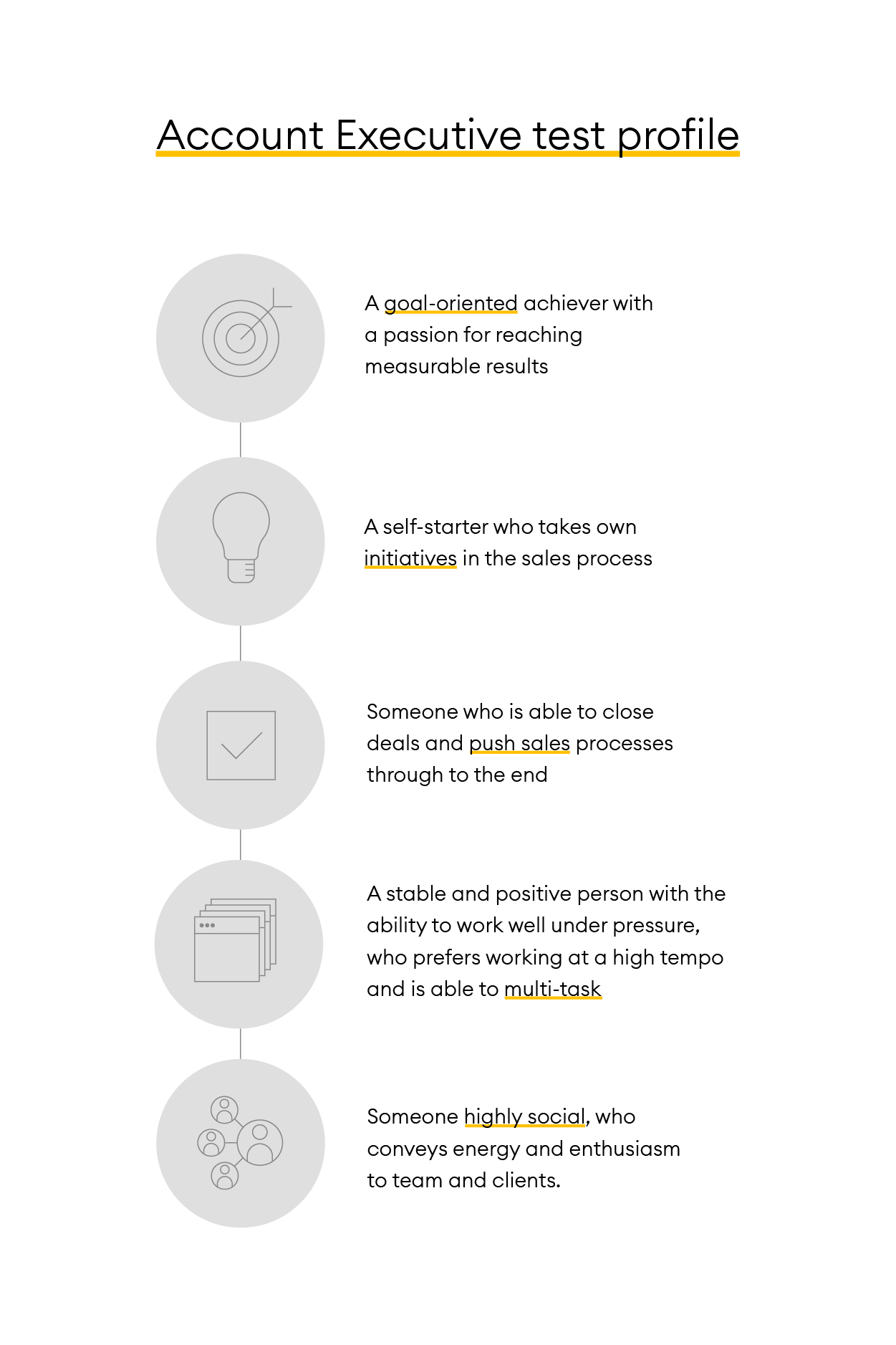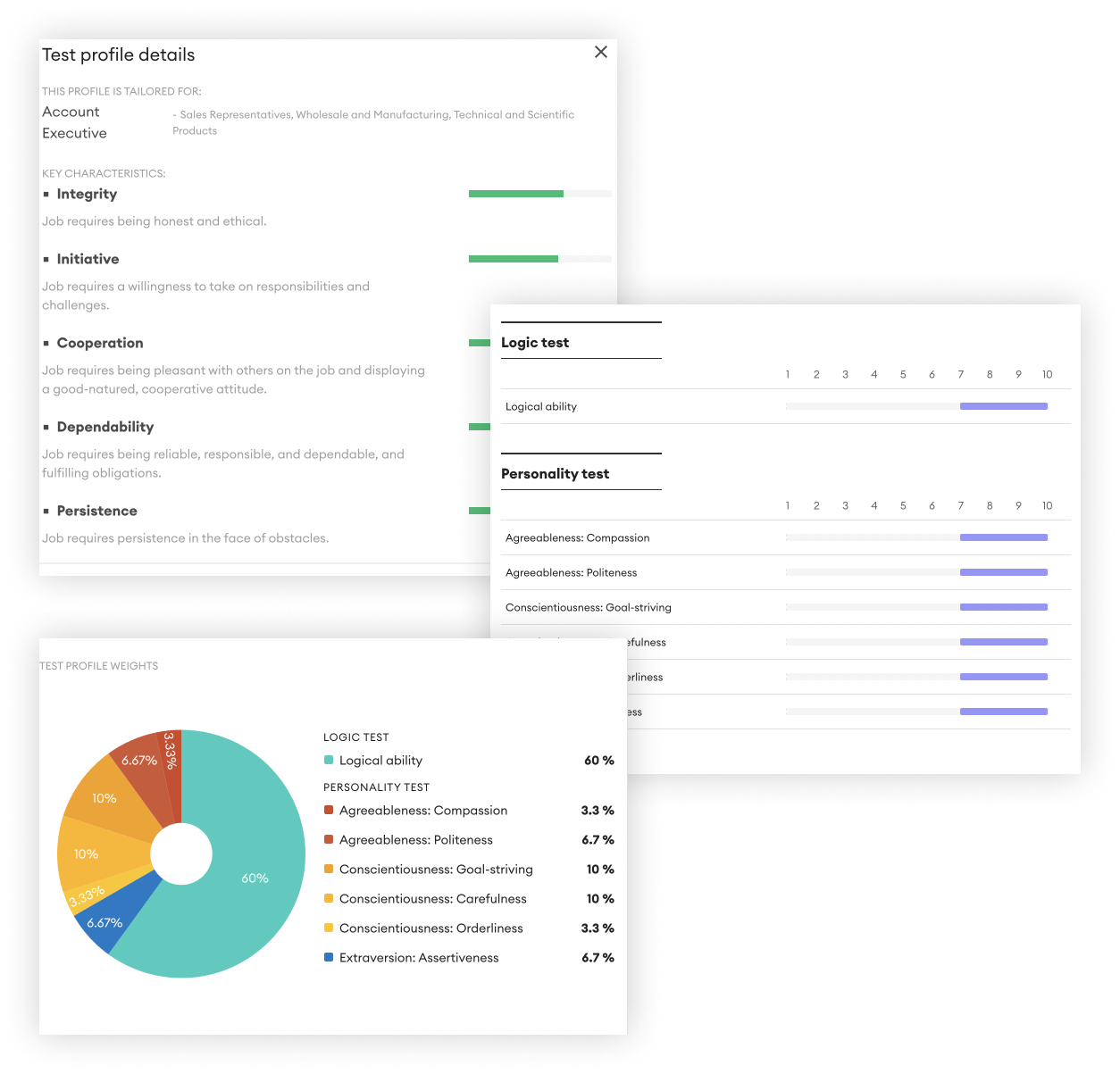 Interview Scorecard feature
Within the Alva platform, you can select shortlisted candidates and invite them to the interview stage. The scorecards feature keeps track of how you evaluate candidates in the interviews, using a criteria scale of 1-5.
Why choose Alva?
Spend time where it matters- Quickly spot the candidates who best match the role requirements and move them along for interviews.
Hire for impact-Reduce unconscious bias when screening candidates and discover hidden gems in your talent pool.
Empower your candidates-Reduce candidate drop-offs with Alva's evidence-based assessments. Candidates only need to take the assessments once and can easily share their results.
Final thoughts
Account executives can significantly move the needle for your company's profit margins, but only if the need is truly there.
Make an honest assessment whether you have the customer base and existing team structure to support this position. If you do and you're ready to hire, then make sure you follow the necessary hiring steps to ensure you land the best candidate for the roIe.
Look out for key characteristic traits like proactiveness, approachability, extraversion, high logic reasoning and emotional stability as indicators of the candidate's likelihood to succeed in the position.
Frequently asked questions about hiring Account Executives
Why hire an account executive? An account executive generates new leads and maintains current customer accounts. They manage other team members too, and in addition, analyze and track customer data using a CRM. An account executive can also support clients, and help nurture a positive experience with your company.
What is an Account Executive? An account executive (AE) is a salesperson that closes deals and brings in money for the business. Account Executives (AE) go a step further in the sales cycle and manage prospect relationships from start to finish. They are the ones that drive a company's sales process forward, and depending on the organisation, also manage existing customer accounts.
What does an Account Executive do? AEs grow customer accounts and are in charge of keeping accounts running smoothly. A good account executive asks the right questions and scopes out a prospect's needs like a pro. They are also great at objective handling and can quickly identify growth opportunities for the business.
What careers can account executives advance to? When it comes to advancing their careers, AEs have a number of options on their plate. Most move up to senior positions, like Sales Managers, while others land positions as Chief Operations Officers. It's important to flag here that lots of AEs move up internally, working their way to holding senior positions where they deal with high-profile clients on a case-by-case basis, or lead entire sales teams.