Finding a great SDR who doesn't crumble under the pressure is no small feat, with a Sales Development Representative (SDR) sticking with a company for 18 months on average.
Let that sink in for a second.
Investing in an employee that leaves within two years costs dearly—with a company spending around $37,500 in fees.
What's more, a bad sales hire can leave your sales team feeling drained, and your hiring budget strained.
So why does the SDR role have a notoriously bad turnover rate?
It's to do with how you hire them.
It's about the lack of research, time, and thought that goes into picking a SDR to nourish your sales pipeline. And it's about the lack of understanding of what a SDR actually does (nope they don't spend 100% of their time cold-calling like in the 90s).
It's about the problem of listening to your gut, rather than data when recruiting and hiring the right person for the role.
And it's about looking for experience only, when the secret to hiring a great SDR lies in the combination of soft skills, technical skills and overall potential they can bring into the role.
In short, the problem isn't the SDR position. It's your hiring process!
So how do you recruit and hire rockstar SDRs? Read on to find out.
How to hire a great SDR
Hiring a stellar SDR can significantly reel in high-quality prospects to your doorstep—while a bad hire can drag down your sales team with under-performers and overhead.
So how to spot the candidates with the most potential and effectively hire them with minimal hassle?
Hiring the best SDR for your team can be broken down into the following four steps.
Step one: Know the right time to hire.
Step two: Understand what traits and characteristics to watch out for in a SDR candidate.
Step three. Figure out how you will evaluate candidates fairly and accurately
Step four: Own a tight hiring process.
Step one: Knowing the right time to hire
One of the clearest signs you need a SDR is when inbound leads from your marketing team are getting difficult to track or monitor, or your speed-to-lead time has slumped and you need a fresh source of leads to fill your sales pipeline.
You should also consider the lifetime value of your customers. Would adding a SDR to your team make sense, cost-wise? And who would onboard, train, and mentor your SDR?
Finally, make sure you have an automated sales flow to begin with, and a good CRM in place before bringing in a new SDR. What you want is for them to use their time wisely, communicating with leads or prospects without having to tediously sift through data manually.
Once you've done your homework, keep in mind the following:
Qualities and potential triumph over experience— your SDR doesn't need five years of experience to excel in the role. What they do need, however, is to have the right traits, soft skills and attitude to thrive in the position.

Don't expect to see results immediately. It usually takes a few months to see whether a SDR is performing or not.

Don't be frugal with your hiring budget— investing in one great SDR can do wonders for your revenue, compared to having 3 average SDRs on your team.

SDRs aren't there to exclusively do data entry. Make sure all your lists and customer databases are in shape before hiring a SDR.
Step two: How to spot a great SDR candidate
The great SDRS. They make hitting targets look easy. The true gems out there come around now and again, and when you get one on your team, you score big time.
Why? Simply put, SDRs bring in significant revenue for businesses. In fact, they're responsible for generating between 30-45% of the sales pipeline in B2B SaaS companies, highlighting just how much value a quality SDR can bring to teams.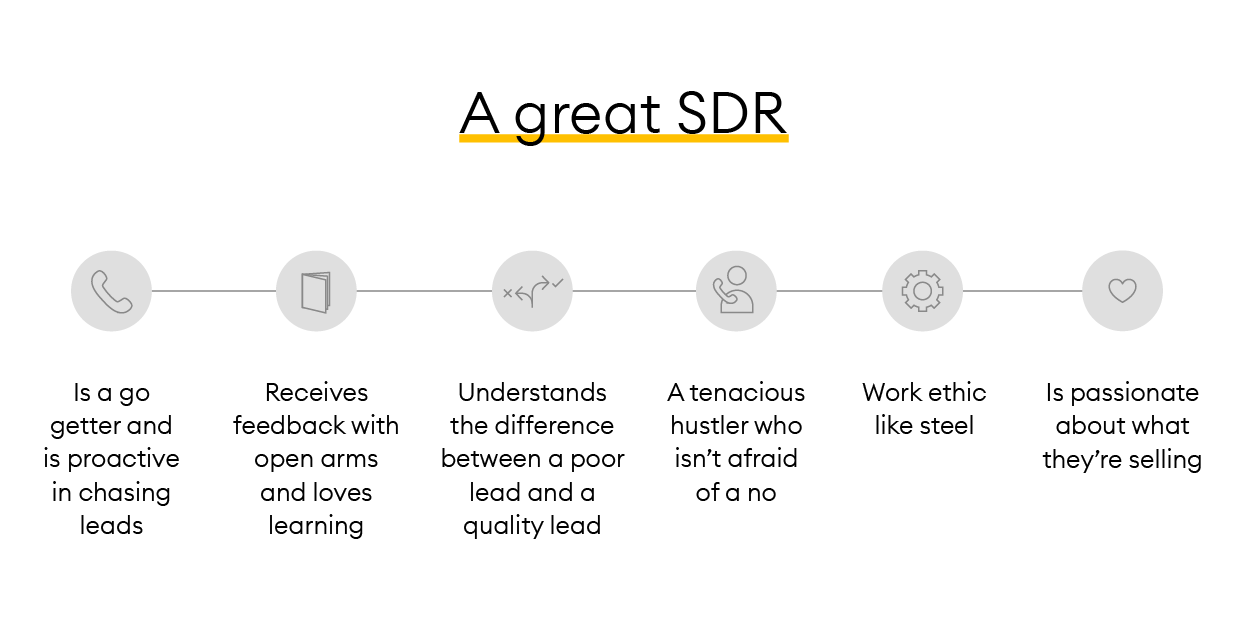 So how to identify the rockstars from the crowd? Overall, a great SDR is tenacious, relentless at hitting targets, and is unafraid of getting rejected. Their personality sits between being empathetic, interpersonal, and goal-oriented. What's more, they're considered the face of your company, and can act as trusted advisers, building credibility for your brand.
A great SDR is:
Empathetic-

they can snugly slip into the shoes of the buyer and relate to their point of view.

Structured-

Considered time-management gurus that know how to stick to a schedule.

An active listener-

they are great at asking questions, and consistently communicate with prospects in a clear, structured way.

A hustler-

they keep the wheel spinning no matter the obstacle, and genuinely enjoy the thrill of being on the hunt, scouting for new prospects.

Gritty-

they're unafraid of rejection and can step up even when the going gets tough.

Creative-

they think outside the box and come up with innovative ways to land new accounts.

Passionate-

they live and breathe the product or service and are passionate about what they're selling.

Curious-

They are curious about the industry they sell into, the buyers they connect with, and all the things that make the company they work for tick.
Step three: Figure out how you will evaluate SDR candidates
Do you want to hire high-performing SDRs to help grow your company revenue? One of the most efficient ways to do this is to use a candidate assessment tool to spot the best candidates to engage with, and select candidates with the highest potential to progress to interviews.
Why use assessments to find your next SDR?
Assess whether job candidates have the necessary skills to manage relationships with prospects

Assess whether a candidate has the right traits- like integrity, initiative, strong communication and cooperation- to succeed in the position.

Decrease the time it takes to hire a candidate (hiring assessments are proven to reduce time to hire from

42 to five days

)

Significantly reduce the chance of making a bad hire by getting an accurate picture of a candidate's role fit early in the recruitment process.

Optimise time spent interviewing candidates, rather than manually scanning through hundreds of resumes.
Alva's candidate assessments
Alva's logic reasoning and personality assessments test a range of factors like logical ability, conscientiousness, extraversion, and emotional ability needed for a candidate to succeed and thrive in a job role. The recruiter gets to select which relevant skills to test for in a particular candidate, and the questions are adapted accordingly.
The assessments take under 30 minutes to complete; the candidate owns the results, and the recruiter can see which candidates best match the requirements and decide with confidence who to interview, all with the click of a button.
Sales Development Representative applicants who perform favourably with Alva's assessments will have a combination of soft skills and hard skills needed to close prospects and nurture client relationships. In turn, the assessments help hiring managers determine whether a candidate has what it takes to succeed in the role.
Step four: Set up a powerful hiring process
While understanding the traits of a good SDR is important, getting them to join your team is another challenge altogether.
Besides making sure you have a quick, efficient, and accurate pre-employment screening step to pick the best candidates from your pile of applications, you also need to have a structured interview process in place, and a case study to test a candidate's knowledge and technical skills.
General hiring criteria:
Raise the bar.

Rather than narrowing your talent pool, what you want is to open the door to people of all walks of life to apply for the SDR role. A good way to do this is to make your job ad as inclusive as possible, which is likely to increase your chances of attracting candidates from all backgrounds.

Select candidates who have the most potential.

Rather than look at years of experience or hard skills alone, choose SDR candidates who have transferable skills to bring to the position. Especially look out for qualities like rapport-building, communication, active listening, and critical thinking when considering candidates.

Use data

—

not intuition

—

to inform your hiring decisions.

Increase your quality of hire by using candidate assessments to get an accurate picture of candidate role fit first. Usually, it's recommended to use these assessments as the first step in your hiring process. With these assessments, quickly rule out candidates who aren't considered suitable for the role, and effectively spend more time with shortlisted applicants in interviews.

Hold structured interviews.

Reduce confirmation bias by having an organised, structured interview process where each candidate gets asked the same questions and is scored on a set rubric.

Conduct a case study

. Case studies are an effective way to test a candidate's competency. This includes testing for technical skills, social and behavioural skills. For SDR roles, look at how well they can pitch your company's product and service, how sound their communication skills are, and whether they're able to listen and ask the right questions.

Onboard properly.

It's overwhelming enough to be the new kid on the block, but having to sell a company's product or service from the get-go is a huge ask! Ensure you spend enough time explaining the role, target structure and expectations in your onboarding kick-off meeting. Next, set up some time each week for the new SDR to meet with the sales manager and other members of the team and get to know the position inside out.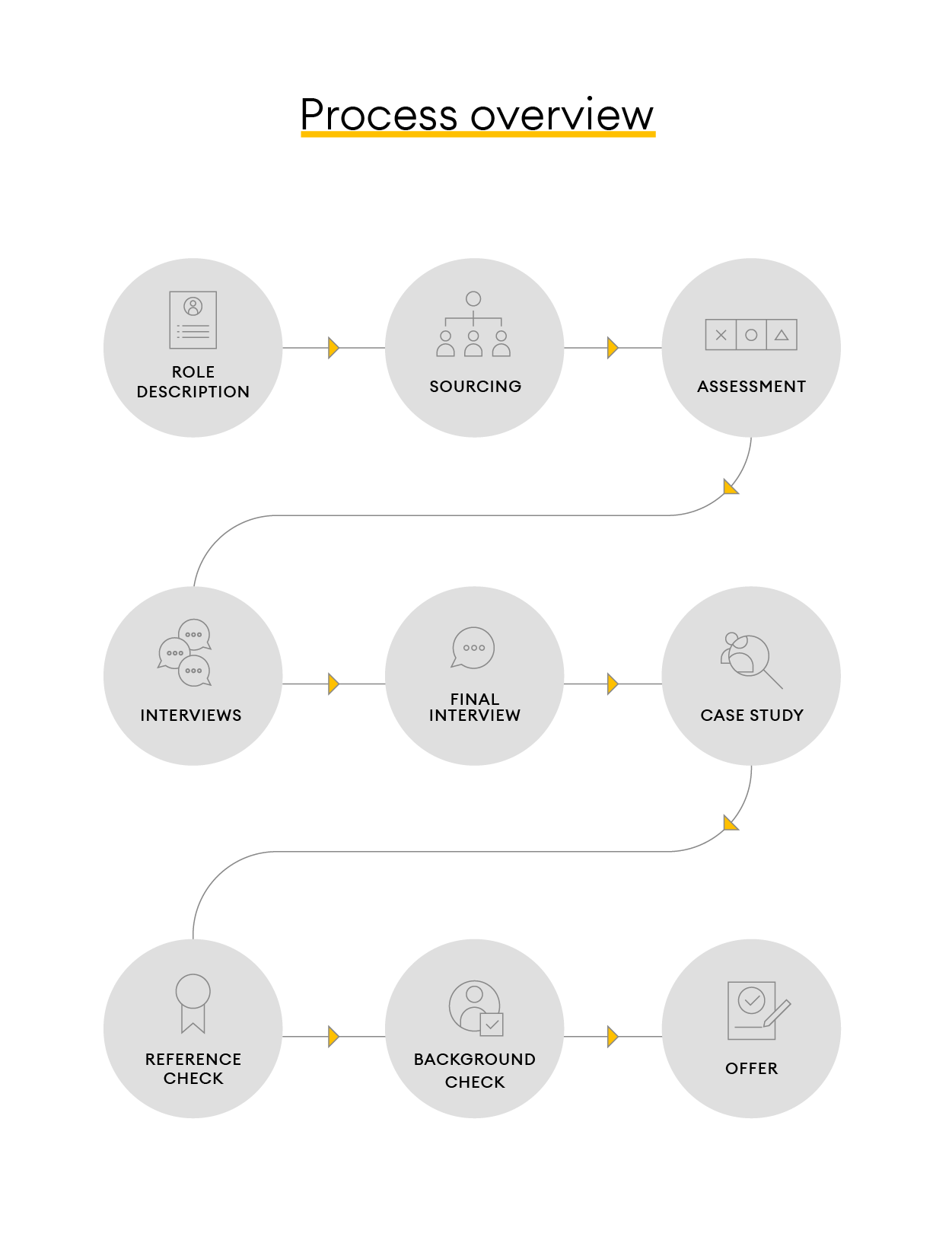 SDR job description template
This sales development representative description template is ready to be used! It's optimised for posting to online job boards or career pages and is completely customisable for your company. Simply copy your template, adapt it to your hiring needs, and get to hiring your next superstar!
SDR job description
Are you our next Sales Development Representative? We're looking for an upbeat, dynamic SDR to help us with our sales pipeline. Your main job is to engage and qualify prospective customers, serving as the first touch point for prospects. Along with qualifying leads, and scheduling calls between prospects and sales executives, you're our brand guardian, helping potential customers understand our product and answer any questions that may crop up.
Key responsibilities:
Contact potential prospects through LinkedIn, email, cold calls, and events

Qualify leads

Effectively communicate the product's value proposition and be able to read through objections and answer competitive questions

Set up meetings and demos between prospects and account executives

Manage and maintain a pipeline of interested prospects and engage account executives for next steps

Actively seek new business opportunities in the market

Support the wider sales team
Role requirements
Great at communicating: You love connecting with people and building rapport, and thrive on having conversations.
Be resilient. You have to be comfortable with the uncomfortable-aka-getting lots of no's and outright rejections, as well as continuously hunt for new prospects.
Goal-oriented: You have to be ok with hitting quotas, and therefore, need to have experience setting goals and following them through.
Interest in sales: You don't need to be a sales pro with years of experience in sales to succeed in this role. But what you do need is to have an interest in learning and be open to growing into the role.
Why you should join our team
This is where you get to the heart of your company culture and benefits. What does the candidate get from joining your team? Why is your company different from the sea of others?
For example (edit to fit with your own company mission and benefits): Be part of a diverse team of souls on a mission to revolutionise how the world recycles. We offer a fantastic bonus structure, along with heaps of employee benefits like full health coverage, a wellbeing package, and generous parental leave.
Interview questions for SDR applicants
Try to be super specific with your questions, and really draw out complete responses from candidates.
Extra tip: Watch out for the applicants who are able to go into the specifics and provide concrete examples- these are the kind of answers you want in an interview.
Pretend I'm a prospect. Describe our product or service to me.

Have you ever been in a customer service role? What were your favourite and least favourite parts?

Tell me about a time you had to get really good at a skill. What did you do to achieve that goal?

Tell me about your experience with working with targets? What were they, did you meet them? How did you perform compared to your team members?

"Tell me about a time you faced a challenge. How did you deal with it, and what motivated you to keep going?"

"What's the last thing you learned that you thought was really interesting?
Where to find SDR candidates
Below is a list of relevant job boards you can use to look for candidates and post your job ad.
Job boards
Not sure where to put your job ad? Below is a list of job boards you can use to publish your job ad.

The Alva platform in action
With Alva's candidate assessment software, you can start your hiring process in minutes. Simply set up a job position, choose a test profile, and then start sending out the assessments for completion.
Test profile feature
When assessing candidates for a certain role through Alva, the very first step is deciding what to look for. This is what you do when you set up a test profile. For sales positions, qualities like high logical ability and sales performance go together with being conscientious, extraverted, and emotionally stable. Setting up a profile like this can help you hone in on the criteria you want to assess candidates on.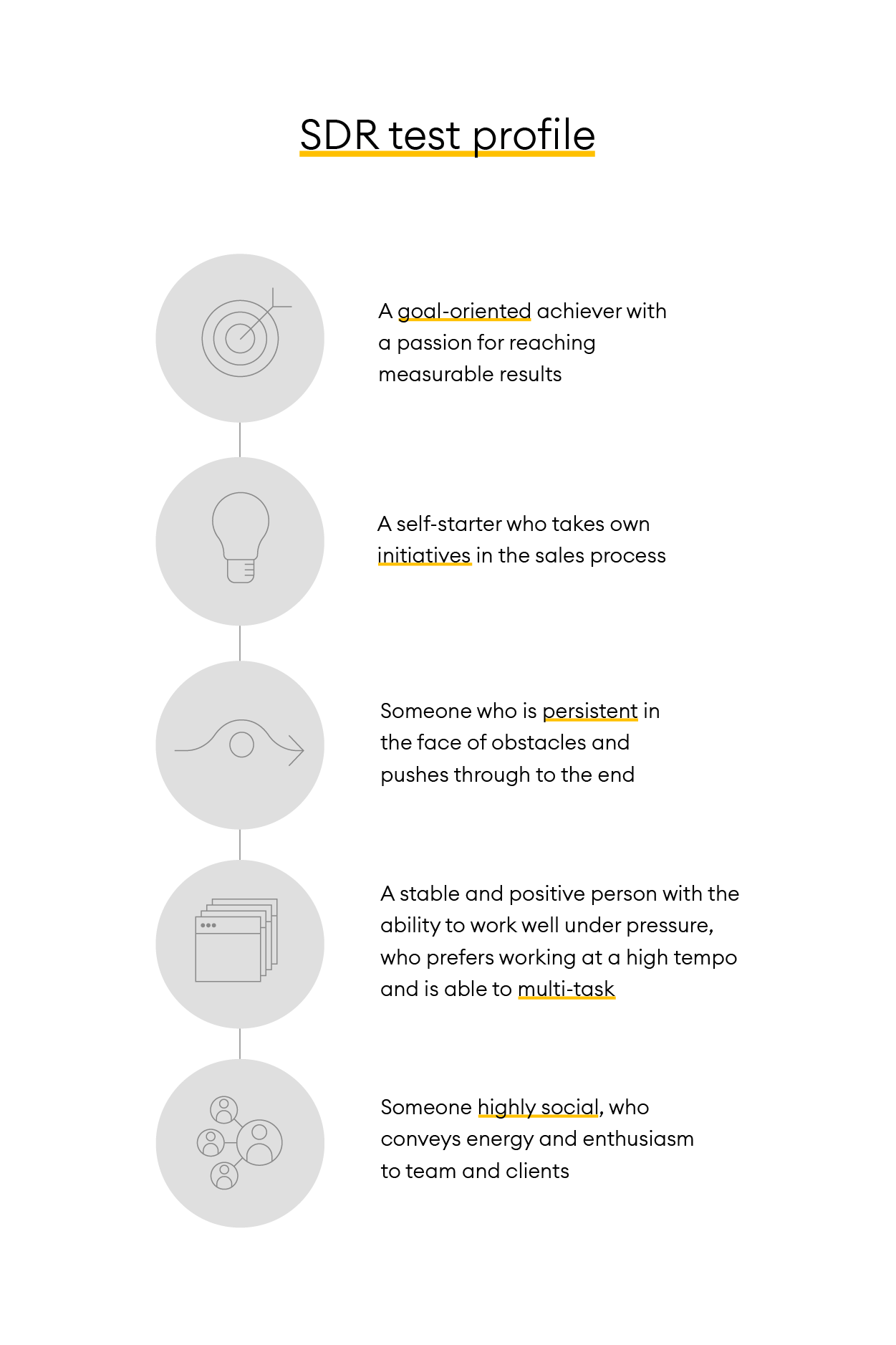 Score cards feature
Within the Alva platform, you can select shortlisted candidates and invite them to the interview stage. The scorecards feature keeps track of how you evaluate candidates in the interviews, using a criteria scale of 1-5.
Why choose Alva?
Spend time where it matters- Quickly spot the candidates who best match the role requirements and move them along for interviews.

Hire for impact-Reduce unconscious bias when screening candidates and discover hidden gems in your talent pool.

Empower your candidates-Reduce candidate drop-offs with Alva's evidence-based assessments. Candidates only need to take the assessments once and can easily share their results.
Frequently asked questions about how to hire a SDR
1. How to hire a Sales Development Representative? To hire a sales development representative, first assess whether there is a need for one. If yes, then map out your hiring process, and how you will evaluate the candidate. One of the key things to consider is what traits and skills you want to assess the candidate on. It's recommended to use candidate assessments as a first step of your hiring process, as it'll enable you to quickly identify candidates with most potential to excel in the position, and invite them along for interviews.
2. What is a Sales Development Representative? Think of a SDR as a vital sales resource that can have a huge impact on your sales funnel, from top to button. A Sales Development Representative is often the first point of contact your prospective customers will have with your brand, and their primary job is to keep your pipeline flowing.
3. What does a Sales Development Representative do? A SDR's main job is to keep your sales pipeline alive and well. They are hired for sales prospecting, and the bulk of their work is focused on generating and qualifying new leads. As a result, they spend most of their time reaching out to potential customers through the early stages of the sales funnel.Considering SDRs are the first ones your prospect customer hears from, they're a key part of your sales cycle.
4. What careers can SDRs advance to? SDR roles are typically entry-level to mid-career roles, and as such, there are plenty of opportunities to move up and grow. Most SDRs get promoted and claim positions like SDR team lead, Account Executive, SDR Manager, Customer Success Manager, and more.