As CEO, you're probably up to your neck with critical tasks already—from supporting business transformation and working on the company's future plans, to making sure everyone works in harmony together.
In comes the Chief Revenue Officer (CRO). Their main job is to align departments and accelerate revenue across sales, marketing, and customer success teams. An effective CRO is a fantastic asset to have in your corner. They can significantly reduce your workload (and stress levels) as they're responsible for generating growth for your business, giving you time to focus on other priority tasks.
It's no wonder, then, that the CRO role is so in-demand right now, with Silicon Valley companies having set the tone in recent years for hiring these revenue-drivers. Today, more and more business leaders are rehauling their leadership structure to include this vital C-Suite-level role.
But here's the problem.
The CRO position isn't easy to fill. Indeed, way too many companies are getting these critical hires wrong, with the majority assuming that a mid-level sales leader is all that's required for the CRO role. This is a common misconception, considering a CRO needs to equally be good at marketing, customer success and sometimes even technology to succeed. Fast-forward a couple of months in, and many companies realise that their new CRO is in over their head, and they have to reassess the role again.
Or worse, these companies quickly hire a CRO with a huge compensation package, only to realise that the CRO doesn't have a clue about growing a company and leading across departments. The result? Hundreds of thousands of dollars, wasted, just like that.
So how do you prevent this from happening to you? Start by understanding whether you need a CRO to begin with. Next, figure out what attributes, skills and experience are needed for a CRO to be successful in the role. Finally, map out your hiring process and optimise it for the CRO role.
Cue our hiring a Chief Revenue Officer guide!
How to hire an effective Chief Revenue Officer
Hiring a game-changing Chief Revenue Officer can be broken down into the following steps:
Step one: Determine whether you need a CRO
Step two: Understand what makes a great Chief Revenue Officer
Step three: Map out your hiring process
Step one: Identify whether there's a business case for a CRO
Hiring a CRO before you're ready can prove disastrous. The respective person could tamper with your growth revenue strategy, eat into your company budget, crush team morale, and create a vicious turnover cycle.
So how do you know when it's time to hire a CRO? That entirely depends on the size and complexity of your business.
Usually, there's no need to hire a CRO if:
There are only a handful of salespeople on your team
Your product or service offering still needs developing
You're a startup in the early growth stage
You lack buy-in from other leaders
In contrast, hiring a CRO is a good idea when:
You're growing and scaling quickly with dozens of salespeople on your team

You've recently merged with another organisation that has a different sales ecosystem

Your customer-base is diverse and complex

You're looking to develop relationships with different departments and connect cross-functional teams to one sales ecosystem

A lack of strategic vision is starting to hurt your business growth trajectory
Are you confident enough to hire a CRO? Great, next comes understanding what key personality traits and skill set this unique person should possess.
Step two: Understand the key characteristics of a high-performing CRO
The CRO is there to align and optimise your entire sales touch points and increase revenue. Therefore, it's vital for your CRO to have a long-term vision of where your company is going, and to relentlessly seek out the "why".
A great CRO is empathetic, secure, and comfortable with challenges. They don't shy away from tackling a huge to-do-list either. In short, they know what they're doing and understand why one process fails while another succeeds.
A great CRO is:
Curious: Recognises marketplace needs and loves exploring new revenue pathways.
Strategic: Views everything under a 360 degree lens, and understands the ins and outs of business models.
Data-obsessed: Has an analytical mind and loves to pick apart data and use it to make informed decisions and smash goals.
A natural leader: Communication and interpersonal skills are a given, along with an incredible knack for understanding different points of view, and banding siloed groups of people together.
Forward-thinker: Owns entire life cycle of revenue generation within an organisation and can see ahead and predict future patterns.
Customer-focused: Deep understanding of customer needs and pain points, and what strategy is needed to achieve optimal results.
Honest: Has a strong moral compass and ethical principle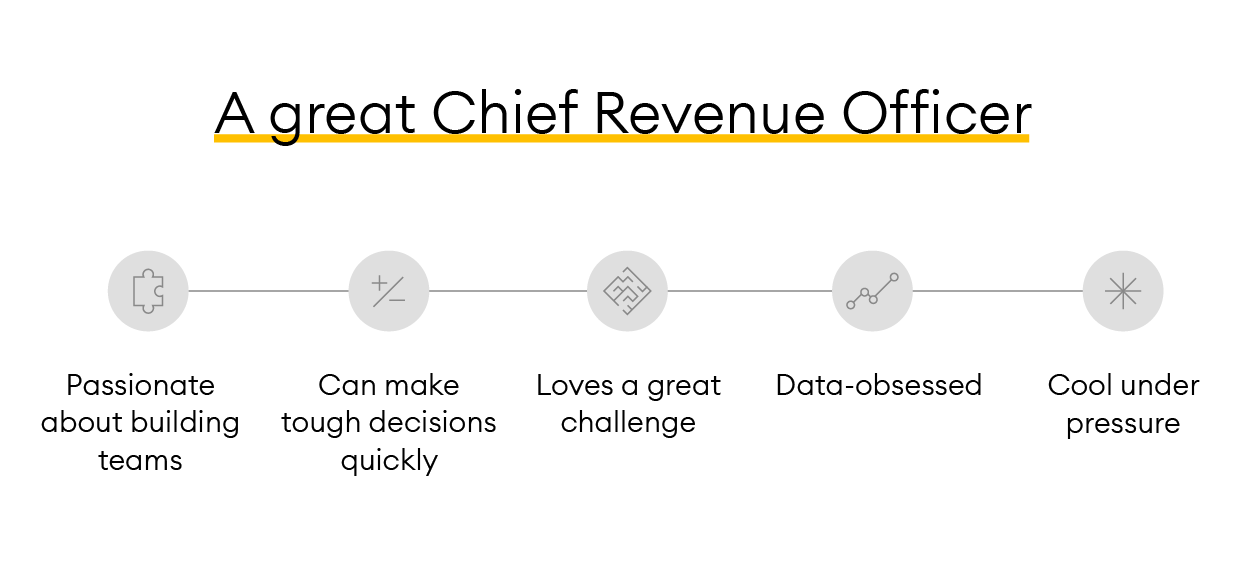 Knowing the difference between a VP of Sales and CRO can save you from picking the wrong candidate. While a VP of Sales is exclusively focused on building, and optimising sales operations, a CRO drives revenue across all areas of your business.
Step three: Map out your hiring process
A streamlined hiring process helps you to keep your hiring funnel in shape, as well as give off a great candidate experience. More importantly, mapping out your ideal candidate profile, understanding the nuanced requirements of the CRO role— and how they align with organisational goals—will increase your chances of finding that difference maker who will move the needle for your company.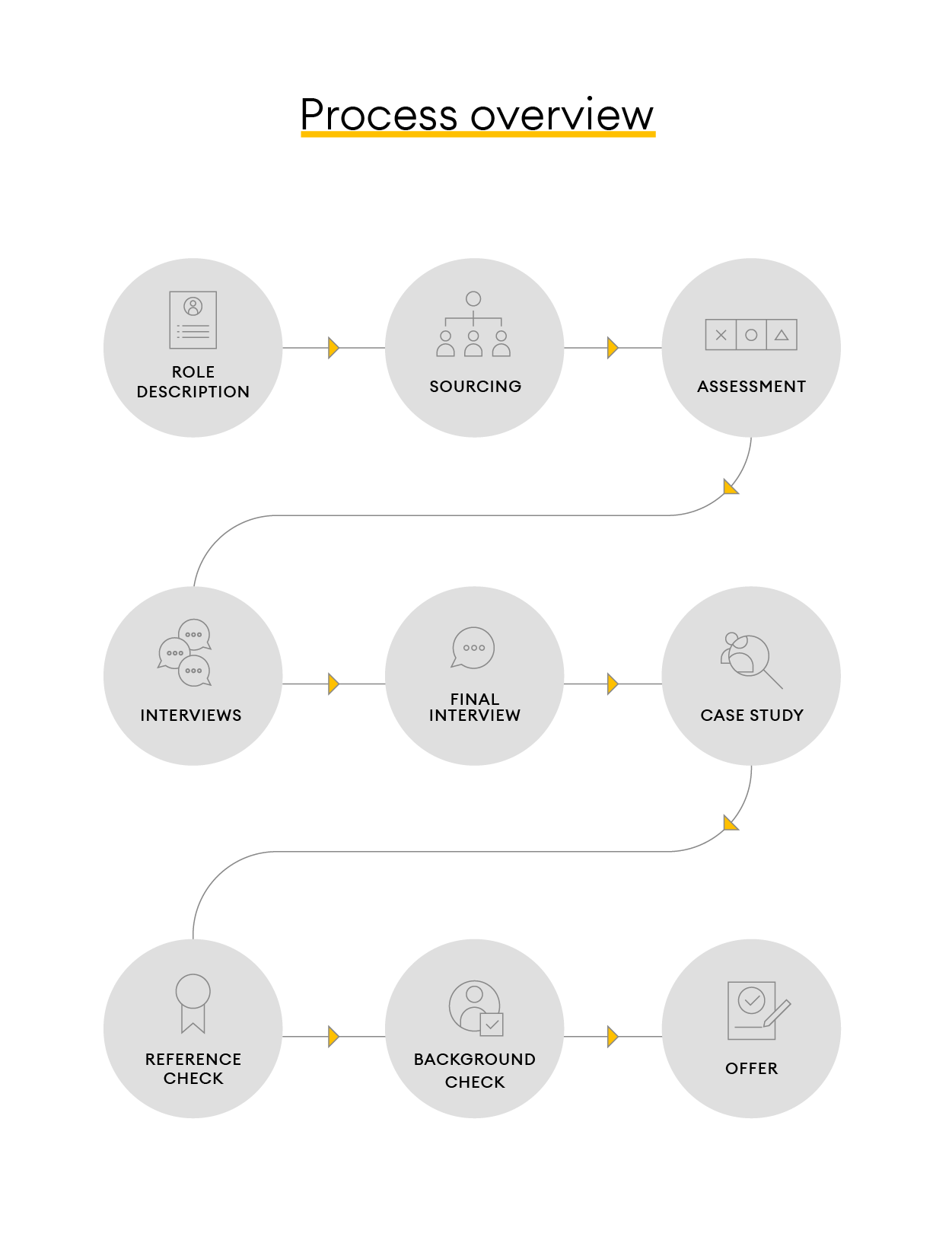 A great hiring process includes:
Defining the position with stakeholders

Writing an inclusive job ad that captures a diverse pool of applicants

Using an ATS to keep track of incoming applications

Using a candidate assessment platform to shortlist the best candidates with the most promise

Structured interviews

Relevant case study

Onboarding like a pro
1. Host a startup meeting with key stakeholders
Host a startup meeting with key executive leaders to figure out the CRO role requirements. Why do you need that person to begin with? What do you expect them to bring to the table? If it's a completely new role, run a calibration meeting to figure out how the company will be impacted by this new hire, and whether the leadership structure needs reshuffling.
More importantly, bringing on a new CRO to your team requires alignment with your sales, marketing, and customer departments. Subsequently, you should figure out how the CRO will interact with different teams.
Important note: If you opt to go for a candidate assessment as the first part of your pre-employment screening step, then figure out what characteristics you want to test candidates on in the startup meeting. At Alva, we use these characteristics when building our test profile.
2. Write an enticing job ad
In today's candidate-centric market, candidates are pickier than ever. It's a given, then, that a game-changing, successful CRO is choosy about who they want to work for. Therefore, it's your responsibility to capture their interest from the get-go. The best way to do this is to write an enticing job ad that captures your company culture perfectly, along with key perks, and a succinct role outline.
Moreover, an inclusive job ad signals that you are committed to attracting and retaining a diverse pool of talent. Just make sure that you use inclusive language like gender-neutral terms in the copy.
To avoid putting some candidates off from applying, ensure that your ad isn't bogged down with complex requirements and criteria— as you want to allow potential hires to envision a successful career with you.
3. Use an ATS to process incoming applications
An applicant tracking system (ATS) helps companies organise applications, sort through prospects and filter applicants based on experience and skill set. An ATS system undoubtedly saves you time from having to manually process applicants.
4. Accurately evaluate candidates
Source candidates using candidate assessments and quickly move shortlisted applicants to the interview stage. At Alva, we use our own candidate assessment platform to broaden our talent pool, minimise hiring bias, and invite the best candidates with the biggest chance of role success along for interviews.
Why use assessments to find your next CRO?
Assess whether job candidates have the necessary skills to build, grow, and manage the organisation's sales ecosystem.
Assess whether a candidate has the right traits

—

like leadership, stress tolerance, and dependability

—

to succeed in the position.
Significantly reduce the chance of making a bad hire by getting an accurate picture of a candidate's role fit early in the recruitment process.
Optimise time spent interviewing candidates, rather than manually scanning through hundreds of resumes.
5. Interview candidates
Once you agree on which candidates to go with, the TA manager is usually the first one to interview the candidate and conduct a general character assessment. Here is a perfect opportunity to filter out people without experience or who simply put, aren't a good fit for the company. It's still a structured interview process.
After the first interview, candidates with the most potential progress to the next interview which assesses their readiness in the role. This is done by the hiring manager and in this case, the CEO, and the interview is more focused on the candidate's previous experience.
6. Case study
The case study needs to be relevant to the position, and highlight the candidate's competencies. The hiring manager leads the case study and assesses it to determine whether the candidate qualifies or not. Sometimes, other team members can be involved in the case study too, and help with assessment.
7. Onboard properly
It's overwhelming enough to be the new kid on the block, but having to manage an entire company's revenue process from the get-go is a huge ask! Ensure you spend enough time explaining the role, target structure and expectations in your onboarding kick-off meeting. Next, set up some time each week for the new CRO to meet and bond with their peers.
Alva's candidate assessment platform
Alva's logic reasoning and personality assessments test a range of factors like logical ability, conscientiousness, extraversion, and emotional ability needed for a candidate to succeed and thrive in a job role.
The assessments take less than 30 minutes to complete; the candidate owns the results, and the recruiter can see which candidates best match the requirements and decide with confidence who to interview.
CRO applicants who perform favourably with Alva's assessments will have a combination of soft skills and hard skills needed to close prospects and nurture client relationships. In turn, the assessments help hiring managers determine whether a candidate has what it takes to succeed in the role.
Chief Revenue Officer job description template
This chief revenue officer job description template is ready to be used! It's optimised for posting to online job boards or career pages and is completely customisable for your company. Simply copy your template, adapt it to your hiring needs, and get to hiring your next superstar!
Chief Revenue Officer job description
Are you our next Chief Revenue Officer? We're looking for an energetic and determined leader to drive new business wins through ownership of all customer-go-to market efforts. Your job is to connect different revenue streams, from marketing to sales and customer success to product and revenue operations. Along with improving our sales numbers, you're an expert at understanding what it takes to satisfy customers and live and breathe strategy talk and execution.
Role responsibilities
Craft plans and strategies to develop business and smash company sales and growth targets
Monitor and report on CRM data
Review sales forecast, pinpoint revenue that's at risk and come up with a gameplan
Create and execute a go-to-market strategy for products and pricing
Focus on scaling operations and identify the tools needed to make that happen
Collaborate across the C-suite in meetings
Hire, train, and retrain team members
Job requirements
Data-obsessed: You love using data to make sense of things like customer behaviour and tweaking your strategy accordingly.
Passionate about building teams: You know what it takes to grow people and culture, to truly band people for a common mission, and mentor teams to success. Your motivation is seeing your team thrive and do their best.
Keep a clear head under pressure: When the stakes are high, stress levels can spike up. You're an accountable individual who doesn't shy away from tough situations and pressure, and keeps a calm head when things get difficult.
Innovative: You think outside the box and are proactive in creating plans and strategies from scratch. If one door closes, you have no problems in finding another one to open.
A life-long learner: You soak up knowledge and are constantly seeking ways to evolve and improve.
Why you should join our team
Be part of a diverse team of souls on a mission to revolutionise how the world recycles. We offer a fantastic bonus structure, along with heaps of employee benefits like full health coverage, a wellbeing package, and generous parental leave.
Interview questions for CRO candidates
Try to be super specific with your questions, and really draw out complete responses from candidates.
Extra tip: Watch out for the applicants who are able to go into the specifics and provide concrete examples- these are the kind of answers you want in an interview.
Tell me about how you have used KPIs and other metrics to measure and improve performance.
Tell me about a time you accomplished a mission-critical project or initiative against multiple challenges?
Imagine a situation arises where you and the CEO disagree on an important business decision. How would you handle this disagreement?
How do you maintain accuracy and quality control in your work?
Describe one of your most difficult work challenges you've ever faced. What happened, how did you handle it, what solutions did you bring forward?
Have you ever hit a roadblock before at work? How did you get out of it?
How to find CRO candidates
Below is a list of relevant job boards you can use to find CRO candidates.
Job boards
Not sure where to put your job ad? Below is a list of job boards you can use to publish your job ad.
Indeed
LinkedIn
FlexJobs
We Work Remotely
Glassdoor
SalesJob.com
Google Careers Jobs
Reed.co.uk
The Alva platform in action
With Alva's candidate assessment software, you can start your hiring process in minutes. Simply set up a job position, choose a test profile, and then start sending out the assessments for completion.
Test profile feature
When assessing candidates for a certain role through Alva, the very first step is deciding what to look for. This is what you do when you set up a test profile. For sales positions, qualities like high logical ability and sales performance go together with being conscientious, extraverted, and emotionally stable. Setting up a profile like this can help you hone in on the criteria you want to assess candidates on.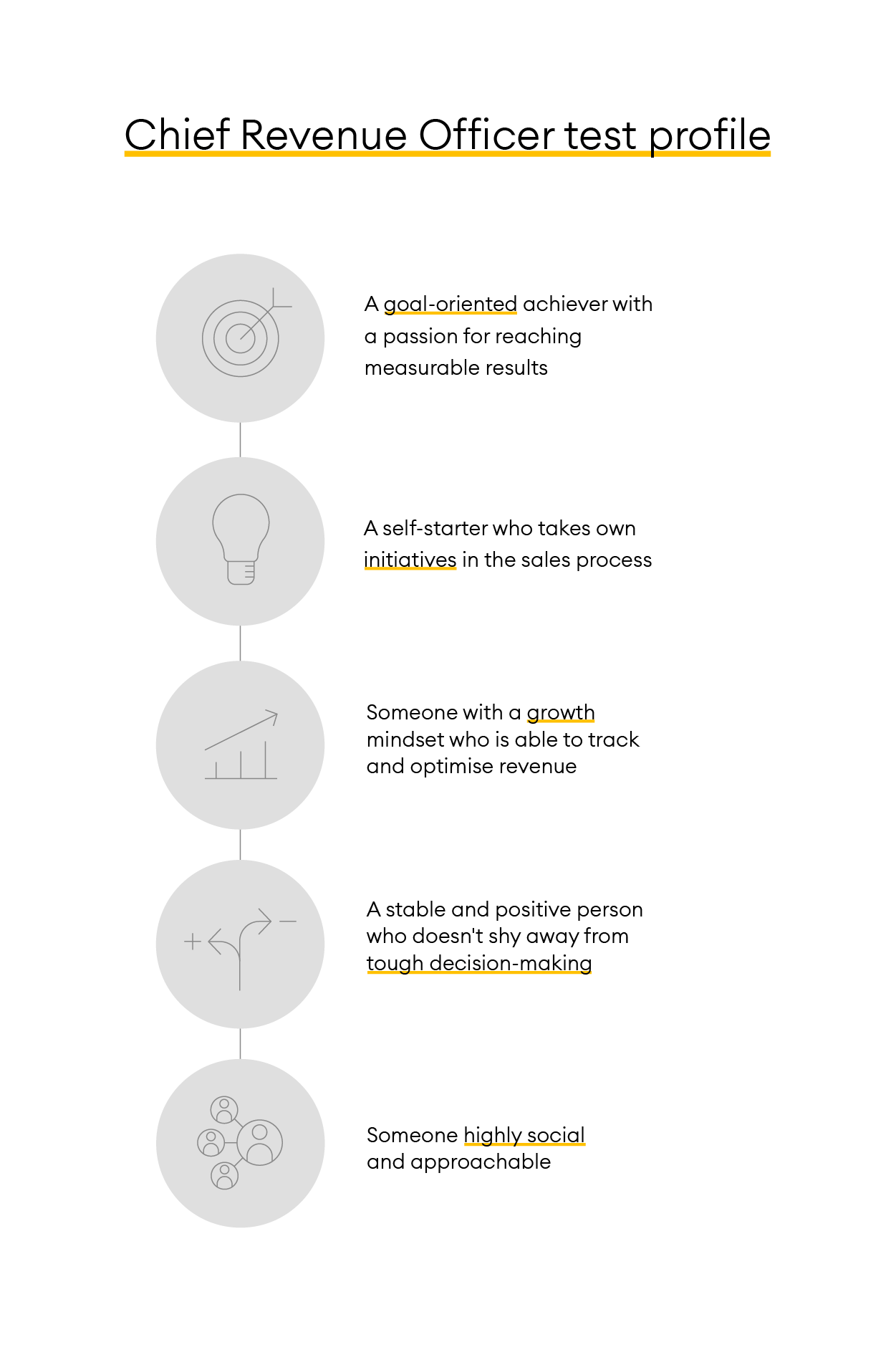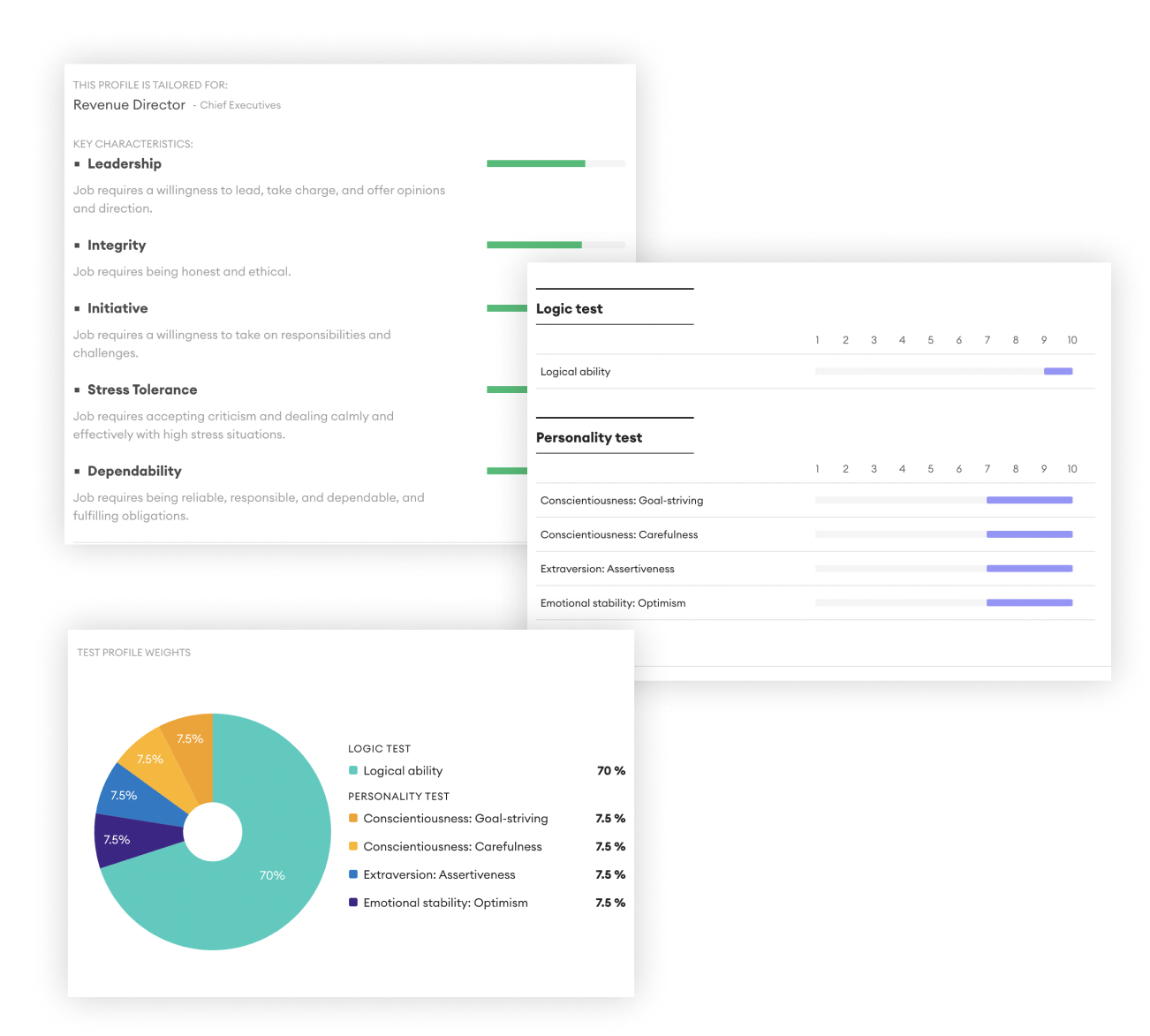 Interview Scorecard feature
Within the Alva platform, you can select shortlisted candidates and invite them to the interview stage. The scorecards feature keeps track of how you evaluate candidates in the interviews, using a criteria scale of 1-5.
Why choose Alva?
Spend time where it matters- Quickly spot the candidates who best match the role requirements and move them along for interviews.
Hire for impact-Reduce unconscious bias when screening candidates and discover hidden gems in your talent pool.
Empower your candidates-Reduce candidate drop-offs with Alva's evidence-based assessments. Candidates only need to take the assessments once and can easily share their results.
Frequently asked questions about hiring a Chief Revenue Officer
1. How to hire a chief revenue officer? To hire a chief revenue officer, first assess whether there is a need for one. If yes, then map out your hiring process, and how you will evaluate the candidate. One of the key things to consider is what traits and skills you want to assess the candidate on. It's recommended to use assessments as a first step of your hiring process, as it'll enable you to quickly identify candidates with most potential to excel in the position, and invite them along for interviews.
2. What is a chief revenue officer? As the name suggests, a Chief Revenue Officer (CRO) is an executive who is responsible for all aspects of a business that generate revenue. This individual may be involved in sales, marketing, and collaboration, business development and partner strategy.
3. What does a chief revenue officer do? A chief executive officer directly influences a company's future growth trajectory, and is responsible for providing new revenue pathways. Adding a new CRO to your leadership structure sends the message that your company is ready for a growth hacker.
4. What careers can CROs advance to? Chief Revenue Officers go on to become head of sales and CEOs usually.