Alas, you've found your VP of Sales candidate! For name's sake, let's call him Sven. Sven has thirty years of experience and drives a Tesla. He's been playing in the big league for a while now, helping big name brands shoot for the moon.
For some odd reason, Sven has taken an interest in the little league— your budding startup.
You meet Sven when you need him the most. You're struggling to find market fit and grow steady revenue. Your team of ten sales reps are struggling to close customers.
Some questions that creep up on you include:
Why is sales so hard?
Why is my startup struggling to land new customers?
Lightbulb moment: We need someone who can bring in the big deals.
In comes Sven, your magician, ready to push your startup into an explosive growth phase. And he comes with a hefty $300,000 price tag. You hire him on the spot, because he's your saviour; he'll take your startup to the next level. Or so you believe.
Fast forward to a year, and Sven's demolished your budget. All those promising "big" deals he dangled over you never materialised. Your sales team is in tatters and your customer relationships are in jeopardy. And Sven? He's on to the next startup, promoting his self-proclaimed sales expertise elsewhere.
The Vice President of Sales is your mission-critical hire. They're in charge of your most important assets—your customers, and the revenue they bring. Yet over 70% of SaaS startups get this critical hire wrong. In fact, the average tenure for a VP of Sales is only around 19 months. In short, it's one of the most common (and crippling) mishires in startups.
Even Deloitte agrees, stating how it can cost upwards of 200% on top of what you've already spent to replace a VP. Simply put, a bad hiring decision translates to wasted time, energy, and money that you can't win back.
As a startup, there's nothing more important than getting your hiring process right, one that eliminates candidates who are ill-suited for your open position from the get-go, and draws the right VP of sales candidates in.
Cue our how to hire a great VP of sales guide.
Know what sales management style to go for
Does your sales situation require a practical micromanager who knows how to build a sales team that follows sales processes to the letter? Or do you need a leader who's ultra-confident in defeating your competitors? Or maybe you need an authoritative soul who leads by example?
Sales guru, Steve W Martin, has identified five common VP of sales archetypes. Choosing which management style to go for will inevitably influence how your sales environment and team structure takes shape.
The mentor- The mentor is a charismatic sales expert who makes hitting targets look like a piece of cake. The mentor has a practical management style of doing and firmly believes in the consultative selling technique (where sales reps are more advisors than salespeople).
The communicator- The communicator has an infectious energy and knows how to put even the most stressful folks at ease. They would rather be in the field closing deals and chatting to prospects than getting stuck with backlog tasks.
The sergeant- The sergeant is your ride-or-die kind of leader. They are fiercely loyal, hard-working, and constantly worry about their team.
The ultra-confident manager- The ultra-confident manager is a sales warrior who goes above and beyond to build a team of hunters that go out and close deals like machines.
The micromanager- The micromanager is super organised and meticulous. They have a strong sense of responsibility to the company and believe that consistency works best in sales.
Pay attention to your sales stage
After establishing what kind of VP of Sales will suit your company style best, the next step is to identify where you are in your sales journey. This will help you to understand what type of VP of Sales candidate you'll need to look for.
A common mistake startups make is to exclusively look at a candidate's industry expertise, job experience, and success record during the hiring process. Interestingly, these aren't the best indicators of future job performance. Indeed, a vice president who succeeds at one company can fail horribly at another.
The best way to reduce your chances of making a mishire is to figure out what sales stage you're in, then adjust your recruitment game plan accordingly.
Sales stages:
Build- You've just started adding sales team members to your department and are bulking up your product offerings. Your market presence hasn't fully developed yet.
Compete- Your startup is battling it out with various competitors, and you're fighting to acquire space in a competitive marketplace.
Maintain- The product market space has matured. The waters are calm, market share between your enemies is fixed, and all you need to do is to hold the fort.
Cull- You have an established multi-billion dollar sales team in place. Some of your processes are great; others need fine-tuning.It's time to breathe new life into your processes and cull inefficient ones.
Before picking your VP of Sales, it's best to understand what sales stage your startup is in. For instance, running a medium-sized company that brings in $30 million in the compete stage calls for a completely different skill set than leading a large billion-dollar operation in the maintain stage. And nowhere is the impact bigger than hiring a VP of Sales to lead your startup in the build stage.
Considering your sales department directly reflects the essence of your company, it's super important you hire a great vice president of sales from the get-go. There are no rooms for mishaps!
Be realistic about what kind of VP of sales you need
Aiming big might seem like a good idea at the start, but be realistic about what kind of VP of Sales you can afford. The Svens of this world are costly, and there's no guarantee that they'll bring in revenue either. Instead, try and find someone with credible sales experience, yet who also has potential to grow into the role and make it their own.
Extra tip: Great sellers are great sellers—no matter the domain they sell into. Rather than look at whether a candidate has experience in your specific sector, look at more meaningful indicators like whether this person has closed a deal valued at $20K before? If yes, you've scored big time.
Why? Simply put, this showcases that the candidate knows how to close big, enterprise customers. They definitely know how to talk to customers, and can talk business process lingo. Ultimately, the bigger the deal, the more sophisticated they speak the customer's language, and vice versa.
And remember: It's ok to get excited if you encounter a candidate that looks and feels like the company you envision going forward. It just doesn't mean they have what it takes to sell what you need today in order to get to point B. At the end of the day, it's not the product as much as it's the person's ability to sell.
The makings of a great VP of Sales
There's nothing like having an average VP of Sales bleed your budget dry. Indeed, mediocre VP of Sales are a cost center, meaning, their salaries are more expensive than the deals they close. Which brings you short on cash.
You want to avoid this, yes?
In walks a great VP of Sales. They're your profit center. They bring you money quickly, and raise your revenue per lead, so that if you have 100 leads coming in per month, a great VP of Sales will triple that, no sweat.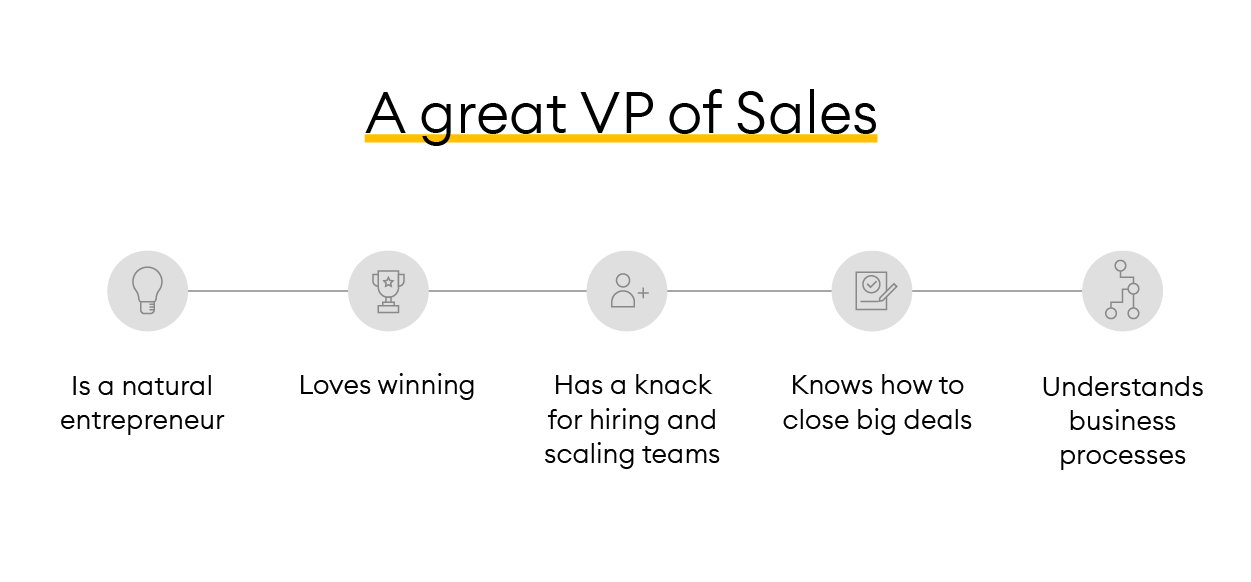 In short, a great VP of Sales knows how to ask for the maximum amount of money in a deal and not anger the customer in the process. A great VP can identify top-performing sales reps, and bring them into your sales team, so that your revenue doubles in the span of a month. A great VP of Sales understands the ins and outs of business processes and how to turn a startup into a cash flow positive place.
A great Vice President of Sales:
Is a natural entrepreneur- Know how to present demos and speak your product language. More importantly, they know how to ask and close deals, as well as develop tightknit to customer relationships.
Can hire people better than you- They can identify a fantastic sales rep with their eyes shut. They bring in the reps that pull off more revenue per lead.
A scaler- They've got their eye on the bullseye and know what head count is needed to drive revenue.
Has a competitive streak- They know what they need to do to outwit the competition and are good at winning.
Understands processes- Whatever your processes were before, they will improve them.
Knowing the difference between a VP of Sales and CRO can save you from picking the wrong candidate. While a VP of Sales is exclusively focused on building, and optimising sales operations, a CRO drives revenue across all areas of your business.
Check out our how to hire a chief revenue officer guide for more info.
Refine your hiring process
The more systematic, prepared and people-centric you can be with your approach to finding a VP of Sales, the more likely you are to succeed.
A secret weapon to nail the hiring process is to have a seven-step hiring checklist. This drastically reduces the chance of making a bad hire, and holds you accountable to a consistent hiring process for each candidate.
A great hiring process includes:
Defining the position with stakeholders
Writing an inclusive job ad that captures a diverse pool of applicants
Using an ATS to keep track of incoming applications
Using a candidate assessment platform to shortlist the best candidates with the most promise
Structured interviews
Relevant case study
Onboarding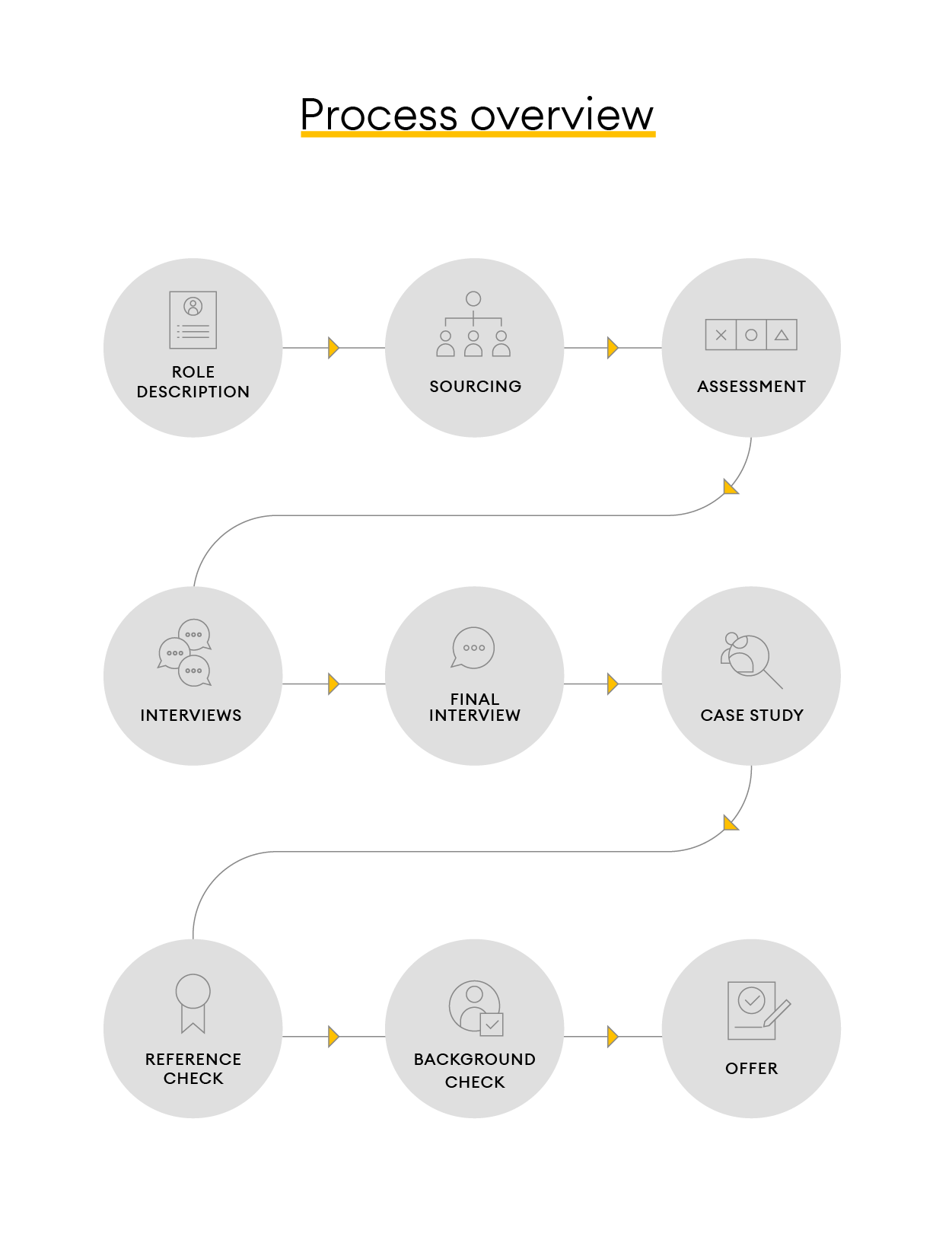 1. Host a startup meeting with key stakeholders
Host a startup meeting with key executive leaders to figure out the VP of Sales role requirements. Why do you need that person to begin with? What do you expect them to bring to the table? If it's a completely new role, run a calibration meeting to figure out how the company will be impacted by this new hire, and whether the leadership structure needs reshuffling.
Important note: If you opt to go for a candidate assessment as the first part of your pre-employment screening step, then figure out what characteristics you want to test candidates on in the startup meeting. At Alva, we use these characteristics when building our test profile.
2. Write an enticing job ad
Write a compelling job ad that captures your company culture, what the job entails, as well key perks. Also ensure your job ad is inclusive, showing you are committed to attracting and retaining a diverse pool of candidates.
To do this, use gender-neutral terms in the copy and steer clear from stuffing the ad with technical jargon and complex requirements. You want to allow potential hires to envision a successful career with you, not put off 99% of the candidates straight away.
3. Use an ATS to process incoming applications
Nobody likes mundane, tedious labour. An applicant tracking system (ATS) takes the legwork out of your recruitment process, helping you to organise applications, sort through the prospect pile, and filter applicants based on experience and skill set. In other words, an ATS saves you precious time and resources.
4.Evaluate candidates using candidate assessments
Source candidates using candidate assessments and quickly move shortlisted applicants to the interview stage. At Alva, we use our own candidate assessment platform to broaden our talent pool, minimise hiring bias, and invite the best candidates with the biggest chance of role success along for interviews.
Why use assessments to find your next Vice President of Sales?
Assess whether job candidates have the necessary skills to build, grow, and manage the organisation's sales ecosystem.
Assess whether a candidate has the right traits

—

like leadership, stress tolerance, and dependability

—

to succeed in the position.
Significantly reduce the chance of making a bad hire by getting an accurate picture of a candidate's role fit early in the recruitment process.
Optimise time spent interviewing candidates, rather than manually scanning through hundreds of resumes.
Alva's candidate assessment platform
Alva's logic reasoning and personality assessments test a range of factors like logical ability, conscientiousness, extraversion, and emotional ability needed for a candidate to succeed and thrive in a job role.
The assessments take less than 30 minutes to complete; the candidate owns the results, and the recruiter can see which candidates best match the requirements and decide with confidence who to interview.
VP of Sales applicants who perform favourably with Alva's assessments will have a combination of soft skills and hard skills needed to close prospects and nurture client relationships. In turn, the assessments help hiring managers determine whether a candidate has what it takes to succeed in the role.
5. Interviewing candidates
Once you agree on which candidates to go with, the TA manager is usually the first one to interview the candidate and conduct a general character assessment. Here is a perfect opportunity to filter out people without experience or who simply put, aren't a good fit for the company. It's a structured interview process.
After the first interview, candidates with the most potential progress to the next interview which assesses their readiness in the role. This is done by the hiring manager and in this case, the CEO, and the interview is more focused on the candidate's previous experience.
Why structured interviews?
Rather than freestyling an interview and leading with your gut, a structured interview lets you effectively assess how well a candidate is likely to perform in the role. In other words, structured interviews are one of the best predictors of job performance.
With structured interviews, you ask candidates the same set of questions, and measure their responses using a baseline, which is checked against pre-decided criteria. Like this, you minimise bias when picking a candidate, and also increase the likelihood of making an accurate hire based on these data-fuelled insights.
Interview questions for VP of Sales candidates
Forget generic questions. For a VP of Sales position, you need to dig deep and get to the bottom of what qualities they would be able to bring.
Try to be super specific with your questions, and really draw out complete responses from candidates.
Extra tip: Watch out for the applicants who are able to go into the specifics and provide concrete examples- these are the kind of answers you want in an interview.
What do you think we need right now? Why?
Tell me about your experience directly managing teams and how you build them.
Have salespeople failed on your team ever? If yes, how did you react?
Have you ever lost a deal to a competitor? What happened? What did you learn from it?
In your opinion, how should our sales, product, and marketing teams work together? Walk me through your thoughts.
What sales tools have you used and which ones are on your wishlist?
What is your key strength? Why do you consider it a strength?
Tell me what first people you would bring into the team
6. Case study
The hiring manager leads the case study and assesses a candidate's qualifications and technical competencies related to the role. Sometimes, other team members can be involved in the case study too, and help with assessment.
7. Onboard properly
It's overwhelming enough to be the new kid on the block, but having to manage an entire company's sales department from the get-go is a huge ask! Ensure you spend enough time explaining the role, target structure and expectations in your onboarding kick-off meeting. Next, set up some time each week for the new VP of Sales to meet and bond with their peers.
Vice President of Sales job description template
This VP of Sales job description template is ready to be used! It's optimised for posting to online job boards or career pages and is completely customisable for your company. Simply copy your template, adapt it to your hiring needs, and get to hiring your next superstar!
VP of Sales job description
Are you our next Vice President of Sales? We are looking for someone with a proven track record of scaling things big, who can work on our sales strategy, scaling and expanding our sales channels, partnerships, and sales teams. The job includes expanding our customer base, as well as hiring and onboarding new sales people to our sales crew.
Key responsibilities:
Build a sales team, including hiring, onboarding, and training new employees
Develop our sales processes, refining, tweaking, and rehauling as needed for optimal success
Manages sales metrics, including tracking and reorganising targets according to market fluctuations and team performance
Groom sales talent to excel at their roles
Close big deals
Experiment with new channels and business processes
Requirements:
Passionate about building teams: You know what it takes to grow a sales team, to truly band people together, and mentor teams to success. Your motivation is seeing your team thrive and do their best.
Proven track record of bringing in deals: You've landed key accounts before and are comfortable closing significant deals.
Data management: You know how to prepare budgets, forecast revenue, and track metrics to achieve optimal results.
A life-long learner: You soak up knowledge and are constantly seeking ways to evolve and improve sales functions and business processes.
Excellent communication: You speak the customer language fluently, and know how to objection handle your way ou of anything.
Why you should join our team
This is where you get to the heart of your company culture and benefits. What does the candidate get from joining your team? Why is your company different from the sea of others?
For example (edit to fit with your own company mission and benefits): Be part of a diverse team of souls on a mission to revolutionise how the world recycles. We offer a fantastic bonus structure, along with heaps of employee benefits like full health coverage, a wellbeing package, and generous parental leave.
How to find VP of Sales applicants
Poaching, network, network, network. And if all else fails-relevant job boards.
Below is a list of relevant job boards you can use to find chief revenue officer candidates.
Job boards
Not sure where to put your job ad? Below is a list of job boards you can use to publish your job ad.
The Alva platform in action
With Alva's candidate assessment software, you can start your hiring process in minutes. Simply set up a job position, choose a test profile, and then start sending out the assessments for completion.
Test profile feature
When assessing candidates for a certain role through Alva, the very first step is deciding what to look for. This is what you do when you set up a test profile. For sales positions, qualities like high logical ability and sales performance go together with being conscientious, extraverted, and emotionally stable. Setting up a profile like this can help you hone in on the criteria you want to assess candidates on.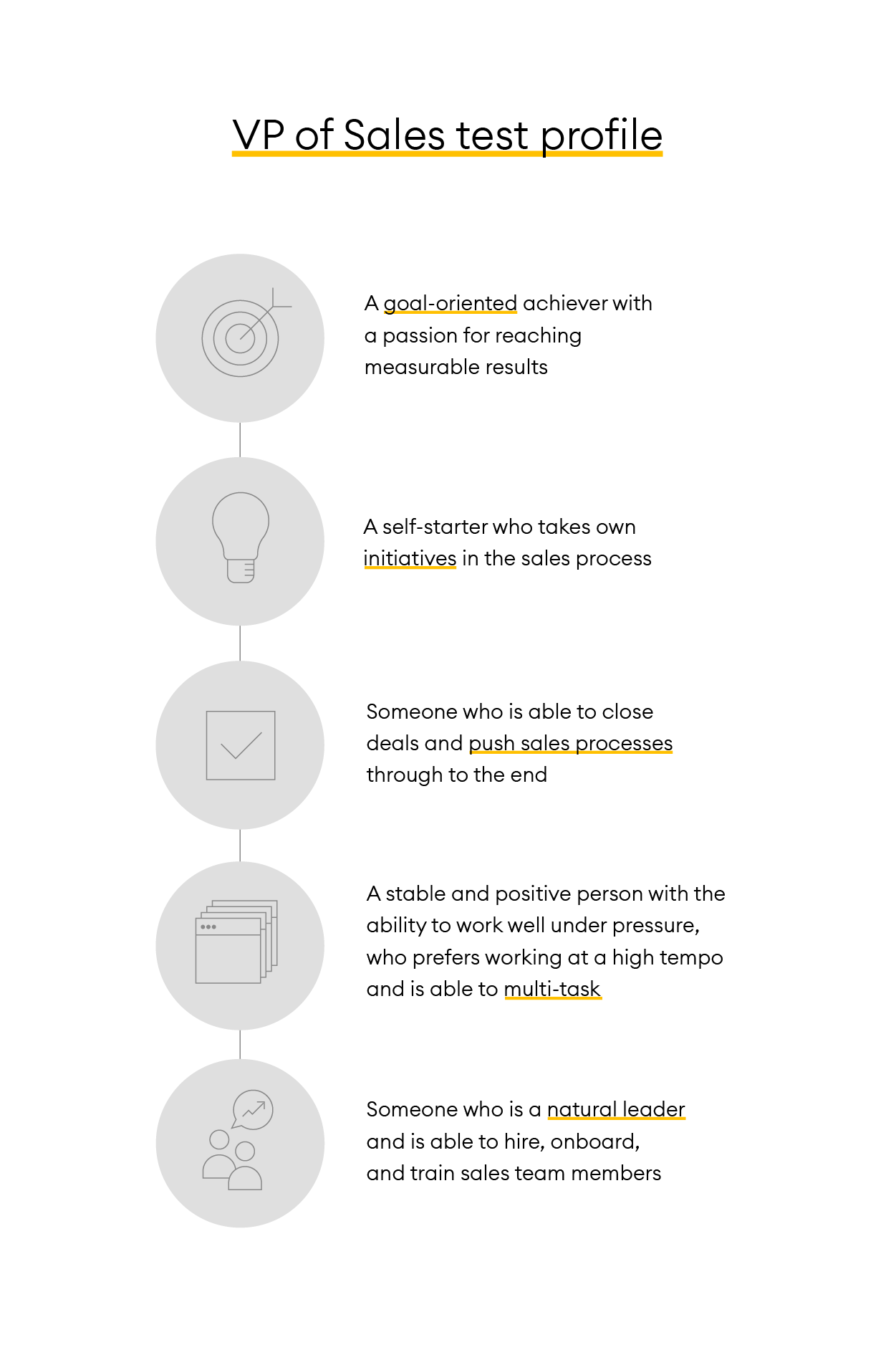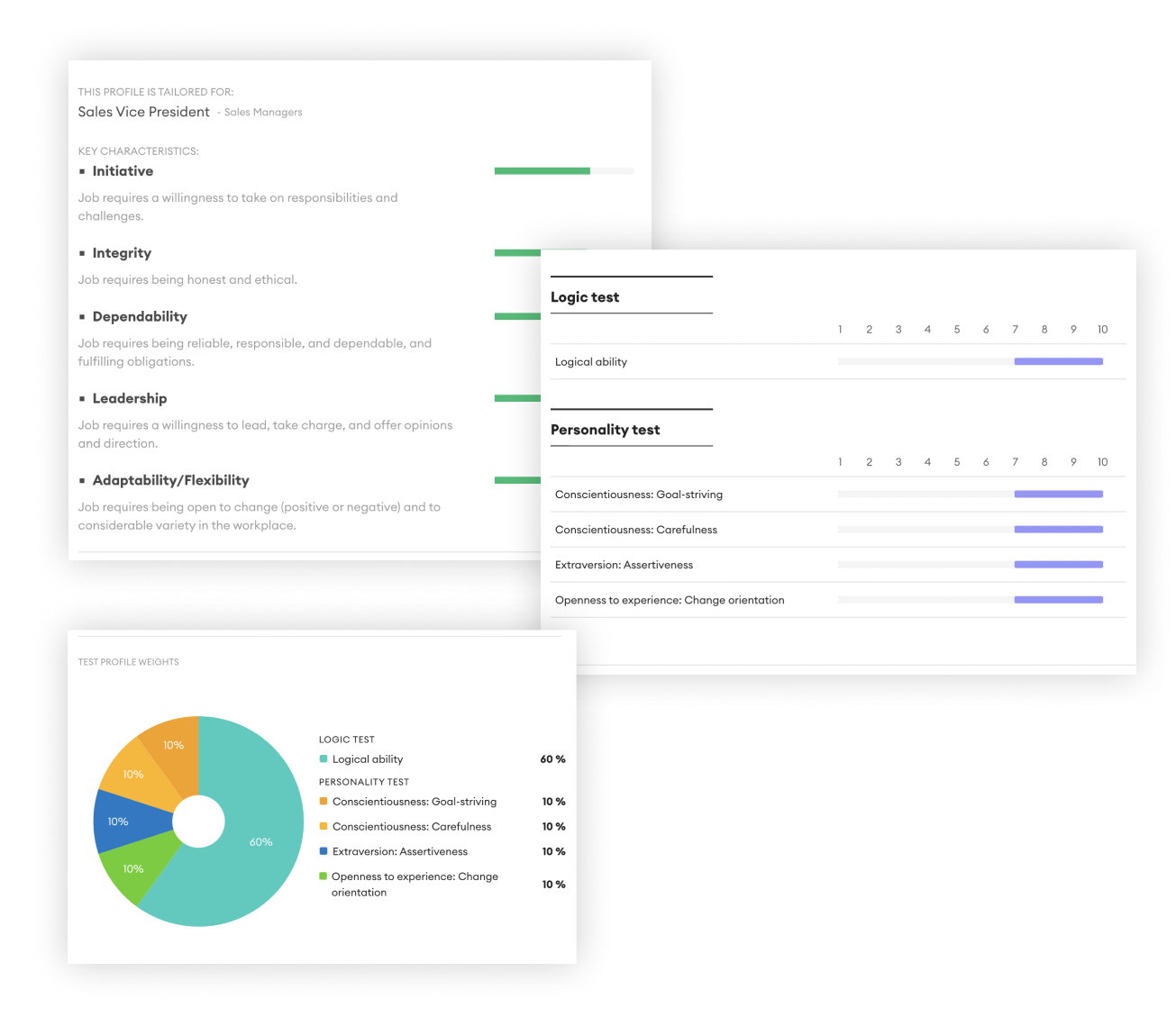 Score cards feature
Within the Alva platform, you can select shortlisted candidates and invite them to the interview stage. The scorecards feature keeps track of how you evaluate candidates in the interviews, using a criteria scale of 1-5.
Why choose Alva?
Spend time where it matters- Quickly spot the candidates who best match the role requirements and move them along for interviews.
Hire for impact-Reduce unconscious bias when screening candidates and discover hidden gems in your talent pool.
Empower your candidates-Reduce candidate drop-offs with Alva's evidence-based assessments. Candidates only need to take the assessments once and can easily share their results.
Frequently asked questions about how to hire a VP of Sales
1. How to hire a Vice President of Sales? To successfully hire a great Sales Vice President of Sales that will rehaul your sales processes and push your company onto a successful path, you need to make sure you have the right hiring process in place. This starts with understanding what makes a great VP of Sales, and what qualities the person will bring into the role. Next, it's about understanding what sales stage you're in and adjusting your expectations accordingly. Afterwards, make sure you have a seven-step hiring checklist in place, which includes: Writing an inclusive job ad, having an objective screening method like candidate assessments to shortlist top talent, conducting structured interviews, and running a case study to assess the candidate's technical competencies and experience.
2. What is a Vice President of Sales? The VP of Sales looks after a company's entire sales operations. They create strategies that will bring revenue for the organisations, and are responsible for hiring and training sales teams.
3. What does a Vice President of Sales do? A vice president of sales organises sales strategies and processes, drives revenue growth, and lands new deals. They are responsible for the organisation's sales performance and aligning sales strategies to business goals.
4. What careers can VP of Sales advance to? The next step after being a VP of Sales is to become a Chief Sales Officer or even CEO.