There is a problem in candidate search
Whether it's in-house teams or external agencies, businesses aren't finding the candidates they need to achieve their goals. When there's a vacancy to fill quickly, recruiters are struggling.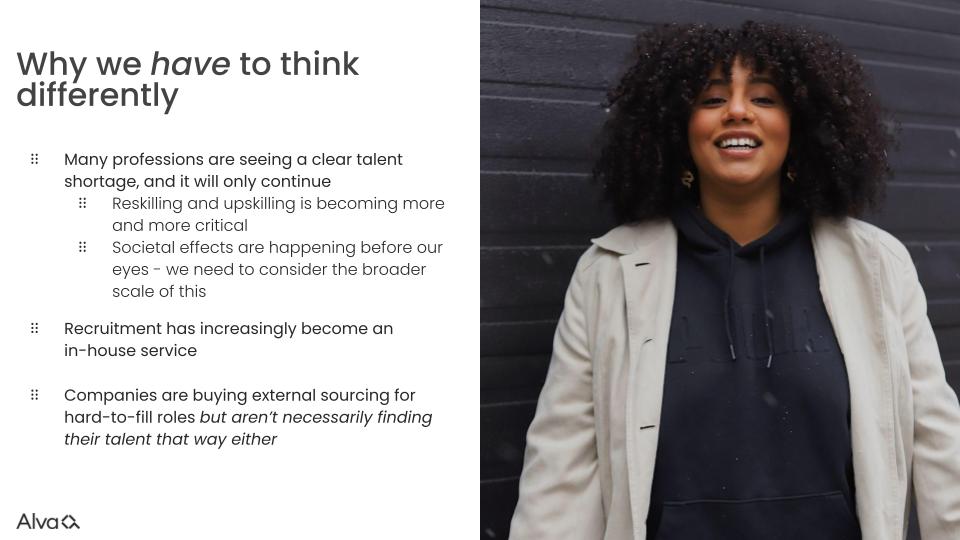 But as we look at 2022's hiring problems at the 1 billion people who will need re-skilling, it's clear that we need to rethink parts of our recruiting strategies to find talent who can and will grow with us.
In-house recruitment: proving KPIs
The trend to in-house recruitment has highlighted the struggles to locate talent.
TA-function has been moved from being an external commodity; now we're seen more like other, more mature, functions such as Sales, Marketing or Engineering, the same expectations are put on the TA-function. Therefore, we need to be able to define the inputs and the processes that are needed to get the desired output in terms of candidates and recruitment.
What can recruiters do today to find candidates?
36% of working people are actively looking for a new job, but 90% are open to hearing about a new job. Therefore, recruitment teams should be able to convert many of these people to candidates.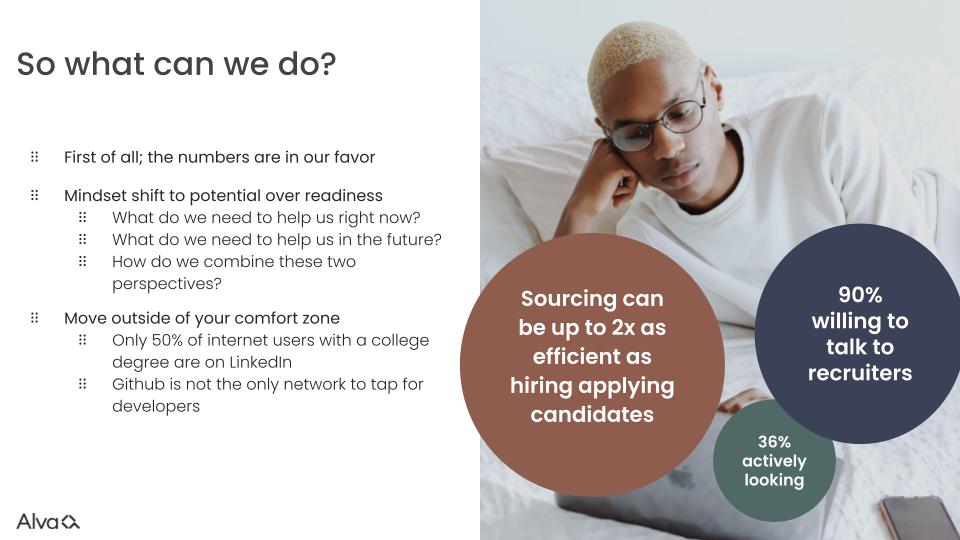 Whilst we can't choose who applies, we can use insights from recruitment marketing to lay success in optimising audiences, deciding who to target through behavioural segmentation and how candidates are sourced.
Hire for potential to find people ready to learn
Moving away from defining jobs by number of years experience and static evaluations such as "a degree from university X" enables recruiters find people who are ready to shift their skills with the business. It's like a carrot: if you've got the right potential to learn, we can help you to learn. This is likely to motivate a talented candidate who isn't progressing at their current job.
There is a lot of chatter about moving to potential, but companies are starting to hire for soft skills and potential.
And those who won't? They're not getting the candidates!
Challenge outdated candidate sourcing myths
Never has one recruiting team owned up to truths such as paying below market rate.
Reflect and understand new challenges:
Do you need to find new partnerships?
Are we looking at re-skilling and education?
Are we delivering on what we promise?
Is candidate satisfaction one of our key areas?
Are we looking at non-traditional - including migrant - communities and actively looking to source candidates from these communities?
If you are, are you making it simple and possible for these candidates to apply?

NPS scores: are you delivering candidate satisfaction?
Software Developers were surveyed by Intelligence Group. Of five needs, two clear simple changes would have made a difference to the candidate's willingness to progress with an application:
Recruiter availability
Hiring Manager being prepped for the interview
These two needs are easy, they are basic and they are tasks that recruiters should be ready for. Recruitment is pressurised; but, if you're securing candidates because you're prepped, then you are spending less time per vacancy. With 54% of people surveyed complaining about a lack of interest from their interviewer, improving conversion rates should be an achievable goal.
Update your sourcing tools with Hiring Tech
The same strategies will net you the same results. Work with Innovation, DevOps or tech support to help you use these advanced tools. For example, you can ask them to scrape for profiles of delegates who've all attended certain conferences that might connect with the skill-set you need.
How not to search for candidates on LinkedIn
Candidates dislike recruiters sliding into their LinkedIn DMs - it's one of the most complained about problems on the platform. So stop doing it.
Instead, research that candidate.
Build a dialogue with them through their posts, or posts they are commenting on. Then email them, sending a bespoke email.
Understand your talent pool
Although LinkedIn is one of the most used verticals by candidates and recruiters, did you know that only 50% of internet users with a college degree are registered, and even then profiles are less complete, and used with less frequency than other channels?
If you're struggling to recruit people who aren't social media users, take time to understand who they are and where they spend time: this is recruitment marketing 101.
You need to think about who that person is, what they're doing and where they hang out, so you can find them.
Per has a background in hiring maintenance rail engineers, and a company was struggling to fill positions - and his candidates weren't going to be on LinkedIn. However, by sponsoring a popular sports game, their campaign reached their ideal candidates, and they solved their hiring problem.
Struggling to hire? Sometimes that can point to internal changes that are needed
DevOps? Look at their ways of working - maybe sprints aren't how today's DevOps want to work? Maybe you need to adjust to agile?
Office staff? Look at your office/hybrid/work from home package - does it really offer what today's staff want? Maybe you need to adjust?
Humans don't like templates
Don't send 1,000 or even 100 templates for your next vacancy; rather, spend that time researching 10 ideal candidates and write them a personal email. Templates can feel time effective, but if you're hitting a 1% success rate, that's not ROI (Return on Investment) - a Sales or Marketing team member couldn't get away with those rates.
Your email should cover:
This is who we are
This is what the job needs
We see your skills, you're special and this is why we think you'd be a good fit
Try it for the next month and track your response rates; in Per's experience they can hit 80%.
Increasing diversity yet lowering outreach numbers
There is a risk that, in reducing the numbers of candidates we target, as recruiters we could be increasing bias. Humans will always be biased, so as you target your 10 candidates, look at them: are they diverse? If they're all white men, go back and think again. Challenge yourself to understand what comprises success, what you need, and keep looking until your target list is diverse.
Sourcing diverse candidates: rethink your demands
Don't assume you know where to find candidates!
Defaulting to the 'standards' of 'we only hire from the top 10% of universities' is limiting your search.
Organisations who refuse to stop demanding highly specific documented education, past employers or lengthy periods of experience will struggle to find talent.
Past education and experience are poor predictors of one-the-job success; psychometric assessments that capture potential and structured interviews are more effective.
Building that case to senior leadership can take time; this is where using data and providing evidence can help to shift the needle. At the very least, you can challenge leadership with the question: "Do you really want to work with your old classmates?" The answer is usually a hard "no". Additionally, cut in half the years of experience you're demanding.
Use your data to find candidates
Talent intelligence - using macro and micro data to inform hiring - is a fast growing sector in business and start-up sectors. When you work digitally, you have data. Work with your tech teams to look at the data that you have in-house, which can tell you more about the outcomes that you want - and loop those insights into the beginning of the process.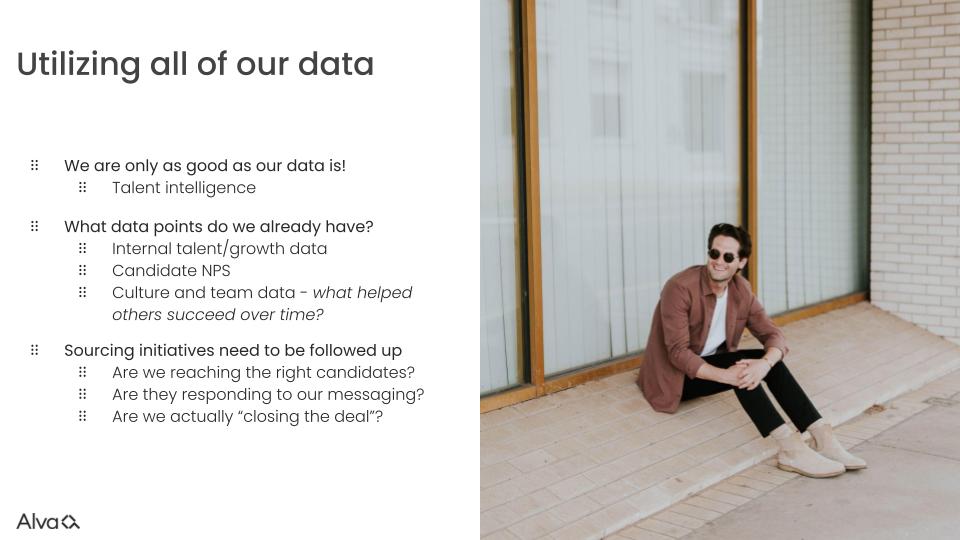 Questions you can ask include:
Where do we find our best-fit candidates?
How do they grow with us?
How do our candidates onboard?
Do they develop internally?
How long do our best fit candidates stay with us?
What are our NPS scores?
What data do we have around culture?
Can we see who is thriving?
Are there gaps in our development strategies?
Stop obsessing about the top of the funnel
Sales will tell you: it's about closing. It doesn't matter if you have the biggest talent pool - if you're not closing in on your first, second or third choice candidates, something isn't right in your strategy.
Feeling really bold? Reach out to candidates who rejected your final-stage job offers over the last 12-24 months and ask them why. If you're truly prepared to listen to the findings and make changes, you could make a huge difference to your search.
Measuring outputs & KPIs
Marketing and Sales understand these work-flows, so don't be shy about asking their input to help you learn:
How are people responding to our messaging?
What are our talent flows?
Are we closing?
Look especially at outreach candidates: what are the workflows like in comparison to inbound?
Build relationships to increase the success of your candidate search
Any good Sales Development Rep will tell you that sales are based on relationships: remember those software candidates?
2 of their 3 wishes were recruiters who were available, and Hiring Managers who prepared for their interviews. These are relational, solvable problems.
With other recruiters also looking for talent, you need to look in different places. Move away from transactional relationships. McKinsey report that "transactional relationship[s] reminds them that their real needs aren't being met … Yes, they want pay, benefits, and perks, but more than that they want to feel valued by their organizations and managers. They want meaningful—though not necessarily in-person—interactions, not just transactions."
Upskilling candidates: whose responsibility is it?
Some recruitment businesses take the responsibility to upskill candidates before presenting them for consideration; however, the main responsibility for hiring for potential and providing learning and development should remain with the employer.
If you're not offering enough professional development, and demanding multiple years of experience, you could be losing out on candidates who have the potential to thrive.
When you understand the competencies that you need, it's easier to find candidates who can thrive.
Does using data in hiring risk losing the humanity in hiring?
Recruiting is a job that requires data analysis and application; we need to understand the macro and micro trends that affect our industries and the people who we're trying to engage.
When we understand the push and pull factors that affect how people make decisions, we can apply those learnings in our well-written, targeted, thoughtful emails.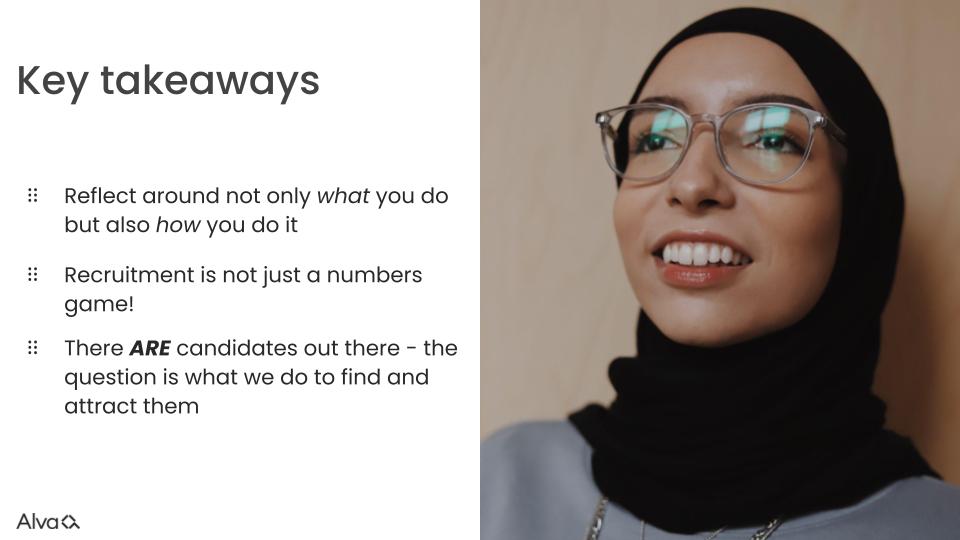 And once we have our candidates, as humans we'll hold personal, structured interviews. We'll build those relationships, But understanding who really is our ideal candidate will help us to target the right candidates, whoever and wherever they are.
Recruiting is changing, and aligning with other target and data-driven professions. With this move comes an opportunity to hire candidates who have potential, who will return investment in mentoring and who can bring the diversity that many companies need. By rising to the challenge of recruiting in a talent drought, we can be at the forefront of developing new, exciting strategies that allow tomorrow's leaders to take centre stage - we just need to know where to find them.